Nearly 9 million people log in every day to the text/voice chat service Discord, and the bulk of the 45 million total registered users are there to discuss games.
An increasing number of developers are creating their own Discords, which they're able to use to build an audience, garner feedback, and form bonds with fans. Some studios have found a way to integrate Discord more tightly into their dev cycle, creating an engaged and active community months or years even before a game comes out.
Monaco developer Pocketwatch Games was one of the first studios to give Discord a try. It started out using IRC in 2014, in the hope that it would provide a more direct relationship than email and survey forms with players of their Tooth and Tail closed alpha.
"We wanted to make sure that the communication was really intimate," explains producer and designer Andy Nguyen, "because if they had a problem we needed to make sure that they communicated exactly what the problem was so that we could fix it specifically."
But the studio's IRC channel never saw more than around 35 people, likely due to IRC's high barrier to entry for newcomers. A fan suggested they look at Discord, which is less off-puttingly spare than IRC. They agreed and made the switch. But Discord quickly evolved into something much bigger for the Pocketwatch team, who realized its potential to become a central hub for the Tooth and Tail community at large.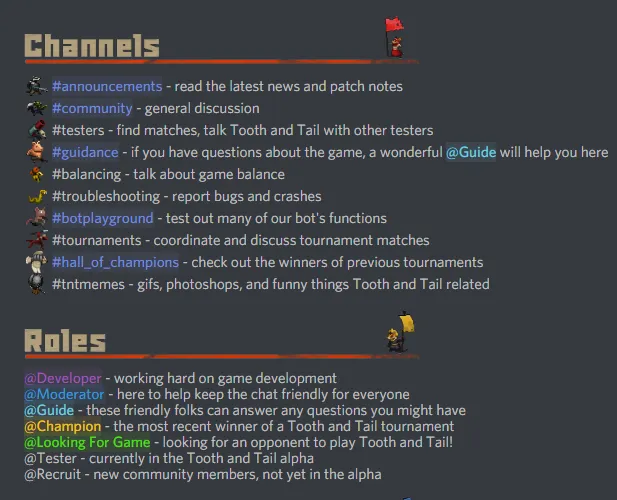 Pocketwatch Games' Discord presence
By the time Nguyen spoke at GDC 2017, they'd reached 500 daily users and around 2,500 total members. Now the Tooth and Tail Discord, which is still focused on closed alpha development, has around 3,500 members. Despite the alpha gating, it's growing quickly, and the three-man dev team has figured out some clever ways to manage this growth and leverage it to help improve their game's multiplayer component.
Defining roles with color coding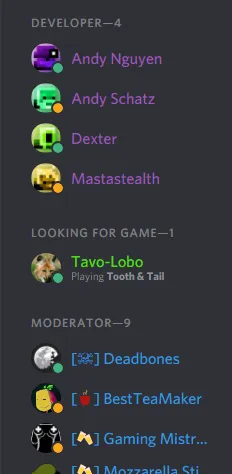 One way Pocketwatch does this is simply by customizing the colors of people's names in the channel. Volunteer moderators have their own color, for instance, but so do people currently looking for a match. This comes out of two problems — one, the devs haven't had time to build a matchmaking or lobby system yet, and two, the community is still small, since the game is early in development.
"Right now, as we're talking, 697 members are online in the room," explains Nguyen. "But not all 697 are playing." All of those members definitely like Tooth and Tail, though, so someone looking for a game can type a command to mark themselves as such, and their name will then be changed to a bright green color and automatically pushed to the top of the userlist as seen by everybody else currently looking for a game. (And while they wait, they can chat with the people stuck at work or on public transport or whatever else who can't currently play.)
People who often respond to questions in the chat that have been answered before also get marked with a special color-demarcated role ("guide"), so others know who to ask for help.
"It's like that extra layer to get to the developer, which means that we don't have to waste our time essentially answering repeated questions," explains Nguyen. "We just work until we get a question that has never been answered before."
Proving your worthiness to mods (and helper bots)
"Discord has also allowed devs to automate aspects of community building and management."
Discord has also allowed devs to automate other aspects of community building and management, too. Newcomers to the Tooth and Tail Discord, for instance, are not allowed to join the closed alpha until they prove they can follow directions, contribute to the community, and engage in discussion like an adult — because the alpha is all about improving the game and establishing a healthy multiplayer community.
"We don't have any means to prevent someone from saying something inappropriate," explains Nguyen. "We can kick them and ban them, but that's after the fact, so it was really important for us to know that they follow the rules."
To test new members, they wrote a bot that contacts the newcomer over private message and gives them a simple puzzle. This puzzle requires the newcomer convert part of their Discord ID string into a corresponding set of emoji and reply with those emoji. "It is sort of like a captcha," says Nguyen, "but you'd be surprised how important that is. Because what we've seen in the past is there will be people who just don't read anything. They'll spam and say rude things [and ignore all requests to stop]."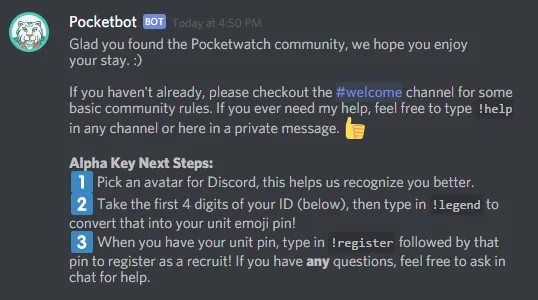 Once they've proven they can follow instructions, new members have to earn entry into the closed alpha by doing something that benefits the community — perhaps they help someone out in the chat, or maybe they create fan art or contribute to the Discord experience in some other way. If they do this, one of the 20 or so moderators will signal to a bot to reward them with a lotto ticket. (Conversely, aggressive or antisocial behavior leads to warnings, muting, or lotto tickets withdrawn.) The more lotto tickets they have, the greater the chance they'll win the lotto during a Twitch stream.
LawBreakers developer Boss Key Productions also tries to leverage bots and current community members to maintain a good atmosphere in their official Discord chat.
"Bots are really helpful," explains communications manager Rohan Rivas, "because at the end of the day we're still a small team." They've set up bots to help answer basic questions about price, release date, and beta invitations. And studio head Cliff Bleszinski has figured out other ways to utilize the bots for community building.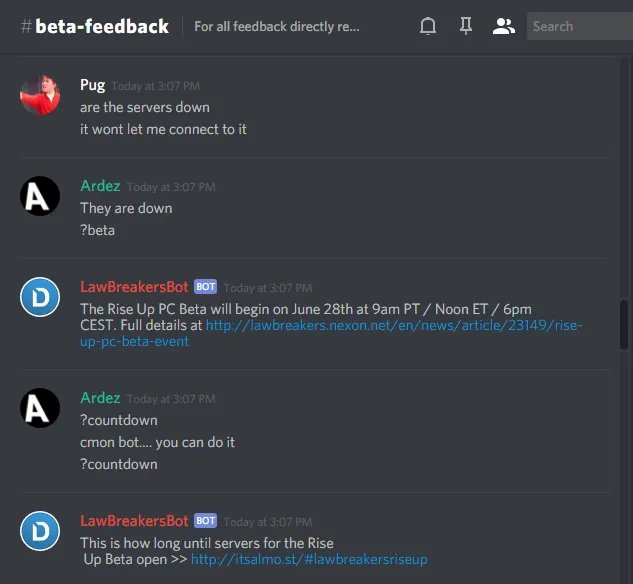 LawBreakers' Discord bot
"He'll give us some really fun things to do with bots," says Rivas. "Like pop culture references [and] little things like that that we can play with and the community can play with. And he'll provoke the bots in order to get them talking back and saying these quips and these pop culture things."
Showing fans that devs are human, too
"One person says, 'Hey! What's going on with the latency?' And an engineer can be like, 'Oh, we have a fix coming.' Boom-boom-boom. Just that little tiny exchange goes a long way."
Bleszinski will also hop onto the LawBreakers Discord just to chat, too, which Rivas thinks has been crucial to maintaining a connection with fans.
"He talks about like Rick and Morty and stuff like that," Rivas continues. "It's such a very personal, human interaction with people, just to do little things like that, that I feel like it builds rapport and it builds a positive sentiment of 'Hey, these are people that are making this game. They're just like us and they want to do what's best.'"
This, for Rivas, is the biggest lesson in using Discord for community building. For Boss Key, it all comes down to transparency and direct engagement — and Rivas makes a point to encourage the dev team to spend time in the chat.
"Sometimes you need that status check," suggests Rivas. "If you're a gameplay engineer and you just want to pop over into Discord real quick, say hello, and then one person says, 'hey! What's going on with the latency in x, y, and z?' And then the engineer can be like, 'Oh, we're working on that. We have a fix that's coming.' Boom, boom, boom-boom-boom. Just that little tiny exchange goes a long way."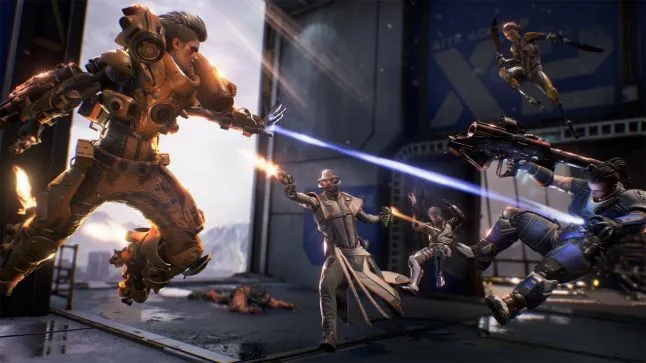 Lawbreakers
It's an easy way for the dev team to monitor community sentiment from moment to moment — an extra layer of feedback to add on top of surveys and bug reports. That's been especially valuable for Pocketwatch, given the tiny size of their team.
Nguyen points out that companies like Blizzard and Valve have big teams pumping out patch after patch, almost to the end of time, to improve game balance for competitive multiplayer. "So it would be impossible for a few guys who are working on an indie game to balance it, especially if all we're doing is playing amongst ourselves," he explains.
They don't just watch the chat for random feedback, either; often they'll seek out feedback on specific things after one of the regular community-run tournaments (which are likewise incubated and organized via a sub-channel in the official Discord), then push out a patch and ask Discord users to provide more feedback before releasing another patch soon after.
A great hub point, but not a total solution
"Our game not just a boxed product — it's a service. Discord is the same way."
Nguyen thinks of Pocketwatch's Discord channel as akin to the heart of the community — a central hub, run in association with their official Twitch channel, where people just hearing about Tooth and Tail for the first time are directed to go, and from which fans can branch off and build communities in other pockets of the Internet such as Steam, Twitter, and Reddit.
Rivas also believes that even if used as the nucleus for a game's community, both within (via voice chat) and outside of the game, Discord needs to part of a larger strategy. He argues that these days it's important to cast a wide net, "to engage on as many platforms as possible," no matter how big or small your studio, because that's how you'll reach your audience.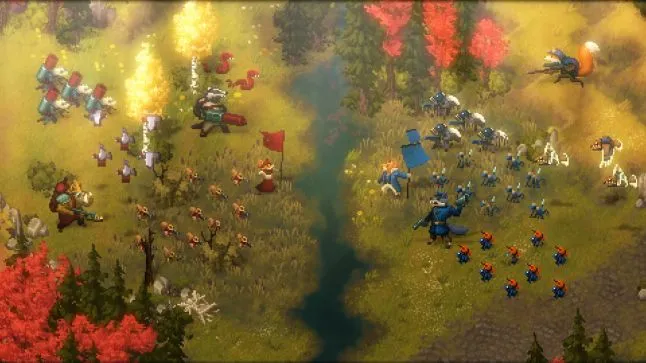 Tooth and Tail
"We want to attempt to grow and develop this stuff before the game is out, obviously — which we've done," explains Rivas. "But also post-launch. Our game not just a boxed product — it's a service. Discord is the same way. So we just don't want to be complacent. And for the time being we're trying to engage as many people as possible."