Was it five years ago that we started Devolver? In some moments it feels like yesterday, in other moments time just stretches back forever.
The start. The start was born from the chaos at the tail end of our last company. Six months of fights, of lawyers, of no money, of really no money and friends helping me pay my mortgage. Experiences like that change you. Depression and anger set in, along with a sense of real sadness that the people I most wanted to work with would scatter once again.
If you have ever found yourself in that kind of hole then you will know how it can seem to just keep getting deeper and deeper.
Still, even then it felt that the best way back (and the one that would involve the most laughter) would be to do exactly what would eventually become Devolver. With a crew of friends that orbit around like random elements and collide with a frequency that requires crash helmets, it was all I wanted to do.
This time we only seemed to have one desire:. No investors. Just the five of us. Ironic really, given that we (really) had no money.
By day we worked in advertising agencies, contracted for other publishers, lived off savings and tried to get back up off the floor after taking such a huge mental, emotional and financial hit.
By night we schemed on plans, we reached out to friends and partners and got our chance:Croteam, the guys behind Serious Sam, old friends from the GOD days said, "Yes, let's do this."
Devolver had caught its first break. So the time came to get out there. To GDC, to e3, to show and tell about all things Serious Sam. Using vacations from day jobs, using air miles to get cheap flights and the sofas of friends to sleep on, off we went.
Our first Devolver e3 was in 2011, armed with a couple of PC's generously supplied by Alienware in a small room behind the mezzanine above the reception desk at the Figueroa Hotel – we were in because someone else had just cancelled. We set up, we met with our PR ace in the hole, Stephanie. At a time when no one knew who "Devolver Digital" was, she had to convince the wary media to walk away from the convention center floor to and come see us. It was a a hole in their busy schedules, but we were able to make it work by making ourselves available before and after the show floor hours. So there we were, Nigel and me, chain smoking. Ready, but worried no one would come…
Stephanie pulled it off, and of course she'd say it was never in any doubt but we all knew then and still now, what we owe to her.
Sam Stone rekindled his relationship with the games press and we could start to feel that this thing 'Devolver' was real - not just a hope. But somehow then, at some point during the week we got blind sided with… "Really? You guys are still doing PC games?"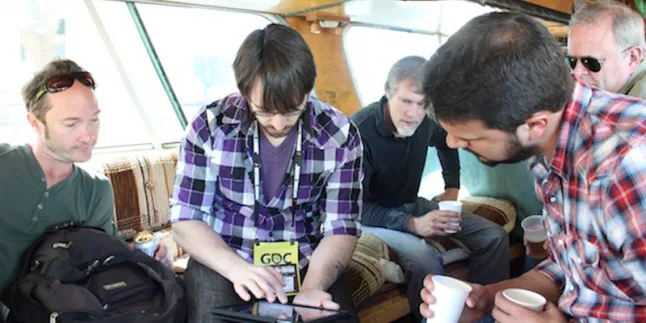 Yep the world of apps was the news back then. Facebook games, free-to-play and the good old monster console AAA giants. Apparently we were 'out of our time' with our PC game schtick. We would be a footnote in history before we even managed to have a present. We were advised that gamers were not going to buy $30 PC games for much longer. Gamers would be eating content on their phones, their tablets, racking up hour after hour on their favourite FTP loot quest… Everything else owned by the AAA console giants, and of course the inevitable: "Oh and by the way those indies, they don't need you, they can do it all themselves." (And we agree, that's true.)
I remember sitting with Nigel smoking and having a beer outside the Fig, thinking, "Are we screwed?", but then Mike Wilson appeared and asked me when had we ever been part of the world of received wisdom? As often has been the case, a few words from Mike and I was back up and happy with where we were.
Not fucked then! Later that year, Sam launched to great reviews and great sales. Croteam delivered a fantastic product and we had learned a few tricks along the way.
And now? Somehow being us has become a shorthand for 'being' a thing: "Oh, like Devolver." That certainly was not something we sought and not something I am personally comfortable with. I prefer us being just slightly out of view of the "industry opinion formers." Whoever they are.
There are so many ways to go, so many ways to work out how you would like to move forward with games in this industry - ours it just one of many ways. It works for us but that is because of the people that trust us, work with us, improve us and let us go where we want. Because to me, this is not an opportunistic business for us, it is actually a reflection of our set of personal beliefs. I guess I am just in love with the way we don't have a plan and how we trust our instincts and have truly cut ourselves free and so drift along on a gentle breeze.

So here we are. Just after e3 2014. Somewhat out of breath having just watched all the developers we work for have the most incredible show. Not just showing their games to the media, not just winning awards for games being developed out of passion, not profit. It wasmuch more than that. Sharing our evenings in our rented house where laughter was the most common noise. Sharing war stories, advice, music, food, beer along with some dancing on the diving board.
It's a short walk from the Fig Hotel up the street to the parking lot across the street from the convention center in LA but it has taken five years of hard work, little money, determination, blind faith and a lot of laughter to roll down that street. Figure now that we've made it to the parking lot we'll stick around for a wee while at least and see where the breeze takes us next.