2017 has been a banner year for videogames, with many successful and important titles getting released throughout the year.
Instead of presenting you our favorite 2017 games, we asked developers which titles resonated with them instead.
Their answers are once again testament to the richness and diversity that independent games have to offer. If 2018 will only be half as good, we're in for quite a ride!
Jay Tholen (@jaytholen):
"Rex: Another Island was my indie pick for 2017. It's a solidly designed 'open world' (it has one really huge level with warp points) platformer in which you play as an adorable pink dinosaur exploring an island with diverse biomes. Games of the 'difficult platformer' variety don't normally do this for me, but Rex was therapeutically relaxing and I want to go hang out in its world again just thinking about it."
Sam Luangkhot (@flarechess):
"Really loved Brianna Lei 's Butterfly Soup VN for a lighthearted and touching story that has now become close to my heart. It's so rare to find content that is made BY someone like you ABOUT people like you, which makes the game all the more endearing to me."
Omar Cornut (@ocornut), Lizardcube:
"Fidel Dungeon Rescue - I thought it was brilliantly designed, there are lots of subtleties with how to deal with the monsters, the game lets you discover and understand them by experimenting (much like The Witness did), and it doesn't have an invasive tutorial.
It's also a game that makes it clear that you can't "perfect" a level, you have to go with the flow and try to do the best you can, alternating moments of slow experimentation with moments where you have to save yourself and play a more risky and instinctive game. I think this is what the Ghost conveyed, you have to move on, don't try to perfect a level too much. Like the typical rogue like, it's not about a given level but about your ability to do well enough under always varying conditions."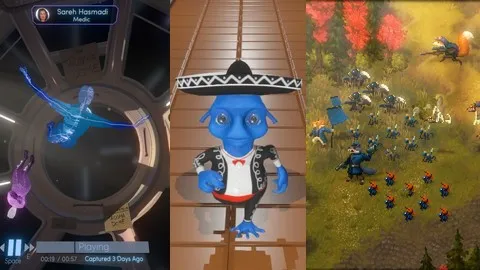 Christian Miller (@SilvrSpookGames), Silver Spook Games:
"Tacoma - The way that the story was told, through AR recordings, bits of news and text littered around this space station was reminiscent of System Shock, but with its own innovative spin. The story is pretty short but well told with a lot of reversed expectations and sci-fi delightfulness generally."
Byron Atkinson-Jones (@xiotex):
"For me it's Doctor Kvorak's Obliteration Game by Freekstorm - the reason why is because I know the developer and saw the love and attention that went into that game. They were not only really passionate about their craft but the most wonderful people you could meet.
It resonated with me because I saw myself in them - trying to make a success in this brutally difficult industry. Doing everything they could within their means to make their game a success, just like I and all the other indie devs I know do."
Michael Rader (@raderm), Theory of Games:
"I love Tooth and Tail's minimalist approach to the RTS genre. Feels like a throwback and an evolution simultaneously. I've also gotten super addicted to Oxygen Not Included, even though it's still in Early Access. I love the interplay of automation vs manual control, and the complex-yet-transparent mechanic design."
Alexander Formoso (@Alexformosoc), Bohemia Interactive:
"Dead Cells doesn't have a deep story that touches the depths of human nature and so on. It's a simple 2D Roguelite Metroidvania, much like this year's Hollow Knight, which is also fantastic. But the difference with Dead Cells is that it compresses the play sessions in 10 minute runs. Every time you play, your character gets stronger, and you can get farther away, but since its stronger, you breeze through the beginning sections with reduced chances of getting harmed.
It sports phenomenal pixel art, fluid as hell combat, funny and responsive animations and super juicy effects. For a Dark Souls fiend like me, it feels like they found an amazing spot in the formula. THIS is the "Dark Souls in portable mode" that I've been wanting to play on commutes and lunchbreaks."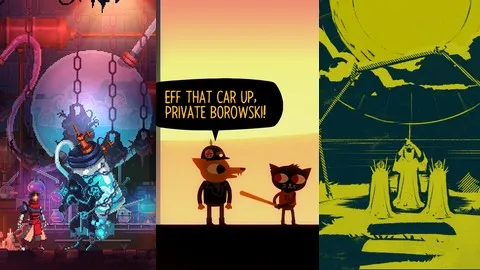 Louise Chamberlain (@LouiseWooeez), Triangular Pixel:
"Night in the Woods - its pessimistic/dark/humourous narrative really touched that cynical, teenage part of me that still lives on deep down! It's also beautiful."
Matthieu Richez (@cccpingu), CCCP:
"This year, the indie game that resonated the most with me would be Kitfox Games' The Shrouded Isle. A simple, short yet hard, compacted intriguing experience that really itches my game designer skills. The mechanics are subtle, board game like, when you play the game as a game designer you say to yourself: 'ah! That's a game I could almost do on my own!' and at the same time 'Gosh, that is clever!' It made me think a lot about new, small concepts, and made me nervous about my own skills as a designer to put on paper something so focused and in line with a cool, innovative theme like that."
Talha Kaya (@taloketo), Kayabros:
"Dujanah is my favorite indie game of this year. It is courageous in how it handles the serious themes while maintaining the absolutely punk, crazy and colorful style throughout. It is a game that truly embodies the vision of its developer and does not yield to anything less. It exists against all odds of this industry and we are lucky to have it."
Megan Fox (@glassbottommeg), Glass Bottom Games:
"Both Heat Signature and Streets of Rogue hit this free-form action sweet spot for me that I haven't seen done this well in, maybe ever? I'm hard pressed to think of another action game like this with as much breadth of choice as you've got in both.
Bounce the wrench off the guy's head then grab your target and slam him into space, leaving him to suffocate, while you last-minute grab yourself with your own spaceship? Yeah, sure, that works. Become an ape, free your own kind, and fight an army of soldiers with nothing but a pile of bananas (and access to a cloning machine to bolster your ape army), all to steal a baseball that will fund yet more ape cloning? Yep, that works too. I'll leave it to you to guess which game is which.
Also, West Of Loathing is possibly the best-written RPG I've ever played. I mean that literally. I've never played something with such obvious love and care put into every word, that somehow did all that without the words burying the rest of the game. It's a beautiful work of fiction, full of silly walks and quite possibly the best subplot featuring a spitoon ever to grace the world of man."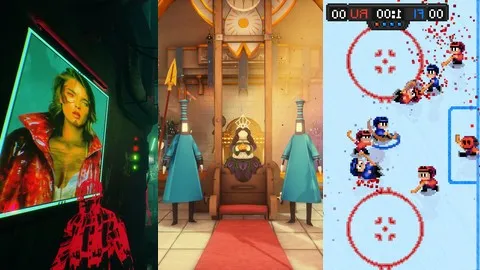 Tom Grochowiak (@TomGrochowiak), MoaCube:
"Reigns: Her Majesty. The Tinder-like swipe-to-make-royal-choices mechanic is pretty much the perfect format for a mobile narrative game. The writing's witty, there's some mystery to it, and I had more fun with it than any "full-blown" indie game this year."
Chris Floyd (@DeckNine_Floyd), Deck Nine Games:
"Hollow Knight is a masterful exercise in tone (as well as finely tuned gameplay).
LogISTical is an addictive management game with an ABSURD amount of content.
What Remains of Edith Finch fascinated those of us making narrative games and thinking about gameplay in that context.
West of Loathing is a joyous and generous game. And freaking funny.
Super Blood Hockey is a brilliant revival of an old classic for the NES, with smart updating of the formula."
Jana Reinhardt (@rottenhedgehog), Rat King Entertainment:
"I feel >OBSERVER_ grabbed my cyberpunk heart. The works of Bloober Team remind me of art installations the way they use space, music and effects so perfectly. Plus the setting in their very own hometown Krakow really made the cyberpunk believable. I also liked the limited setting and how you do interviews through doors. And that they could get Rutger "Tears in the rain" Hauer to do voice acting is just cream of the crop. Oh, and pigs with VR glasses!"
David Wehle (@DavidWehle):
"Easy choice for me, What Remains of Edith Finch. It left an indelible mark on my mind on how to tell a beautiful story in a video game. The themes of family and loss are ideas I try to present in my games with half of Giant Sparrow's grace and talent."
Joachim Holmér (@JoachimHolmer), Neat Corporation:
"Night in the Woods for its characters and for dealing with psychological struggles. The fact that you don't know the history of them makes it all very interesting as well. This is also a case where dialogue options are reflective of character, in a really nice way."
Tomas Rawlings (@TomasRawlings), Auroch Digital:
"I have really enjoyed playing The Shrouded Isle. It's a great game putting you in charge of an insular cult attempting to navigate your way to ensuring the whims of your dark god are carried out whilst making sure your followers remain obedience. That demands blood. The interaction is simple yet layered in complexity, the writing is witty and dark. It's the prefect gamic reflection of the times in which we live in..."
We'd like to thank all developers who contributed to this feature, as well as, of course, our readers for making 2017 such a good year for indiegames.com. We hope you have a great 2018!