Ubisoft Toronto was announced just under a year ago, and since then -- other than announcing that Assassin's Creed producer Jade Raymond is to lead it -- the studio has been quiet on its progress.
Today Ubisoft has announced that one of its flagship franchises, Splinter Cell, is to have its next installment produced entirely within the Toronto studio, with a second, unannounced title to be produced in co-production with Ubisoft Montreal.
Gamasutra visited the still-growing studio and its in-development workspace to discuss the studio's plans for its future, with input from the studio's core team including managing director Jade Raymond, senior producer Alex Parizeau, and head of the company's new Toronto-based extension of its Technology Group, Rima Brek.
Location, Location, Location
The location for Ubisoft's new Toronto studio was subject to a lot of speculation, and with Ubisoft's Montreal studio situated on the trendy street of Saint Laurent, many imagined the studio could perhaps be placed on one of Toronto's "hip" neighborhoods such as west Queen West or in a location that features easily converted factory-space, such as the Distillery district.
It makes the studio's location, in the Bloor/Lansdowne region, almost surprising. Not quite far west enough to be in the cool Roncevalles or Junction neighborhoods, nor quite east enough to be in the Annex (the location that forms the major backdrop to significant sections of the Scott Pilgrim series of books and upcoming film) Bloor and Lansdowne is a quiet, largely residential area that offers easy access to the rest of the city.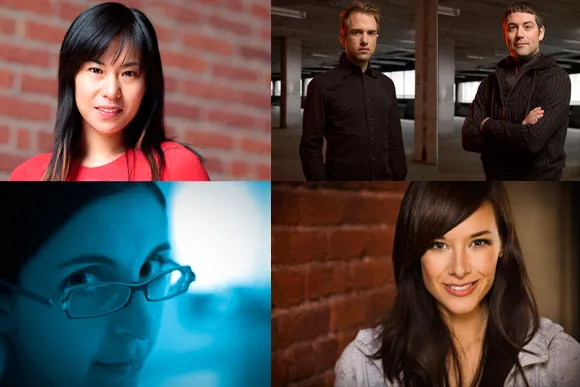 Top row, left to right: Lesley Phord-Toy, Alexandre Parizeau, Maxime Béland. Bottom row: Rima Brek, Jade Raymond
In particular, it also offers a large ex-factory location that strongly compares to that of Ubisoft Montreal's, with red bricks, large windows, skylights, and swathes of open floor space. Yet unlike Ubisoft Montreal, the company's windows look out onto a neighborhood of ordinary homes; those homes, too, seem to have a surprisingly good view of the studio.
"All of the core team has relocated with me from Montreal," said Raymond during an informal round-table chat in one of the new studio's conference rooms. "We're all kind of getting used to it, but it's pretty cool to be in this big building just across the street from regular houses."
The location currently features one main production floor that can seat roughly 180 people, with circular areas set out as "brainstorm spaces" to feature whiteboard walls and monitors to give teams the ability to play, view and discuss daily builds without needing to set aside time in a conference room.
Though the space is similar to Ubisoft Montreal's offices in style, when we visited there was still swathes of "raw" space still being worked on by builders. Raymond discussed plans to double the current production floor space by removing some walls, while also making sure the space kept some individual features -- from walls featuring art not only from Ubisoft's internal artists but local artists, and that they were "pricing out building a real kitchen," to provide crunching teams with the ability to eat more than just microwave meals.
Triple-A Plans
Strikingly, Raymond has a no-nonsense, take-charge approach, with a clear and focused plan for the studio that would doubtlessly surprise many of the detractors of her often high-profile position as a producer at the Montreal studio.
Acknowledging the investment from the government of Ontario -- $263 million CAD across ten years -- and the company's own commitment to invest over half a billion dollars over the same period of time, she admitted it was a "luxurious amount of investment", but that the company was committed to using it in the most efficient fashion.
"It's a really nice position to be in," she explained. "Instead of starting a studio and working on small projects, Nintendo DS or portables, we're starting out of the gate with triple-A only."
"The reason that I think that's the right strategy is that it allows us to attract the best talent right off the bat. When you have the ambition to grow a studio from zero to 800 in 10 years, you have to get good people in the door from the start; people with a lot of experience. In my mind, that's what's going to allow you to make sure that the junior people that you bring in are trained properly, and if you want the right start I think that's the only way to be successful."
---
Bringing the next title in the Splinter Cell franchise to Toronto was key to that decision to bring in the "right people," Raymond continued.
"In video games, most people are motivated, and passionate, about the project. I think that can be even more important than salary or other perks... but a lot of people did think we'd be working on Assassin's Creed when I moved here!"
In the attempt to attract those right people, Raymond was steadfast in her belief that beginning with triple-A projects was "one-hundred percent" the correct decision for the continued growth and aims of the studio, arguing that portable or so-called "smaller" projects such as on Xbox Live or PlayStation Network are not best used as "stepping-stones" for forming larger developers.
"There is a lot of great stuff on portable, on Xbox Live, on PSN. A lot of great indie games. It's a discussion I think that's very worthy to have, which is, who is the best at making those kind of games? I think maybe more of the coolest stuff there is coming out of indie development," Raymond said.
"We, by which I mean Ubisoft, put a lot of thought into what to move to Toronto. We had several criteria, but one of them was what would be a good match for the city. Where you develop a game does have an impact on who it appeals to.
"A lot of the games that come out of the Montreal studio, or the European studios, have much more of that 'continental' flair; Beyond Good and Evil, for example, couldn't have been produced other than in France. It's a very European-feeling game. When you think of it like that, I think the Splinter Cell franchise fits Toronto."
Due to the flexible team sizes needed in triple-A game production (most triple-A teams start small, swell during production, and return to a steady level afterward) Raymond announced that the studio would also be working on another "major franchise" with a second, smaller team in a shared development program with Ubisoft Montreal. This second team will be headed by Lesley Phord-Toy, a recent hire from Montreal Studio A2M (the studio responsible for 2009's third-person action shooter Wet.)
Phord-Toy said, "We want to work towards a smoother growth so we're not putting all the pressure on the studio to immediately build two triple-A teams at the same time. It gives us the chance to focus not only on bringing the right people in at the beginning, but putting them in the right place either to train or for training. When we look to grow this second team into a full team, we'll have the core team."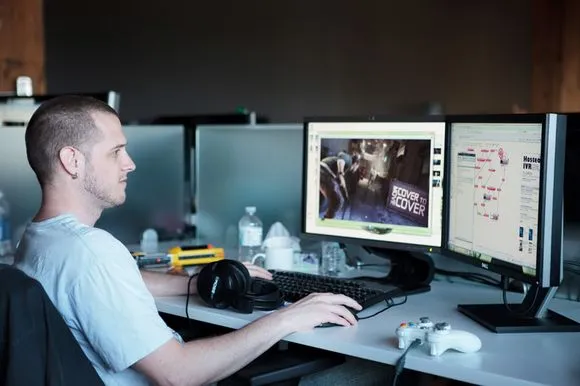 Splinter Group
Alex Parizeau is a five-year veteran of Ubisoft Montreal, beginning with Tom Clancy's Rainbow Six Vegas and most recently serving as producer on Splinter Cell: Conviction. Joining the Ubisoft Toronto team shortly before our visit ("I'm still sleeping on an inflatable mattress," he laughed) Parizeau is to head up the production of the next Splinter Cell in Toronto.
"I'm excited," Parizeau said. "We have very high ambitions for the project, and it's a great opportunity, because Splinter Cell has a lot of visibility, and we're really hoping to attract a lot of senior talent and people who have a lot of experience in the industry. We we want to build the studio around that, a really strong core team, and that [Splinter Cell] is going to provide us with a really good platform to do that. I think we have a really special chance to build something strong from the start."
"What makes sense for me for Splinter Cell in Toronto is the three axes of the project," Parizeau continued. "You need the team, the tech, the design. When we started Splinter Cell: Conviction, it was difficult, because we were working on new hardware, changing tech, and wanted to rejuvenate and innovate with the design.
"With so many risks, some are going to pay off and some aren't, and I think that's why we stumbled for a while during the development cycle. But here in Toronto we have a strong tech platform, a strong platform for the design, and we have a core team in place that we can focus on growing, and on creating a project based on the pillars we put in place creating Splinter Cell: Conviction."
Raymond added that the Toronto studio would also be in the best position to focus on polish:
"Developers always try to re-do things, take a 'clean slate' approach; however, there's a lot to be said about recognizing when you have a solid base and then making sure you have the time for polish. I think when you look at the big console games that are successful these days, the things that distinguish them is the polish; the teams that have taken the time for real playtesting. It's a really good position to be in, to have a solid base and not have to be reinventing."
---
Parizeau is joined on the Splinter Cell project by Maxime Béland, Ubisoft Toronto's new creative director, who began as a game tester at Ubisoft Montreal over a decade ago, "working his way up slowly" to game designer on Rainbow Six: Raven Shield.
"You cannot underestimate how much easier it is to build a game when you have your tools and design in place from day one," said Béland. "I'm not saying all the tools would be perfect or you're not going to change some things, but to have a really strong base. Conviction is doing very well, and I think that with the proper time and people, we've got a great base to build on. I don't think we're going to be shipping the sequel in six months, because we are building the studio, but Ubisoft is known to prioritize quality."
Béland spoke from a position of a Ubisoft developer who had gained a reputation as a "fixer," joining Assassin's Creed and Splinter Cell: Conviction teams during the project.
As Béland explained, "I worked on Conviction for more than two years and [with Alex] changed the direction -- whether that's 'fixing' it depends on who you ask. "
"What really excites me about Toronto is that, well, I was reading Clint Hocking's blog and one of the reasons he chose to leave Ubisoft Montreal was he was too comfortable and wanted to shake things up. It's interesting for me, because it's exactly the same thing. Doing something less comfortable; having that feeling of being at a smaller company but still with the back-up of Ubisoft.
"It's something I've never done, building a company from scratch, and it's really exciting. The headaches are new and different, and as game developers we thrive on the headaches, the challenges. Every little problem is something new that we can enjoy solving, so adding the challenge of building a studio is really exciting."
However, the aim of gaining new staff for Ubisoft Toronto is not, the team argued, simply to gain 'warm bodies' for indoctrination into Ubisoft's 'way' of making games.
"Something I'm looking forward to on working on a big game like the next Splinter Cell is that we'll be able to get really experienced people from outside Ubisoft," Béland said.
"It's going to allow us to learn from different mentalities. Having been at Ubisoft for eleven years, I know exactly how Ubisoft makes games, but I want to surround myself with new people that bring in new ways of making games. I think that's going to be very interesting: as much to teach and mentor new people, but also for us to mature and grow as developers."
Parizeau added, "The cool thing is that as a start-up company we'll be able to grow the company, at least, along a structure we've already experience before. For me we're growing the team, but we're growing it around a structure that we know and can thus tweak and adapt. It's very different form a company that has to learn how to structure itself as it grows. I think that's something that's going to help us a lot and make us very strong and solid from the start. We're really starting with a level of risk that isn't the same as other start-ups.
"We have a great opportunity to build a culture of our own; something that reflects me, Max, Rima, Leslie, and Jade, and that's an opportunity that you don't often get in your career and that's what I'm excited about."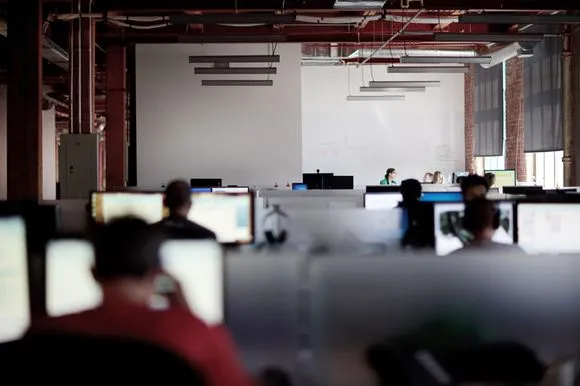 Employee Number...
No matter the backing, the task of staffing up a start-up to 800 employees while also working on two projects (one a confirmed AAA sequel) seems like it would be a major challenge. Yet Raymond revealed that even without extensive media coverage outside of the original announcement of the studio in July (though the company does have "Ubisoft Employee Number 1" keeping interested parties up-to-date via Facebook and Twitter) the company has received over 2000 resumes.
"It's not a question of getting the numbers," she said. "The numbers are there. Ubisoft has been lucky and hasn't faced the kind of layoffs that have affected other companies, and there are quite a few really senior industry people looking for jobs now. It's more a question of making sure we choose the right people, not just in terms of their experience level and talent, but also their personality and how they would fit with that team to make sure we can build that culture that we want."
But what is the aim for the Toronto studio's culture? Raymond said, "From Ubisoft culture I really appreciate the multicultural aspect. People are recruited from all over the world, and Toronto is a very diverse city and it's a great place to make sure we have a culture where we can tap into people's different backgrounds. I think the challenge is more just in not going too quickly, instead making sure that even though we have these grand ambitions we make sure to choose the right people."
And if the right people come along, Ubisoft Toronto will be available. "I've spent quite a bit of time talking to people in the industry, and the studios that have been successful, and I think the difference between the successful studios and not are those that hire when there is a good person available, not just to fill specific roles. I think if the best animator in the world walked in the door, though we're not looking for an animator, we're going to hire them. The worst thing we could ever do is wait for the day we need someone and hire the first person that comes along."
---
Second Team, First Up
The second team also allows Ubisoft Toronto more flexibility in hiring, Phord-Toy said.
"As we've been doing the recruiting, the kinds of people that we're looking for on Alex's team don't necessarily match up to the kind of people I'm looking for. We're not competing for the same resources, and from a strategy point of view it forms an interesting opportunity to bring another group of people into the studio."
Raymond agreed. "Leslie's team is going to go into production before the Splinter Cell team, and it allows us to hire production people faster.
"Splinter Cell is focusing on conception, with a small team of highly focused veterans on the creative side, and Leslie's team has those people too, but there will also be a production team. So what's really cool is that Leslie is going to be the first person hiring juniors.
"The studio portfolio strategy is something else we're trying to do right," she continued. "What are we going to do after these two projects ship, how are we preparing for the production ramp-up for Splinter Cell is going to have? Within a year and a bit her team is going to have gone through a couple of major milestones, and she's going to have some staff that can branch off and be another whole team.
"It's kind of how we are not only going to plan the studio's growth and training intelligently, but how we keep things fresh. So people working on one thing are going to be able to work on something different and cool later; it's the situation where you don't have people working on the same things or brand for the next five iterations just because we're starting up."
Béland added, "Also technology. People will be learning different tools and tech on each team, which is very important for the Toronto studio to be flexible; jump in and work on any engine."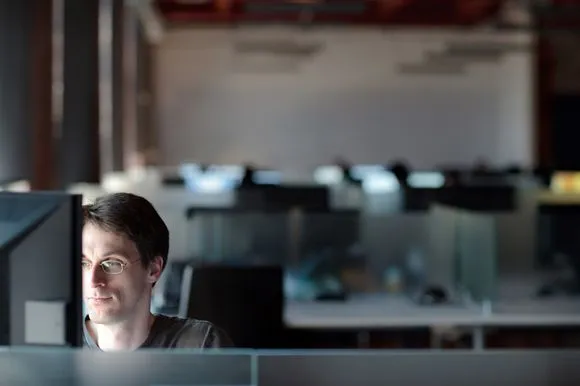 Technologically Sound
Rima Brek's experience at Ubisoft outpaces even Béland's, having served twelve years -- beginning as a programmer before transitioning into working outside of the production stream in Ubisoft's Montreal-based Technology Group. The group acts as a hub for Ubisoft's international teams -- working on internal tech, middleware, and tools.
Brek said, "If a project has a certain need, they can consult with the Technology Group and we can direct them to another project, propose an internal option (middleware or tool), or give them feedback on external tools. It's super important that the Technology Group is aware of everything that's going on."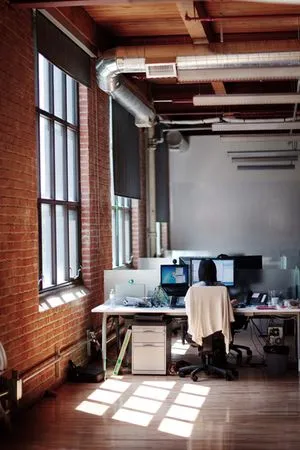 As a result, Brek's new role as Head of the Toronto Technology Group is somewhat of a "dual role."
"I'm partly building an extension of the technology group here in Toronto, but I'm also getting involved in helping build the studio and dealing with any technology issues the production team -- or just the studio in general -- might face."
Raymond said, "I'm really excited about having Rima form a group here in Toronto, as one of the things Ubisoft said when we formed the studio here is that we're interested in leveraging the film talent that already exists in Toronto, and taking advantage of that base.
"It's really tough to get someone straight from the film industry and put them on a game project and have them be effective. You can have someone who is the best animator, or a tools programmer, but you ask them to work in a real-time environment where the story is being controlled by the player, there's a lot of learning there.
"The technology group will be a way to make those people immediately useful in a games environment. Rima can have people on her team who can be working on real tools, useful to everyone, but also work closely with the production teams and start to see how that works. It allows us to most effectively tap into the talent pool."
However, Raymond stated that they were not sure what size the Technology Group will reach at this stage.
"It depends on a lot on the opportunity. One of our strategies is attracting the best talent, and if a lot of the people who we attract that are superstars want to work with Rima, we may end up growing the tech group much bigger than we anticipated, but likewise the inverse is true.
"We have a bit of a flexible plan right how; the most important thing is finding the talent, rather than saying we have a set number of places here or there. Our hiring is very opportunistic; if you're great, we want to hire you."