Canadian microstudio Washbear's new simulation, Parkasaurus, recently released on Steam Early Access to general delight from players, since it's a lighthearted romp into the world of dino management and theme park wonder with a jovial 'sim' bent.
The setup? Players go back in time and collect dinosaur eggs, then return to the future and set up a dinosaur theme park to exhibit their specimens in a way filled with heaps of charming hubris. Just don't tell any chaos theorists!
Searching for practical details from the game's creation of help to other devs, Gamasutra spoke to one half of Washbear and co-developer of Parkasaurus, Chris McQuinn, a veteran of Guacamelee! dev Drinkbox Studios.
He kindly answered some questions for us about the well-received game, which is still partway through its Early Access journey, about its design and intent.
Making a sim silly, not strictly serious
I don't think there is a right or wrong theme to take for a simulation game, and that the choice you make can be dependent on the type of developer you are. For the two of us that make up the studio, we're a bit on the goofier side of things.
There weren't any guidelines of an IP we were constrained to follow so we really were allowed to break away from the more realistic style of sim.
In addition, we had a very clear idea of the art style we were going for, and that just happened to lend itself to a more fanciful and silly style of game.
Isometric graphics or free look? Why not both?
There are definitely pros and cons to the isometric perspective. Maybe it's more accurate to say there are people who definitely prefer that style and others that don't. We had originally only made an isometric perspective for Parkasaurus as this was our preference.
This type of view really helps if your play style is efficient, for those OCD folks like myself out there. Everything being grid oriented, aligned up, proper lengths, etc.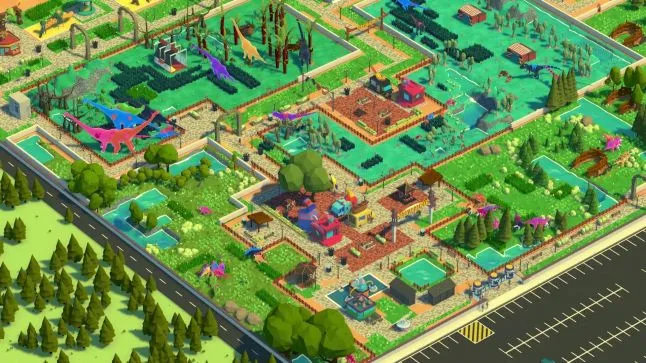 Later in development, we started to hear from a large part of our community that loved the sim style, but also the artistic side behind creating these beautiful landscapes.
That's when we put in the "free cam," which originally was implemented to make it easier for players to take screenshots. Turned out about half of our players build their entire parks in free cam. The major drawback for free cam though is that it exposes that neither of us is an artist!
Escaping the traditional build-earn-repair cycle
There are a lot of cool new mechanics we put into Parkasaurus to combat that same old step waterfall up building gameplay. Specifically to your questions, every building has the ability to add on "perks" to guests when they shop there.
"All you can do is focus on your own game, and what makes it different. Show people the cool things that make your game unique."
For example, you can add a park where guests stay 10 percent longer in the park. That perk is researched later on in the game if you so choose to do it.
So, you might find that now you want to move the building that gives that perk earlier to the park entrance to ensure you extend that stay of guests who happen to be on the low side of distribution with respect to how long they stick around. Guests who stay longer pay more.
An important aspect of Parkasaurus is that the majority of your money is generated not from buildings, but from the quality of your exhibits. As the game evolves, the requirements of your exhibit evolve.
For example, if you add more dinosaurs, you now need to return to your biggest money makers to adapt and improve them. This was done to avoid the 'build and forget' aspect you often see.
Oh no, it's a containment breach: accidents random and triggered
Mayhem is awesome, and people come to expect that from a game like Parkasaurus. And for Parkasaurus it also is part of player choice. For us the mayhem of your dino friends breaking out isn't just for show, it is an interesting choice for the player.
Do you spend your science credits to upgrade stronger fences? Or do you simply have more janitors on staff to continuously fix weaker fences?
Or do you have dinosaurs solo in each exhibit, which means, on average, the fence gets less bashed in by the dinosaurs? Or heck, maybe you just hire a bunch of security and figure you'll deal with the problem after it starts.
At the end of the day, the consequence for a destroyed park is not that high. Your janitors can rebuild most of anything, and at worst you lose a day of profits and a lower park rating. All very recoverable. This was done to ensure players could enjoy destroying their sandcastle, but being able to get it back quite quickly.
On releasing in the wake of Jurassic World Evolution
I'm not going to say we were thrilled when we heard Jurassic World Evolution was launching this year, but at the end of the day we are in two different leagues. They are a massive studio, and we're two dudes flailing away.
The visual world made in Jurassic World Evolution was crazily impressive, and that specific style was something we could never do, so [we] didn't even bother trying. What we could do, though, was try new mechanics and ideas that were riskier.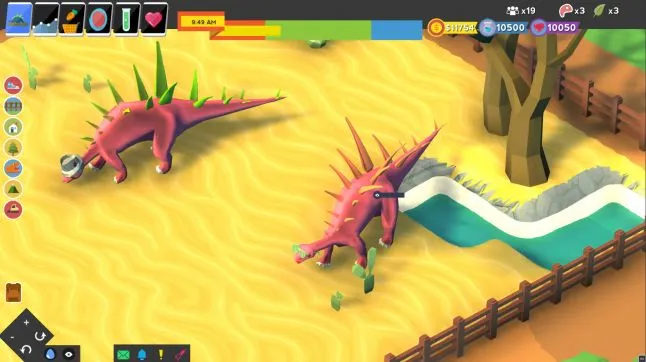 Mentally [differentiating your title via marketing] is very tough, and I'm not sure I handled it the best. All you can do is focus on your own game, and what makes it different. Show people the cool things that make your game unique.
If nothing is different in your game, then you're in trouble, but that's hopefully not the case. And start talking early, I can't emphasize that enough.
[Jeff Goldblum voice] "Were you so preoccupied with whether could, you didn't stop to think if you should?"
We make a few little fun jokes about Jurassic Park in the game - but Parkasaurus has its own backstory and set of characters and world-building that we didn't want to pull the attention away from too much.
But we do have other Easter Eggs in the games for other things dear to our heart, so keep your eyes open.