It had been Jake Song's dream, at least since his university years, to program a piece of commercial software that would be sold in America. Any software, just so long as it made it to a shelf at an American retail store. It didn't even have to be a game.
It didn't come true right away, though not for lack of trying. Song is now CEO of XLGames, a company he founded in 2003 after departing NCSoft, the South Korean business software developer. The game Song programmed and designed for NCSoft, Lineage: The Bloodpledge, became the first game of its genre to have more than 2 million subscribers, putting the company among the largest game publishers in the world, changing gaming in South Korea forever and almost overnight, putting the country as a center of influence in an industry long dominated by the United States and Japan.
"Insane," Song said after being reminded of the number of Lineage subscribers over brisket and Shiner Bock at a restaurant in Austin. His employees, some from Seoul and some from the small XLGames studio in Austin (only 6 total in Austin, and 28 in Seoul) came along for dinner and to hear him tell stories to this reporter.
Jake Song (whose given name is Song Jae-kyung, but answers to the phonetically similar "Jake") is aware of his fame through association with NCSoft and Lineage, but admits he doesn't do much to keep track of it – at least not as much by comparison to say, Richard "Lord British" Garriott, whose company in Austin was purchased by NCSoft in 2001. Song's name was used often in association with Garriott's latest game, Tabula Rasa, including at GDC 2006, when Garriott attributed the game's delays to "too many cooks in the kitchen."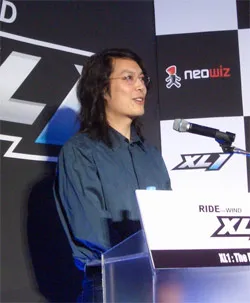 Song said he still respects Garriott and his brother Robert Garriott, president of NCSoft's North American operations, and his departure from NCSoft in 2003 didn't have anything to do with them, rather a disagreement with NCSoft's founder and CEO in Seoul, Tak Jin Kim. What's more, he said, though he would often travel to Austin to sit in on meetings, his actual work on Tabula Rasa was limited to a few lines of code and "maybe one page in a design document."
XLGames is a chance to start over, Song said, and though the company recently released XLRacer, a persistent racing game, the company has recently begun work on what will be a roleplay-based massively-multiplayer online game. "We're going back to basics," he said.
Song's name first began circulating in the early 1990s when, as a doctoral student at Korea Advanced Institute of Science & Technology, he programmed and released hanterm, a terminal emulator using hangul, the Korean alphabet. Once graduated, he was one of the first employees of Nexon, where he worked on The Kingdom of the Winds (also known as Nexus), released in America in 1996, just over one year before Ultima Online became a much larger hit in the game genre soon to be known as the MMORPG.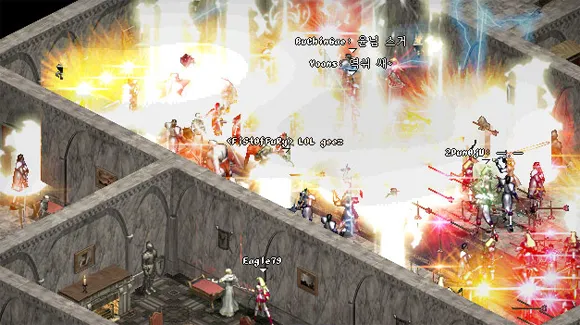 Lineage
It was Lineage, however, Song's second game, that became the phenomenon. Working at NCSoft, Song put his love of dungeon-crawling games (such as Nethack) and comic books into an online feudal kingdoms game with its story from the work of comics (or in Korean, "manhwa,") creator Il-sook Shin. Song said his design was simple, and doesn't consider himself any sort of genius with systems design.
But a few things happened to help Lineage, and South Korean gaming in general, along. In the mid-1990s, Korea Electric Power Company, or KEPCO, began leasing bandwidth from its fiber-optic cable network to Internet providers and other such enterprises, making broadband Internet available. Personal computer ownership in South Korean homes was relatively low compared to Americans at the time. This, the fiber-optic broadband and government support leads to the popularization of "PC rooms," or "bahngs," where customers can rent the use of a computer for general Internet use.
---
Gaming rapidly became a favorite pastime in the PC rooms, and still are today, Song said, though PC ownership has risen considerably over the years. Going to a bahng is familiar and convenient, he said, though he acknowledged that many gaming, sitting elbow-to-elbow in front of PC desks, spend long hours playing – and smoking – with one hand on the mouse and a cigarette between two fingers of the other hand. "Not very healthy," Song said, after hand-motioning how a player might bring a cigarette to his lips if he needed to type, then retrieving the cigarette between two fingers again. And in Lineage, a character can be moved and directed with mouse alone.
South Korea's gaming community doesn't have the history of the United States or Japan, Song said, acknowledging that there are differences in the way Koreans play from the way Americans play. However, he said, the differences aren't so great that gamers from both countries can't enjoy the same game, citing Blizzard's success with Starcraft in South Korea. "I'd say that 70 percent of the playstyles are the same, from Korea to America," Song said. "My point is, it's more than half."
But even with success in his home country, Song still had his dream of success in America. He'd sent resumes to Electronic Arts "three or four times," he said, and in 1998, for his first trip ever to America, he went to the Electronic Entertainment Expo, E3. There, he went to the EA booth, which was showcasing, among other things, Ultima Online. At the time, Song said, he had only a vague idea that EA was based in Los Angeles, the site of the expo, but not that Origin Systems, the EA subsidiary founded by Garriott that developed UO – was in Austin, Texas.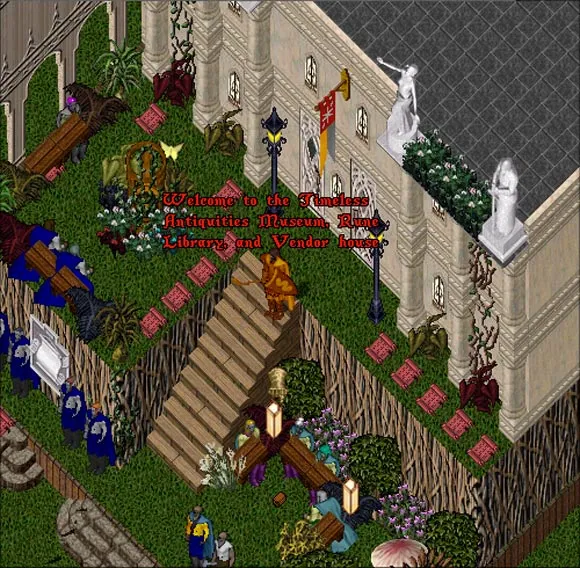 Ultima Online
It was at EA's E3 booth where Song met Starr Long, UO's producer. "I worked up my courage," Song said, "And I went over to ask him ... something like, 'Have you ever seen my application?'" Long was polite in his reply, Song recalled, but it was awkward at best, and left with Long excusing himself. When he got back to Seoul, a postcard was waiting for Song – EA had declined to hire him.
It wouldn't be the last time Song would see Starr Long, though. In 2000, Long would join Richard and Robert Garriott to form Destination Games, an Austin studio including several ex-Origin employees. In March 2001, EA announced it was laying off 250 employees and canceling, among other projects, UO's sequel, sending even more Origin developers to Destination.
Meanwhile, Song remained at NCSoft. By 2000, the company had made attempts to push Lineage into neighboring countries and was thinking seriously about setting a footprint in America. That summer, Song helped set up a small office for NCSoft in Los Angeles, for the purpose of support and marketing NCSoft games in North America. The following spring, Song saw a post to the venerable MUD-Dev-L mailing list by Jeremy Gaffney, announcing that Destination Games was growing rapidly and was looking for business partners. Seeing an opportunity for NCSoft, Song answered the mail. And before long, he was talking to Starr Long again, setting up a meeting time for him to visit the team in Austin. At the time, Song said, he wasn't even aware Richard Garriott was involved.
"They gave us directions," Song recalled, "We went to the address, and it was Richard's house."
The deal was made quickly, with the announcement at E3 in May 2001 that Destination Games would be NCSoft's new headquarters in North America. The office in Los Angeles would remain for several years before its services would be moved to Austin, but before then NCSoft would acquire ArenaNet in Seattle and establish studios in Northern California and Great Britain.
---
Early on, it was decided that the Austin studio would be working on its own MMO, Tabula Rasa, and that Song would be brought in as an adviser. Song said that he felt like his opinions were respected, but early on, he understood that Long and Garriott were in charge of the project. That was fine with Song, who was already working on a 3D MMO to follow Lineage II, a project called Lineage Forever (which has since been re-tooled and retitled Aion.)
Within six months of the acquisition, Song said, management at the NCSoft office in Seoul began to raise objections. "They would say, 'It's too expensive,'" Song recalled. "And I insisted that no, it's cheap." Having an established group of game developers in North America was key, he believed, for the company to have a chance to grow a market there. Having a network of contacts in the local game industry ready to help was key, Song said. "I saw that as a very good way to do business in the United States market," he said, "was buying Richard Garriott."
It was only two years later, however, that Song departed NCSoft to form XLGames, first with a few friends from the old Lineage team, then gradually growing. Song kept in touch with friends he'd made in the Austin studio, including Patrick Doane, who had worked on the Macintosh port of Lineage with him, and at one point decided to leave NCSoft and asked Song if he could open an XLGames office in Austin. Some of the development work on XLGames' first project, XLRacer, was shared by the Austin office, but a long time in beta testing and the growing pains of a new company made for a disappointing launch. "Miserable failure," Song said, laughing.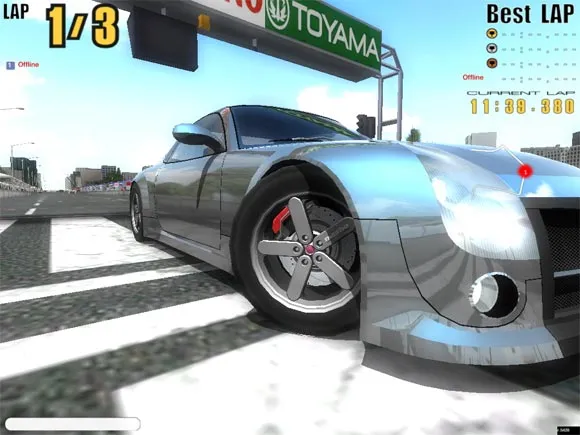 XLRacer
The goal for XLGames' next project, he said, will be a game that has the same appeal in America as in South Asia. The new game is still in a "very early stage" of development, with "nothing concrete yet" in terms of its design. Appeasing both game markets won't be easy, Song said in an e-mail conversation following the meeting, even with experienced developers working for XLGames in both offices. For one, the Korean market is still more accepting than Americans of online game distribution, Song said.
"I think Americans believe that a game is low quality if there is no retail presence," he said. "In Korea, online download is enough. No need to make a fancy package."
Was there an opportunity to reach both markets before now? Maybe, Song wrote. "I think I had a chance to do it at NCSoft but I missed it. Maybe due to my laziness. I don't want to blame anyone else except me."
So as before, Song is traveling back and forth from Seoul and Austin, only this time he's the CEO. The weather's nice in Austin, he said, and the traffic and pollution aren't as bad as in Seoul. The teams communicate weekly via video teleconference and update a Wiki-based trove of documentation. Both teams have traveled to visit the other's offices, and the plan is to grow and add employees gradually. Business partnerships are a possibility, Song said, but so is self-publishing.
"Who knows," he said. "Maybe we'll become the biggest online game publisher in the world."