Games are one of the primary reasons people visit Facebook. Reportedly, 40 percent of its user base is there to play social games. That means that more than 200 million people play games on Facebook each month, and the top 10 games on Facebook have more than 12 million users each. Those are a lot of eyeballs! However, if yours isn't one of the top 10, attracting those eyeballs to your game can be a frustrating experience.
Fortunately, Facebook isn't the only game in town. Global social platforms want it known that there are real opportunities for developers who dare to be agile and venture outside the U.S.
Indeed, other global markets -- in Russia, in Eastern Europe, in Japan, in South America -- are hungry for quality social games. Publishers there have set up mechanisms to make entering those markets easier than one might expect. Localization, for example, is becoming less of an issue.
In Brazil, for instance, where the market has grown so large that this month the Brasil Game Show 2010 is expecting 20,000 visitors from all over the globe, Mentez is looking for developers.
Mentez -- Latin America's largest social gaming publisher with an office in Sao Paulo, Brazil (and one in Miami) -- is the brainchild of CEO and co-founder Juan Franco.
A year and a half ago, Mentez switched business models -- from producing its own games to focusing on finding, localizing, marketing, and monetizing social games from the U.S., Europe, and Asia.
Today, Mentez publishes four out of the five most popular games on the Google-owned social network Orkut in Brazil and its portfolio reaches 22 million active users every week. One of those games, Colheita Feliz, a farming game, is the single most popular game on Orkut.
"If you currently only have your game on Facebook, you can double or triple your revenue by working the international markets," says Franco. "The U.S. is a very tough market that's dominated by two or three big companies. So it's very difficult for a smaller developer to compete in the U.S. on the Facebook platform these days. I believe that, for those good developers with good skills and good ideas, exploring international markets could be the best way for them to succeed."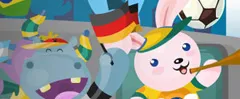 One of those big companies -- Playdom -- apparently agrees, having signed an exclusive agreement for Brazil earlier this year with Mentez which has, so far, localized four games for Playdom -- Bola (a World Cup soccer game), Tiki Resort (a resort management game), Social City, and Market Street.
Mentez determines which games have the highest probability of succeeding in Latin America, translates the game, builds new virtual items for the game, tweaks the game mechanics if necessary, forms relevant partnerships with brands and celebrities, and launches the game on the two dominant social networks in Latin America. They are Orkut, which has 40 to 50 million users in Brazil alone, and Facebook, which owns every other country in Latin America.
"Localization is difficult for U.S. developers without help," explains Franco. "Many of their games are filled with cultural references -- like the Super Bowl and the Fourth of July and Halloween -- which mean nothing to Brazilians. So it's not as simple for U.S. developers as translating their games into Portuguese and dropping them onto Orkut."
Mentez has a team of artists and product managers who build virtual items that resonate with gamers in Latin America and help craft changes in the games so that they have a Latin American look and feel.
The publisher also has a PR team that helps the game get coverage in Latin American publications, and it runs banner ads inside their other games. It also takes a cut on virtual item revenue, so Mentez has a vested interest in seeing the game succeed.
Mentez also takes care of monetization through Paymentez, its proprietary, alternative payments network. According to Franco, "in emerging markets like Brazil, 50 percent of the 100 million people who are connected to the internet don't have credit cards -- and so PayPal doesn't work here. So gamers need other ways to pay. With Paymentez, they can walk into an Internet café and use cash to buy virtual credits.
"Paymentez has over 100,000 retail points of sale. That's just one more hurdle U.S. developers don't have to worry about when they partner with Mentez. They can sit back, get their checks in the mail, and enjoy a bigger footprint worldwide."
---
U.S. developers have similar opportunities in Russia and in Eastern Europe, according to Alexey Kostarev, co-founder, CEO, and general producer at Russia-based social media distribution network i-Jet Media.
Previously a developer, i-Jet, like Mentez, changed its business model and, this year, began distributing games to 20 or so local social networks not affiliated with Facebook, mostly in Russia and Eastern Europe. It currently has approximately 70 games in its portfolio that it expects it will be publishing to 30-plus social networks with over 60 million users by year-end.
Two of its success stories include Alawar Entertainment's Farm Frenzy and Evolution Games' Wild West Trains published on Belgium-based Netlog, Poland-based NK, and Berlin-based StudiVZ, MeinVZ, and SchulerVZ.
And, in August, it was reported that Playdom entered into a publishing deal with i-Jet to bring its games to Eastern Europe.
"About half of our business is in Russia and all major releases are made through the four or five largest social networks in Russia, like Vkontakte," says Kostarev.
"A few years ago, no social networks existed here. Now their business doubles annually and we currently estimate that they will finish the year at between $40 to $60 million. So it is becoming more and more attractive to U.S. developers who are searching for new markets to publish their games here."
According to Kostarev, i-Jet's goal is to "build the largest social media distribution network in the world. Considering the current phase of market development, that will require our distributing 100 games on 100 social networks with revenue from every single product at about $2,000 each month. Our strategy is simple -- more social networks, more developers, and more perfect platforms for their integration."
And so i-Jet is on the lookout to increase the number of developers with which it partners from the current 40 -- including Alawar, Akella, Drimmi, Evolution -- which means making it known the services it provides.
"We want to help developers earn more money than they are currently making on just Facebook," Kostarev says. "Which is why we examine their games, consider marketing and producing the best games, do localization and translation of games (with our own translators) into any language required, we tune monetization models, we hold negotiations with social networks, and then we integrate applications, and organize the technical support of users in many world languages. Then, of course, we distribute the products."
What i-Jet asks of developers is to "integrate their games using our own platform which is very simple and doesn't require any special knowledge," he adds. "After that, we have an opportunity to build the game on every social network we cooperate with without additional actions performed by the developer."
i-Jet's policy is to share revenues with distributors on a 50-50 basis. "We don't subtract any of our costs," he adds. "If we get $100 from a social network, the developer gets $50."
---
While neither Mentez nor i-Jet target Japan, DeNA Global (pronounced "DNA") is on the hunt for U.S. social game developers interested in publishing there. The two-year-old, San Mateo, CA-based company is a division of DeNA Co., the Japanese mobile internet company that owns that country's most popular mobile portal site, Mobage Town, which boasts 20 million registered users.
According to Dai Watanabe, president of DeNA Global, DeNA's goal is to grow the largest social gaming platform in mobile here in the States. To that end, DeNA has been acquiring or investing in U.S. game developers, including IceBreaker, Gameview (formerly Bayview Labs), and Aurora Feint. Most prominently, last month it bought San Francisco-based Ngmoco for $400 million.
Ngmoco will serve as a talent scout of sorts for social game developers anxious to have their titles published by DeNA both here and in Japan.
"We had planned to have a business development team that would talk to U.S. developers," says Watanabe. "But now Ngmoco will perform that function instead. Also, we have enabled Mobage Town's open platform to connect its API to Ngmoco's SDK.
"So basically, after a little tweaking, a U.S. game developer can use just one single source code for both the western and Japanese markets and for both IOS and Android. That is the key to what we are calling our cross-device/cross-border strategy."
In other words, Watanabe explained, DeNA's plan is to create games that run on any device in any region of the world.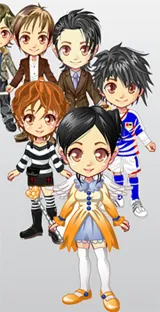 DeNA is clearly serious about attracting the attention of U.S. game developers. It is using a new pool of cash, called Incubate Fund No. 1, into which it has invested $27.5 million, to provide seed rounds to social game developers. And it has announced a partnership with Yahoo! Japan to create social games.
The new portal Yahoo! Mobage is said to offer the advantage of two user bases of significant size -- Yahoo's 52 million monthly active web-based users and DeNA's 20 million active mobile users. And it is providing services that developers will need to make the transition to the Japanese market, such as translation, hosting, and monetization resources.
One U.S. game developer that has already made the leap to the Japanese market is Burlingame, CA-based CrowdStar, which recently announced that two of its most popular titles -- Happy Island and Happy Aquarium -- are now available on the new Yahoo! Mobage site. The company intends is to bring all of its games to Japan.
"My best advice to developers," says Watanabe, "is to take a look at the social gaming market in Japan, which has just started to explode. Especially if you are struggling to be number one -- or even just successful -- on Facebook. There are many opportunities outside of the United States -- and to ignore them would be foolish."