Stéphane D'Astous, General Manager of the newly-formed Eidos Montreal, is bullish about his studio's planned development cycle. "Trying to get nine women to give birth to a baby in one month doesn't work. Everyone has tried that in this industry, but we decided to cut the bullshit," D'Astous declared on our in-depth tour of the new facility.
As discussed in a previous interview with D'Astous, Eidos Montreal has been created as a facility to hold both the quality assurance arm of Eidos and to perform development on "triple A, next-generation" titles with a longer-than-average development cycle.
"Our pre-production and production cycle should be about 24 months. That's quite unusual in this industry, but we don't want to try and pack everything into a 15 month production," said D'Astous. "People that have been burned on other kinds of projects, where they were suddenly expected to deliver very fast, were attracted to our company when they heard about our philosophy. We've set out to only work on triple-A next-gen titles. We're not going to do any handheld, DS, PSP titles -- that's all very interesting, but not for us. Too many studios fall into the habit of trying to do everything at once. We want to concentrate on our strengths, and a longer development cycle will allow that."
Quality Assurance
Of course, there's more to Eidos Montreal than just longer development cycles. Leading us from the modern reception area -- where a jersey from the Montreal Canadiens (the local NHL team) is proudly hanging, framed, on a wall while monitors play the well-received Deus Ex 3 teaser trailer on loop -- D'Astous lead us to the QA department.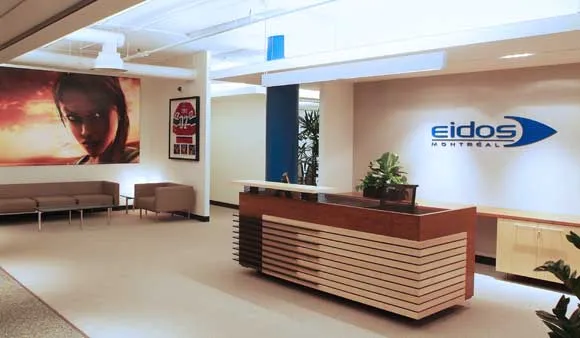 "One of the challenges was to find a place where we could grow three ways," said D'Astous. "With that in mind we have the whole floor here for us. Right now we're only using 60 percent of the floor, but by next summer we'll occupy it completely. At this stage we have 150 people. Stage two we'll have 250 people, and in stage 3, about December 2009, we should be 350 people."
With the staff split into two distinct groups, quality assurance and development, D'Astous expanded, "The QA group has a world mandate. They are available to test all games that are published through Eidos, and by the time we reach 350 people, about 100 of those jobs will be QA."
The studio is constantly prepared for the future growth, as D'Astous showed us the facilities available to the QA department -- stacks of systems, CD burners and shredders -- and D'Astous was particularly taken in showing us the server room, noting how loud the servers were ("like jet engines," he laughed) and how Eidos Montreal have tried to make sure the servers take up as little floor space as possible. "Even in Montreal, floor space is not free," D'Astous quipped, but promised that even in the surprisingly small room that there would be adequate space for more servers during the continuing expansion.
This sensible use of floor space was paramount to the creation of the studio. "We have a very small number of offices. I wanted to keep the studio as open plan as possible," said D'Astous. "The offices are mainly just for the managers and myself. All of the rest of the staff is in low cubicles. Light is very important, that's why I wanted glass partitions so the light can go very far. During winter in Montreal the daylight is very low, and we don't want it to be dark and gloomy."
D'Astous has intentions to keep the amount of administration staff as low as possible. "My goal is to have less than 10% of the headcount being non-direct labor. That's quite low, compared to certain developers. Right now I've only got four managers and myself, we have no assistants. We really want to invest money in the QA side and the development side. My managers are very orientated towards project management. We like to have visibility, and we like to have planning in place so there are no surprises."
---
Development
On the other side of the offices from the quality assurance team, we found the Deus Ex 3 team hard at work in the development area -- with one (large) wall covered entirely in design notes and another, of similar size, covered in concept art in a range of styles. Particularly striking was a massive poster for the original Deus Ex wrapped around a pillar -- perhaps working as inspiration for the team (interestingly, no Invisible War paraphernalia was apparent.)
At the time of our visit, the "proof of concept" for Deus Ex 3, which took four months of development, had just passed its milestone to continue into pre-production. "We were quite pleased," beamed D'Astous. "The whole team worked very hard. We're taking the franchise very seriously. We know how important it is for the fans. And everyone has an opinion, everyone will want to make it heard, we're going to be criticized just for making it, but one thing we want people to know is we did our homework. We went through everything, and we planted it as a seed, and it's beginning to grow into a tree. And we want the tree to grow straight. The proof of concept broke the ground, and we're continuing to grow that."
Given the game's planned 24-month development cycle, we asked D'Astous how large the Deus Ex 3 team was. "Right now the team is about 38, and we're looking to grow to around 80 during production. Sticking to that is very important to us. I came from Ubisoft, where a lot of projects ended up with a team of 200+ people. Why? Because the schedule got compressed or changed. Over here, we want to avoid all of that. We want to keep to a human size and we've identified 80 people to work on this next-gen project."
Work and Play
With limited team numbers, D'Astous wants to ensure that each member is productive -- and happy. A designer at heart, D'Astous has ensured that even each workstation is as ergonomic as possible, with ergonomic chairs, multi-function desk drawers (which can work as pull-out stools for visitors) and a modifiable shelving system allowing each worker to set up their workstation with a personalized layout.
Similarly, the bright and spacious common area in a corner of the studio ("I wasn't selfish," D'Astous joked, "I didn't want a corner office. I wanted the staff to enjoy the view") offered a range of seating areas and is only one of the locations used for relaxation activities. "On Fridays after work, we like to relax here with drinks. On Tuesday we have outings to the movies because we've got a movie theater nearby… On Thursdays we've got movies on our big screen during lunch time. We try every day to keep changing the pace and keep people on their toes, not to think of this just as a work environment."
"People do stay here for a long time each day, and we don't want them to come to work each day depressed thinking 'another working day.' People are still coming to work with bright eyes and fresh faces, so I think most of them really like it," D'Astous claimed. "I want them to see that we recognize how much effort they're putting in." The studio even features a shower room for staff who bike to work or wish to get changed for an evening out without having to head home first.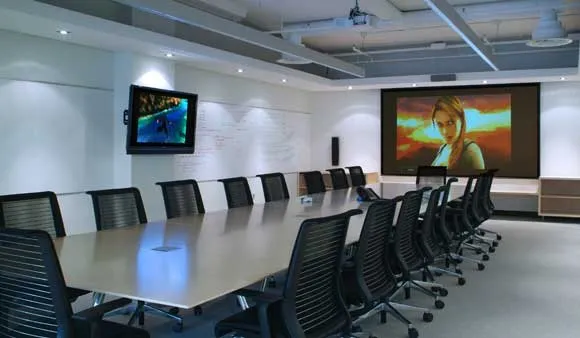 Perhaps the location in the studio D'Astous seemed most proud of was the meeting room, enclosed with glass sliding doors ("industrial design at its best") and featuring a large projector screen and Dolby 7.1 sound. Very much part of the team spirit D'Astous felt was important to the studio, the meeting room is not reserved solely for meetings.
"This room is used very regularly for brainstorming -- as you've seen, these types of walls for writing on are all over the studio -- and this is a place where people can go crazy with their ideas on the wall. We also watch hockey games on the big screen -- play NHL and Guitar Hero on it. It's accessible by all of the staff."
---
On Montreal
As we sat down in the meeting room to discuss the studio and its plans in more detail, D'Astous took the time to introduce why he took the reins of the studio.
"I worked at Ubisoft Montreal for over three years. It was across the very exciting time where they went from 500 people to 1,500. It was quite a challenge to staff up 1000 people in three years! We did put in place a lot of project management tools and processes. After the changes, there was a change in management -- it's just natural in a company's life -- so I moved on to work with Babel Media."
"When I heard that Eidos were coming to Montreal, that was music to my ears. I mean, I love to build, and starting something from scratch was an opportunity I just couldn't miss. It doesn't come very often for a major company. I embraced the challenge and with the people we've hired I think we could face anything. Nine months ago, I was working in my basement alone calling people! To be here now with a finished office, a recruited QA team, a very senior dev team and a finished proof of concept? Amazing. You need to be efficient, though, you can have talent but if you're not efficient things aren't going to work out. I got great support from head office in the UK. They gave me carte blanche and I just ran with it. I'm so proud of the team and of the product you're going to see."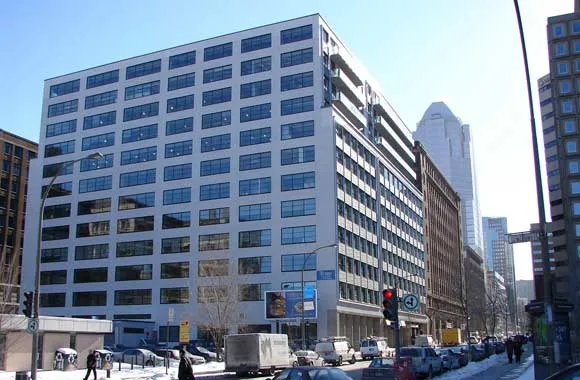 Although we'd broached the topic of "Why Montreal?" with D'Astous previously,we chose to try and go more in-depth with him in the face of recent criticisms of the tax break system from developers such as Silicon Knights' Denis Dyack.
"People think that the equation is simply that people come to Montreal for the tax breaks. That mostly comes from other cities where they don't have such things. It's not just because of that. The Canadian dollar has gained more than 20% this year on the U.S. dollar! No one is talking about the fact that companies are still coming in and investing in Montreal. People don't come here only for the tax credits," he argued. "The testing we're performed used to be based in London. Can you imagine the cost, per square foot, for the amount of testers we have? The cost is five times what it would be here."
D'Astous did, however, acquiesce that the tax credits were a "significant reason" for developers to move to Montreal, saying, "I don't want to minimize it, but I do want to show that the equation in choosing a city in which you want to develop is quite long... Money is important, yes, but talent is too. It's dangerous to simplify it down to just dollars and cents," D'Astous said, pointing out that 80 percent of his staff was from Quebec.
With so many of his staff from Quebec and more still to hire, did he feel the possibilities for growth in Quebec were endless? "It depends on the business model. If someone like, god forbid, Vivendi wants to come here and instantly grow a thousands-strong studio, I would wish them good luck, as I don't think it would work. If I was asked to start a studio working on commercial titles with a twelve month cycle here I would slit my wrists. I wouldn't be able to attract people."
---
Crunch Time
Returning to the 24-month development cycle, we asked Deus Ex 3 producer David Anfossi if he felt that the longer development cycle was going to remove "crunch time" from the culture at Eidos Montreal. "Of course, we have to reach a few milestones, Alpha, Beta, and so on," Anfossi explained. "There will be crunch time. You can't say you're not going to have crunch time! It's impossible. But we're doing a lot of planning and I think that's the key to avoiding that as much as possible. I'm very confident we can minimize it."
D'Astous expanded on this. "We're not keeping all of the 'crunch' to the end. We did a 'mini' crunch for the end of our proof of concept. We'll mini-crunch for the end of pre-production. We're not going to head into production and just crunch all the time."
With Deus Ex 3, the amount of time for pre-production seems key, with the troubled development of Invisible War -- including changes in scope right up until release. D'Astous claims that isn't going to be a problem at Eidos Montreal. "The team knows there is no bullshit. The management isn't going to come and disrupt the project. Planning for a 24-month production cycle is hard. But if you set people a deadline and let them work to it, they will deliver. But if you meddle, and make scope changes, add this, delete that, they won't. If you read the postmortems on your site, you see that mistakes come when the schedule isn't respected. We won't make that mistake."
Anfossi agreed, feeling his team was up to the challenge. "We spent four months on the proof of concept and we're spending eight months on the pre-production. So we've got time to work on the technology and to prototype all of the mechanics. We're going to test all of the features and develop the design fully before production. We've got time to do that. We want to minimize the risk for production."
"We're also setting aside time for the tweak and polish at the end," Added D'Astous.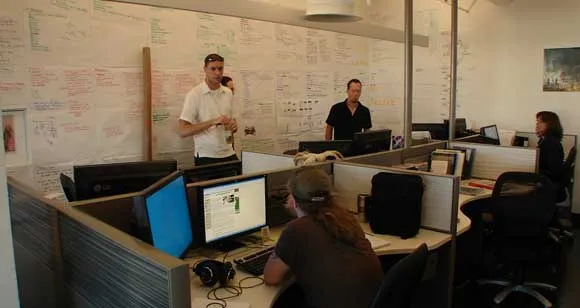 The Looming Spector
With such an important franchise in the hands of a new studio, the staff at Eidos Montreal is keenly aware of the fan base. "On our website we already have a forum, and we want feedback from the fans. We want to give them the ability to participate and communicate to us what they want, and do not want, as early as possible in the development. And that's a valuable tool for our development -- not just our PR," said D'Astous.
"Every single comment" was being read by Anfossi while he still had the time to read them. "I've been very interested to see their comments so far on what they want and don't want," he noted.
Of course, the biggest question in fans' minds had to be the creation of a title in a franchise deeply associated with Warren Spector, by a new studio. We asked if Warren Spector had been consulted before the project had begun in earnest. "We spoke with Warren Spector, we had a good exchange, but we can't really talk about it," said D'Astous. He returned to the refrain from earlier: "We did our homework."
"Since he sold his studio to Disney and is working hard on other projects, it was unfortunately a matter of timing. It really wasn't a matter of disinterest -- far from that. Ultimately, he just couldn't be involved. He was very positive in our discussion, however."
Even without the direct input of Warren Spector, Anfossi argued that the history of the titles was hugely important to their development. "I've played the two games I don't know how many times. A crazy amount. We wanted to learn exactly what Deus Ex was so we could imbue this project with those values. We spent months on that alone."
"If you really read the history of the titles, the development of them was very chaotic," D'Astous said. Although they succeeded in many ways, they felt they failed in many others. If there's something we hope for this studio, it's that we don't want to obtain success through chaos."