When Gamasutra had a chance to chat with Lionhead co-founder and Populous/Black & White creator Peter Molyneux at GDC London earlier this month, he'd just completed two major lectures – a lecture on experiments for Fable 2, and an extremely honest history of the company, presented alongside Lionhead's Mark Webley.
So, it wasn't much of a surprise to find Molyneux in free-wheeling, typically charismatic form as he approached a multitude of topics in an extremely honest fashion. We present here a selection of the most interesting answers from our interview with him, from his next-gen technology choices through his troubles with the press and his overwhelming drive to succeed.
Gamasutra: Some companies seem to take a very technology-oriented approach to next generation – for example, LucasArts' use of tools such as Euphoria for its next-gen Indiana Jones title. What do you think of a technically led approach to next-gen development?
Peter Molyneux: As a designer, there are some things that I absolutely want. For one, and this is what LucasArts are talking about, I want to have a character that will truly react with its environment. What this kind of technology actually means is that when I design a character, I don't have to design the 100,000 animations that make it up.
So if I could have a piece of technology that will do the simple stuff, then I can concentrate on the unique parts. Without technology, we can't have the realism that people will naturally expect. Surprisingly, the next generation is going to be all about that technology. It's going to be all about the technology behind faces, and behind animation, and blending. And that's blending everything – blending the graphics, blending the music, blending the gameplay.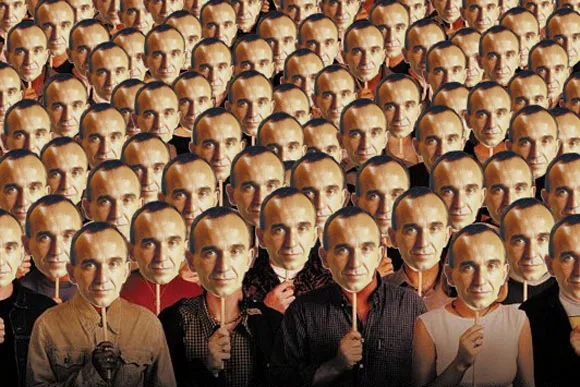 With apologies to Propaganda Films
GS: Is Lionhead using middleware to help it make next-generation titles, then?
PM: Absolutely – I'm absolutely passionate about that. We're using quite a lot of stuff – we're using Havok for physics, we're using Kynapse for navigation. It's such a mundane task, but we as a developer have been constrained by navigation for decades. 'You can't have the character go up there because we don't have a navigation map for it.'
We're also using things like Anark for our user interface. Being able to be dynamic with these things is vital. You would think that moving a health bar from the left hand side of the screen to the right hand should be a 10-minute piece of work. And it normally takes about a week to do [laughs]. It helps to use a third-party tool that allows me as a designer to move things dynamically. We'll use as much of this stuff as we possibly can.
---
GS: So what exactly is Lionhead working on right now?
PM: Certainly, our immediate focus is on Fable 2, and Fable 2 is for the Xbox 360. I just want to specialize and focus everything on one problem, since we've previously been so diluted by focusing on three things [The Movies, Black & White 2, Fable: The Lost Chapters, all completed in late 2005]. Me personally, I'm actually designing properly again for Fable 2, which is cool – it makes people very nervous! [laughs]
We are experimenting with something else, yes. That experiment may lead to another game. But we're not saying anything else about that.
GS: So what can you say about Fable 2?
PM: Here's the thing about Fable 2 – the whole reason that Lionhead exists, the reason that Microsoft acquired us, and the reason that I still am passionate about games is about innovation. We should kick every single foundation stone that we've got in Fable 2 – the way we've done that is with lots of experiments.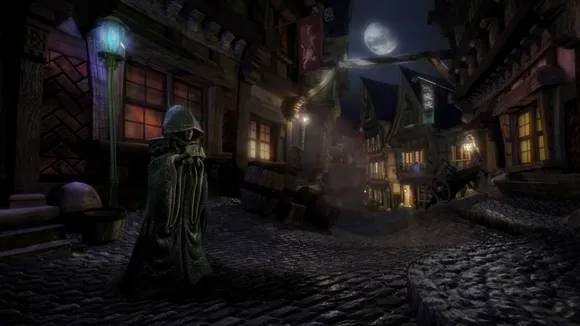 Fable 2
There are experiments with how we tell the story, experiments with what the world is and what the world means, experiments with - and this is probably the biggest experiment of all – the emotions I want you to feel as a player.
I want you to feel real emotions with Fable 2 that you haven't felt before. I want you to experience things like unconditional love – that's what I'm trying to get to. What this all adds up to is the idea that Fable 2 is intended to be a landmark game – it's not just a sequel to Fable. It would have been so easy to do that.
GS: Oddly, in some ways it seems like popular opinion on the first Fable changed – people were initially a little disappointed compared to their perceived image of the game, but then they got turned around and in many cases enjoyed the experience.
PM: It did. After Fable I gave an apology and said: 'Look, I'm sorry – when I went out there to explain what was going on, I was explaining what was happening in development. I wasn't saying that this, this, and this were going to be in the final game.'
I think a lot of people got quite upset that some features weren't in the game. But in some cases, the features I'd been talking about were there, but they weren't exploited the way the players thought they would be.
Again, in Black & White, almost uniquely, I was talking about gameplay features when I should have been talking about experiments. We experimented with stuff far too late for it to be exploited. But you know, again, people came around.
And now we still experiment with ideas. But we used to wait until the game got to a certain stage in development and then experiment. Now we experiment first – they're mad, crazy things - but they're small things that we can play around with. This means that after we've done these experiments, we have a palette of things that we are happy with, and the game then can then exploit these kinds of things.
---
GS: Is being so honest about the good things and the difficult things that happened at Lionhead in some way redemptive for you?
PM: You learn by your mistakes, obviously – and you can look back in hindsight and say 'What the hell was I doing?' But really, this whole journey has led me to realize that the design and the passion and the enjoyment is in making a visionary game.
GS: You're definitely one of the most quoted people in the industry – and perhaps sometimes you're one of the most misquoted people in the industry. How do you react to that?
PM: I've come to realize that the way I speak, the things I talk about are going to be interpreted. And that sometimes leads to misquotes, and that sometimes that can be frustrating, but for example – the talk I've given today, there's nothing for me to point to onscreen – I'm just giving you a braindump of my ideas.
And half of that – half of the interest of that is the interpretation you put on it in your own mind… I'll be absolutely honest with you, sometimes in the past I've actually changed little bits of the game to match the misquote, however insane that sounds.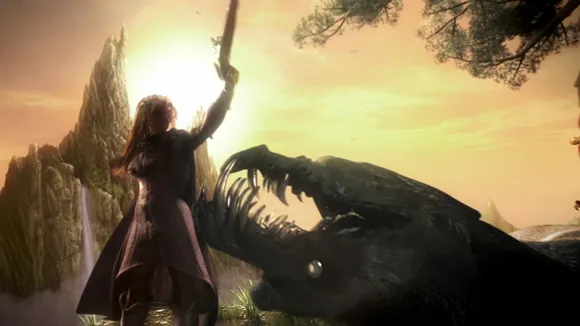 Fable 2
GS: It's about what the public expects?
PM: It goes out there, and you can't withdraw the magazine and take down the websites… I always think misquotes are partly my fault as well for not being clear about things.
GS: It seems like a lot of the other British 'bedroom programmer' pioneers who came up in the '80s either aren't around anymore, or have a significantly lower profile. Why do you think you've continued to be so known and produce such high profile games?
PM: The place I came from was when I was always a failure. When I was at school, I was just an idiot. And everyone thought I was an idiot, and everyone would always say that I would never do anything or get anywhere. And because of that, I feel I've yet to do that game which really makes a difference – that really is the landmark game.
That means that I do push myself – I can look you in the eye and truly say that I'm trying to make Fable 2 the greatest game I will ever build. If you write that, it will get me in an enormous amount of trouble, but that is what I truly believe.
---
GS: If you feel like you've accomplished everything you need to, you'll never really care about what you do next?
PM: I care more about what that next game is than anyone else in the world, and I've always done that and I've always cared. It never has been a job – it's always felt like a dream to me.
GS: In terms of presenting a public persona, some game developers aren't always great at communicating – the Stampers [at Rare] for example – sometimes I feel like it's about how you can promote yourself.
PM: The Stampers, I think, were always very afraid of the limelight and shied away from the limelight – and that actually meant that people concentrated on their games, which is in fact the right thing to do.
Other people saw the limelight as a soapbox to sort of shout loudly about nothing in particular – and that isn't a good thing to do.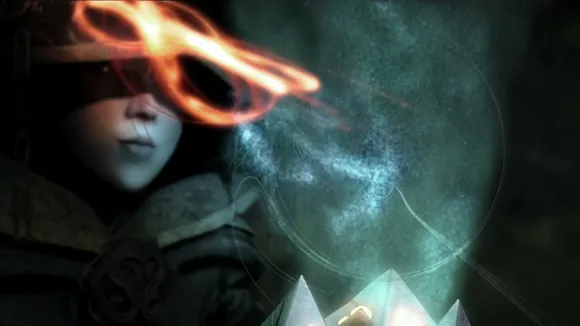 Fable 2
GS: Obviously, Bullfrog was a prominent early example of an independent developer – but there's a new wave of indies coming up now. What kind of independent studios have you seen that you're excited about?
PM: There's one called Media Molecule [formed by former Lionhead staffer Mark Healey] – they're concentrating on something that doesn't exist anywhere else. There's some rumblings from other people [about making indie studios], but you have to have an unbelievably good idea, you have to be unbelievably dedicated – your life will be destroyed for a period of time.
And you have to face all the challenges of the natural unfairness of the developer/publisher system. It makes it incredibly difficult. You get all the money on pre-defined milestones, then when you finish the game, you don't get any money at all until you've paid off all the royalties, but your costs are still there.
But it's difficult. The game industry is so much more professional than it was - certainly from when I set up at Lionhead. If you don't have a really strong businessperson on your team then it can be a serious problem.
GS: How about Xbox Live Arcade as an entry point into the industry for indies?
PM: If you were starting out as an independent developer and you said: 'I want to make a great game,' then one method is to say: "I'm going to get respected by doing a Live Game," and then use that respect and that increased negotiation power to actually broker a deal for the unique game that you're working on.
The mistake that people make – and that I've made myself – is trying to do the big things first, without thinking that this is the ultimate goal.