Alain Tascan is almost certainly not the image of an EA employee that most people would have in mind; he's emphatically French, and resolutely not afraid to speak his mind. It was speaking his mind at the recent Montreal International Game Summit that led to headlines across the specialist press for the charismatic General Manager of EA Montreal. Speaking during the roundtable discussion that ended the summit, Tascan said he felt the recent Xbox 360 title Gears of War brought "nothing in terms of innovation to the shooter... Like, zero," adding, "myself, I prefer something more creative."
It didn't take long before people brought up the irony of an executive at EA, most famous for their annual sports franchise titles, making a comment about innovation. The day after his infamous comments, Gamasutra had a chance to talk with Tascan and tour the EA Montreal Studios.
New IP
"We are around 300 people now including EA mobile upstairs, and there is space to grow," Tascan said, adding in good humor, "We are working right now on three things: Army of Two, the new IP which better be good, otherwise people are going to kill me after my comments about Gears of War; SSX on the Wii, which is due in March; and another new IP which I'm not able to talk about."
The emphasis on new IP from EA might seem unusual, but Tascan emphasised, "EA has realized that what we need now to stay number one and keep that edge is really to focus on creating new IP. I mean, we just did Superman Returns and all the sports, but we feel that we are now ready to take big bets on new IP, and not bet the farm on the established titles. And we think this is something that people are going to react well to, because EA is not known for this. I mean, if you look at the comments of people on some of the things I've said and they say 'how can you dare talk about innovation?' And that's what we want to prove that as a company we can do it."
Montreal's Influence
"Montreal is the number two city after Boston in terms of student per head of population," Tascan described. Discussing the downtown location of EA Montreal's understated office block, he explained, "We are a few blocks away from McGill University, and we are a few blocks away from Concordia, two Anglophone universities. A few blocks away is the University of Quebec in Montreal and just over the hill is the University of Montreal. If you do a circle and try to find the centre, we're right there. And why? Because 75% of our people are people who've come straight out of college. And we feel like the energy and the freshness that they have is what we want."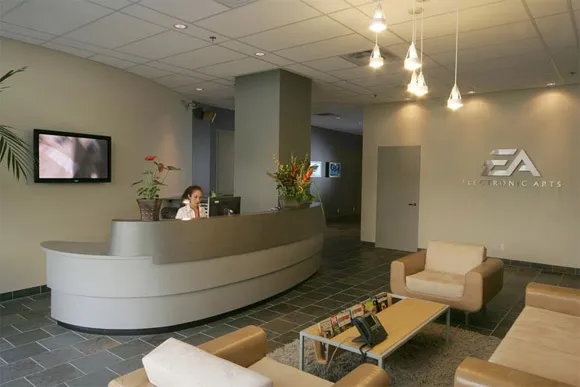 EA Montreal's Reception Area
The vitality of Montreal was a topic that Tascan found himself returning to repeatedly. "To work on new IP, that's something that in the past five years EA hasn't been very active. At the highest level they said 'okay, we need to do something to freshen up, to add to new innovation.' And we spearheaded that. Not in a rebellious way; but in a fresh way for EA. We were learning as they were learning, as they were willing to learn. It was really a mandate we'd been given and now other studios in the UK, in San Francisco, are also doing the same thing."
---
"So why did we do it first here in Montreal?" He asked.
"Well, I'm not from here, I'm from France, and I have an independent view. I swear; It's just one of the best places in the world to work. Something that rhymes with university is diversity. As if in New York you can walk around this city and see people from any kind of origin; people from North Africa, from the US, the UK, France, all over the place. The difference here is that because of the competitive cost of living and the Quebec Canadian spirit, they don't enter into the rat race that you have to enter when you live in New York. In New York you can say 'I want to be a writer' or 'I want to be an artist' but then after 6 months of living in the Bronx you say 'I better start making some money or else I'm stuck.' All your creative impulse, if it's not successful right away or if you're not brave enough to start it's squandered."
"Here, in Montreal you can walk around and find the tiniest stores which sell the most specific things; you know I found one tiny store that sold books on medieval witches and nothing else, and first I wondered why? But no, that was the owner's passion, and he can make enough money for a simple life and be happy. So when you have a whole city of people thinking and doing and living this life, imagine the content that you could be creating here if you give them the leverage."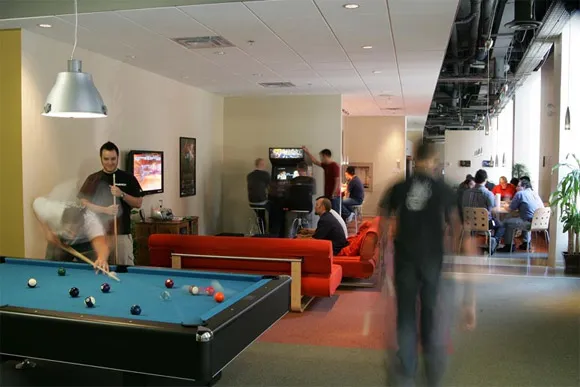 The Employee Lounge
Tascan didn't just consider the diversity of Montreal what was important, but the cultural context, arguing that "even things like the Cirque Du Soleil" were important. "When you see a show like that within five minutes you know it could only have been done in a place like this. It couldn't be done in Portland or somewhere like that. But at the same time it couldn't have been done in Dusseldorf or Paris; it's this understanding of the North American culture, and at the same time this little twist that makes it special. And that's why we're here. That's why Ubisoft are here, A2M are here, all of the animation companies are here; this energy that is understandable at a worldwide level but at the same time with a little twist."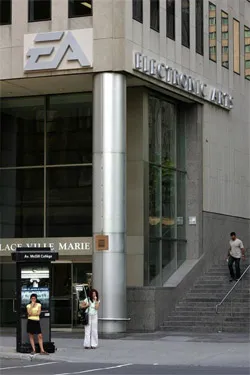 The Studio Entrance
Finally, Tascan described how important the support of the Quebec Government have been to EA Montreal. "They feel this is a business that is important to invest in, for several reasons; number one we export 99.9% of what we do here, and it's exported as made in Quebec, made in Canada, that's really important. Number two is the number of people we hire."
"When you think about outsourcing, we've lost the war against Asia," Tascan hypothesized. "No matter what you do they're going to be faster, smarter, cheaper, and you can send lines of code over there and that'll be fine, but ask a Chinese person who has always lived in China to make you laugh, or love, or cry, and there's a good chance that what they do won't quite match up to what you know. Because there are subtleties specific to Western countries. That's why jobs that rely on creativity or innovation will always be the last to be outsourced. So the government here has made the right choice in supporting us."
---
Crunch Times
EA Montreal does, however, outsource jobs locally. "We outsource testing locally," Tascan revealed, with the positive spin. "If you include indirect work, we're creating over 600 jobs here."
"But these are just numbers," Tascan added. "What is most important is that we create IP that are relevant and important."
With a total staff of 300 people, team sizes are between 35 to 85 people, a size that might surprise many that expect the average size of an EA team to be 300. Peter Nguyen, the public relations manager of EA said, "A lot of people have this conception of EA as this giant; but we actually have a lot of studios that of only about 100-150 people, like EA Chicago." And despite the small team sizes, Tascan claimed that EA now did everything in their power to avoid crunch times across the entire company.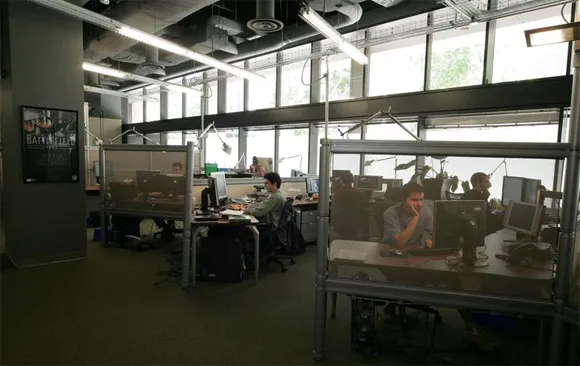 Artists At Work
"It was an issue, and I think that there was a big wake up a few years ago, that EA really, very drastically changed the situation, especially at the studio where there were all of the problems," said Tascan. "Even if there was bad press I feel that we reacted fast in a measurable, tangible manner. We get it, and now we manage it far better."
"It's hard, though, as soon as you work out a method of working with a system, there's a new system and you have to learn how to work with that one. It's like a new start up all over again. And if you've worked at a start-up you know that the hours can be crazy, because the pipelines are not set. So you spoil time with things that have to be trashed, but as soon as you start using the same engines on different games, the hours start to be better, and the routine of game making removes the pressure."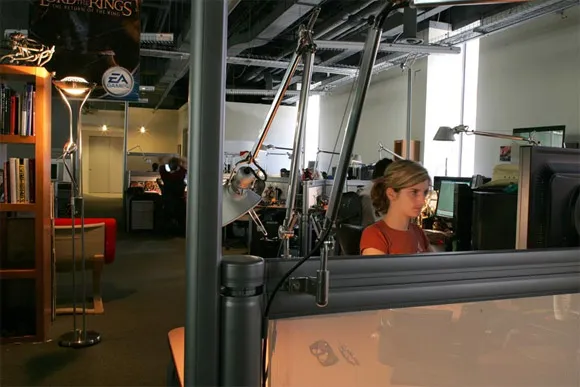 Designers
EA Montreal vs. Ubisoft Montreal
EA Montreal is the "fourth or fifth" studio that Tascan had been instrumental in the creation of, a list that includes EA's largest competitor in town, the monolithic Ubisoft Montreal, which currently has a staff of around 1400. Tascan had, like on most things, his own personal take on the situation.
"We're both big companies for different reasons, I guess. You have a family based French company, started by five brothers, against an American company who belongs to nobody. Ubisoft was until recently completely owned by the people who started it, and I think they still own about 90% of it. Compare that to a company that is about 95% public. So while in EA everyone has to report to somebody, at Ubisoft, there is a level where if they want to do it they could do it, and nobody can tell them different, so sometimes they've reacted differently to the market than EA would."
"The interesting thing that I notice is that now Ubisoft sounds like it's trying to be more like EA, to be more aware of the market, while EA is trying to do more original things, like Ubisoft."