On September 11, Apple issued newly revised App Store guidelines allowing game streaming services such as xCloud and Stadia to run on iOS devices, seemingly paving the way for cloud gaming after a period of actively blocking game subscription services. However, there are strict rules involved which will act as substantial hurdles to the likes of Microsoft and Google.
Apple states that all games offered in the service must be downloaded directly from the App Store, and not from an all-in-one app, and they must be individually reviewed and approved. The relevant company is also permitted to launch a "catalog app" which links out to all of the games in the service, but each game will need to be an individual app listing. All games and stores will need to offer in-app purchases using Apple's payment processing system, through which Apple takes a 30% share of revenue.
A further requirement is that game streaming services do not "disadvantage non-subscribers", suggesting that each individual game app would need to present a minimal level of functionality for users without an active subscription. This may be fulfilled by simply offering a time-limited demo of the relevant game.
Apple's rules inhibit the frictionless user experience inherent to cloud gaming
Part of the appeal of game streaming is the seamless user journey. Ideally, players can instantly access a wide variety of games through a single portal. Listing individual apps for every game offered through a service would be hugely draining on company time and money. For Microsoft xCloud, this would result in more than 150 separate apps, which seems unfeasible. It is also not ideal for the users, who would potentially have to dedicate a considerable amount of their storage space to cloud gaming apps. At first glance, it seems that the only party to profit from this setup would be Apple.
However, having an App Store listing for each individual game could bolster exposure for those titles, and for cloud gaming more broadly. A novice mobile gamer may scroll through the App Store and be surprised to come across a variety of AAA titles. Individual listings may be a boon for discoverability, but for established gamers and those actively seeking the game streaming service, the rules add friction to the user experience.
Non-games streaming services such as Netflix and Spotify currently work as intended on iOS, which implies a unique approach to gaming. It is possible that Apple's inability to skim revenues from TV and music streaming services via in-app purchases (IAPs) renders them less problematic.
Recent announcements suggest Apple is harbouring its own gaming ambitions
Historically, gaming has not been a focus for Apple, but there are indications that the tech giant is beginning to take it more seriously. Apple Arcade, the company's premium games subscription service, was early evidence of this – although indications are that it is not proving as profitable as Apple had hoped, as the company recently highlighted a renewed focus on high levels of engagement when selecting titles.
iOS 14 will bring a redesign of the Game Center platform, with improved social functions and game discoverability. Apple has also added support for new game controllers including the Xbox Elite 2 and Adaptive, and additional features such as rumble feedback and custom button mapping for existing ones. PC gamers can also expect dramatically improved keyboard and mouse functionality. What's more, when the next update hits, iOS apps will run on macOS, and developers will be able to release their iOS apps on Mac devices. Apple may simply be buying time until it is in a position to launch its own game streaming service.
Games streaming services could reduce the user's iDevice to an expendable interface
iPhones and iPads are typically regarded as high-quality devices which – perhaps unintentionally – guarantee mobile gamers a superior experience. Many dedicated mobile players choose Apple devices. However, game streaming services render the specifications of the device virtually redundant. The iPhone could become a replaceable interface, with consumers less concerned with the branding and hardware, and more likely to be tempted away by alternative manufacturers.
This is surely a situation that Apple hopes to avoid, as the company thrives on brand evangelists. This scenario is even more likely if a consumer has paid for a game streaming service on another platform, and if the advent of cloud gaming leads them to increasingly regard their smartphone as their primary gaming device.
Is cloud gaming an existential threat to Apple's App Store?
The App Store is Apple's golden goose. Hardware sales are slowing, and Apple has been keen to boost long-term revenue stability with a renewed focus on services. The bulk of profits in this segment are generated through Apple's 30% share of App Store revenue, which amount to billions of dollars every year.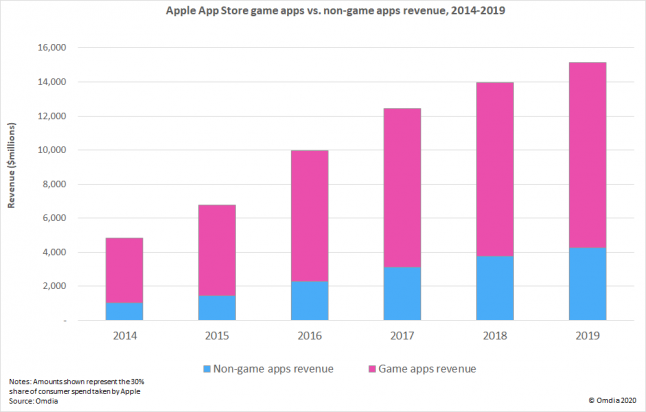 Cloud gaming threatens the very existence of iOS-developed games, and thus the lifeblood of the App Store. The ability to stream games means that developers no longer have to use the iOS software development kit (SDK) to write them. Games do not have to be re-coded from the ground up in order to run on a different platform. In fact, the nature and scope of the games themselves becomes irrelevant, because they are no longer constrained by the hardware they need to run on: both AAA and small-scale mobile titles can be played via a game streaming service. Rather than developing two game apps for iOS and Android devices, why not save time and money by creating a game for a single platform and distributing it through cloud gaming?
One critical component here is the consumer. There would need to be a seismic shift in consumer traffic from the core app stores to the game streaming services, and that seems unlikely at this stage, particularly as many gamers are critical of what cloud gaming can offer. Another factor is internet connectivity, which is the backbone of a good streaming experience, and at present, a good connection cannot be guaranteed. The technology will eventually catch up, though, and this is the direction in which the industry is moving.
Games were traditionally overlooked, but Apple's revenue is now intrinsically tied to them
Ultimately, gaming generates a significant portion of Apple's income, and the company cannot afford to ignore it in the long term. Apple has remained firmly rooted inside its walled garden, experienced and competent within the bounds of its own creation, but a committed leap into the gaming sphere would land the company in a larger, more competitive arena, amongst industry giants.
Microsoft has already openly criticized Apple's new games streaming guidelines, labelling them as "a bad experience for customers". It seems unlikely that the tech market leaders behind these services – Google, Microsoft, Nvidia – will accept these terms without question. Several streaming services, such as Steam Link, Shadow and Moonlight, have managed to navigate Apple's rules by being recognised as Remote Desktop Applications (RDAs). Although these services are heavily marketed towards games, it is down to the user to decide how they use their PC.
However, a brazen attempt to masquerade as an RDA may do more damage than good for Microsoft and Google. It could ultimately bring them on a crash course with Apple, a circumstance which has proven destructive for Epic Games in recent weeks and led to a year-long Fortnite iOS ban.