[Is the European game market even more important that many think? Gamasutra sifts through data for the tremendously diverse region to discover the current shape -- and prospects for growth -- for the area's complex ecosystem.]
In the last few years, the European market has been an object of special interest for both publishers and analysts. Many articles have been written evaluating whether Europe is a key territory to invest in, speculating whether it's really growing that fast, and wondering if it has already surpassed North America as a revenue source.
The buzz may lead many to believe in an exponential growth, but the truth is far from such an excessive estimate.
Although it's hard to come up with definitive data from a territory that is fractured into several different countries, languages, and identities, it's safe to assume that Europe is an emerging market to keep an eye on, but it still has a long way to go before it reaches North America's level of establishment.
The Data Difference
It's important to note that unlike the NPD Group, there is no single source of sales information for European territories. A recent presentation from Nintendo previously reported by Gamasutra showed partial charts collecting sales data from various sources such as ELSPA (UK), Gfk (France), Media Control (Germany), and AC Nielsen (Spain). Eastern Europe is almost always absent from data aggregation, as are most Southern European countries where small businesses are still more prevalent than big box retailers.
Most data seems to come from the aforementioned markets, which leaves out a big slice of the European consumer base, including Benelux, Scandinavia, and the fast-growing Russian demographic. Therefore, while the information presented represents a sampling of Europe's most highly populated markets, the lack of a comprehensive sales aggregator does make a decisive analysis more difficult.
The aforementioned Nintendo presentation shows a comparative analysis of the hardware sales for both home consoles and handhelds. As of 2008, North America was still leading with over 18 million hardware units sold, and Europe following with 12 million.
Partial data from Screen Digest, focusing on current generation home console games, confirms Europe's second place, with 110 million games sold to date in 2009 versus 168 million sold in North America.
When projected over a time span of several years, from 2005 to 2013, however, the data shows a slightly more consistent growth in Europe (+208%) than in North America (+186%). If this projection also applies to PC, handheld and downloadable titles, it is safe to assume that Europe is an emerging territory, although perhaps not growing as dramatically as we are commonly led to believe.
Annual sales reports from major publishers also seem to confirm this trend. Konami is perhaps the most exemplary case: during the last year the company sold 10 million games in Europe, versus 7.2 million in North America. The European success was partly due to the release of Metal Gear Solid 4, as one would expect, but it mostly depended on Pro Evolution Soccer 2009, a consistent franchise for that market.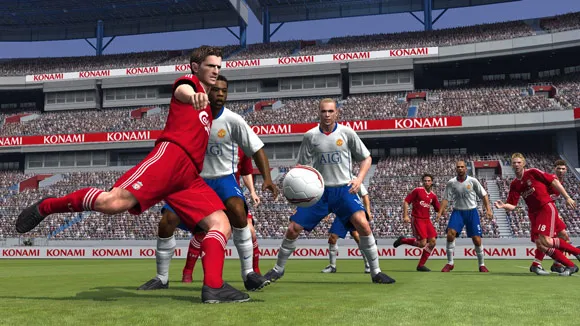 Pro Evolution Soccer 2009
The same passion for soccer contributes to Europe totalling a consistent 40% of Electronic Arts' global sales. The latest installment in the FIFA series, FIFA 10, sold over 1.35 million units in that territory in just two days when it was launched in September, placing itself as the third fastest selling game ever in Europe.
Even better than Electronic Arts, Ubisoft has a stronghold in Europe, which represented a remarkable 54% of the company's overall sales in 2008. Other publishers, however, are still considerably stronger in North America than in Europe: such is the case with Take-Two, Capcom, Square Enix, and Activision.
Some of the publishers mentioned take on different business ventures in Europe. Activision, for example, distributes LucasArts titles for the market. Prior to its acquisition of UK-based Eidos, Square Enix was distributed by various national distributors (such as Deep Silver in Germany and Halifax in Italy). Now, with its purchase of Eidos, the company is taking charge of distributing select titles from other Japanese publishers, such as Nippon Ichi, Atlus, and its subsidiary Taito.
These distribution wings create a different business atmosphere than in North America. Based solely on earnings through self-published titles, Activision made $325 million in European revenue in 2007 versus $753 million in North America. If one factors in distribution for other publishers, the company's total European income rises to $719 million, nearly reaching parity between both regions.
---
The Market Dictates Everything
When considering most publishers' financial reports, it is worth noting that they do not reveal total units sold. Instead, they opt to show sales and earnings in dollars. This fact is something to keep in mind, because it may lead to a partial and somewhat distorted perception of sales in Europe. At the current exchange rate, €1 is worth $1.47, and it has been fluctuating around this value for the past three years.
Moreover, games are more expensive in Europe than they are in North America, even with tax included. A new home console title can be sold for any price between €50 and €70, and DS games cost an average of €35 to €40, with peaks of up to €45 for the most popular new releases.
As for hardware, the suggested retail price for a PlayStation 3 Slim is €299; a new Xbox 360 Arcade costs €199 -- as much as a Wii -- and a Nintendo DSi is priced at €169. These prices are numerically identical to those found at any games store in the United States, but the exchange rate makes the final cost far more expensive than it appears at a first glance.
Higher prices and a less developed market for used games may be good reasons some European gamers buy fewer games than their American counterparts , sometimes purchasing just one or two per year. Thanks to region-free consoles such as the Nintendo DS and PlayStation 3, many English-speaking gamers either import American game releases or buy games when they visit North America.
Just as video game shops in the United States sell Japanese import games, local European businesses import small numbers of games from America to sell in their shops. This proves especially effective when European releases are delayed due to the lengthy localization process into several languages, as is often the case with Japanese RPGs.
An increased focus on simultaneous localization in the past few years has, however, helped alleviate release delays for many titles.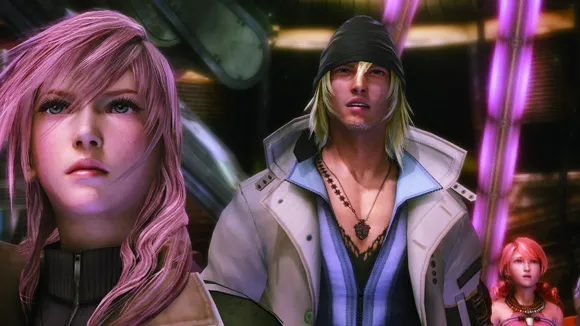 Final Fantasy XIII
Square Enix, for example, is working on the Final Fantasy XIII localization for the U.S. and Europe to "expedite [it] as much as possible, make it much faster than the previous cases," as producer Yoshinori Kitase stated at the company's conference during E3 2008 (the game will ship three months after its Japanese release in the West, including Europe.)
Because many publishers are shoring up efforts to deliver games in several languages at the same time as English language launches, European markets could see even bigger sales in the long run.
Another consequence of high prices is piracy, which is still common in Europe, especially in lower-income countries such as those in Southern and Eastern Europe. The "Special 301 Report," filed by the Entertainment Software Association in February 2009, highlights piracy trends in Western Europe. The country that holds the highest rate of illegal downloads is Italy (17%), followed by Spain (15.1%), France (7.9%), Germany (6.9%), and Poland (6.1%).
With the exception of Poland, the report doesn't take into account most Eastern European countries, where the problem is even more widespread. According to Inna Bukatina, Head of Licensing for the Russian publisher and distributor Game Factory Interactive, the piracy rate in Russia is about 60% in big cities and 80% in more remote areas, where authorized retailers are hard to find. As high as it sounds, it's still a considerable reduction compared to the 99% piracy rates reported in 2005.
Eastern Europe has never been considered a profitable market, both because of the high piracy rates and because retail prices are considerably lower than in other European countries -- a new home console game, for example, costs between $8 and $15 in Russia, according to Bukatina.
Global publishers, however, may have to reconsider their ideas about Eastern Europe very soon, if they want to stay on top of the current trends and increase the number of paying customers for those low-priced games.
The constant expansion of the European Union -- Romania and Bulgaria were the latest two countries to join in 2007 -- and the success of the euro in replacing more and more local currencies, means that more gamers can access more resources. Some publishers have already acknowledged this reality and have moved the first steps towards inclusion of Eastern European countries in their global plans.
Electronic Arts is a pioneer in this regard: the company opened its Russian branch in 2006 and has been consistently adapting its games to the local audience, as demonstrated by the inclusion of the Russian Premier League in the PC and PS2 versions of FIFA 10. The aforementioned Game Factory Interactive has also started to localize some of its games for Kazakhstani and Uzbekistani audiences, something that has never before been done.
---
"United in Diversity"
Unlike the American market, where every game is sold in each state regardless of the degree of local interest, Europe is a much more complex territory, where single countries dictate the trends and the profitability of select genres and brands.
Country-specific games are mostly created for DS, a platform for which development cost can be kept low. They can be based on local TV shows, such as Amici in Italy and Los Lunnis in Spain; inspired by pop culture, such as the British Top Trumps card game; or based on national sports, as is the case for several cricket titles in the UK.
Children's games also tend to stay within the national borders: it's rare to see an Adiboo game outside of France, or a Horrid Henry title anywhere other than in the UK. Perhaps the best proven example of country-by-country regionalization is SingStar.
Part of Sony's success with the brand can be attributed to the numerous editions loaded with pop hits for each major European country. France has several French-language versions, while Germany also has local band-branded discs, as well as Turkish hits marketed towards the country's large immigrant demographic.
This is a strong reason the SingStar series sells incredibly well in Europe, while it's less popular in the U.S., where releases have followed a more generic genre-based pattern.
Another peculiarity of the European market is the diversity of game ratings. Although PEGI (Pan European Game Information) is the rating standard for most of Europe, some countries complement it with their own nationalized guidelines. For example, the UK relies on both PEGI ratings and British Board of Film Classification (BBFC) to rate its games.
The conflict between national game ratings and a Pan-European system can affect territorial sales, as witnessed in 2007 when the BBFC barred sales of Rockstar Games' Manhunt 2 in the UK. PEGI was only recently implemented, in September 2009, as the single standard for the UK market.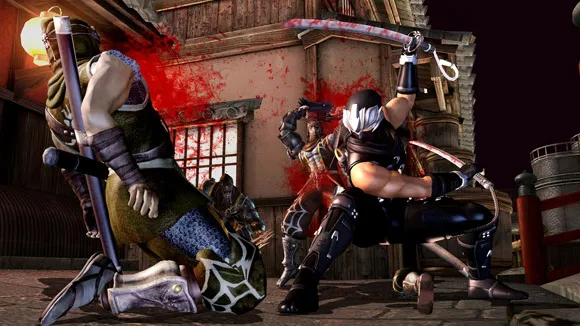 Ninja Gaiden II
Similarly, Germany's USK is more strict than PEGI toward violence, blood and gore. Certain games can evade a ban by taking measures such as changing the color of blood to green, but others still cannot meet the board's standards, and are declared ineligible for sale in the country.
This is the case with blockbuster titles such as Gears of War, Ninja Gaiden II, and Dead Rising, all of which were banned in Germany. Many German gamers (especially those residing close to national borders) often cross into Switzerland, Austria, and sometimes France and the Netherlands to buy uncensored versions.
Because major sales data tracking focuses on only four countries, including the UK and Germany -- where ratings boards can affect sales -- numbers can be misleading, especially in the case of blockbusters that sell millions of units everywhere else.
---
PC Gaming, the Untraceable Void
Digital distribution poses a different set of questions. It is commonly believed to be quickly expanding, but there's still no hard data to prove it. The companies that offer this kind of service -- such as Steam, Direct2Drive and the French Metaboli -- refuse to disclose their numbers at the present, which makes estimating the actual size of the European market even harder.
Jason Holtman, Director of Business Development at Valve, recently declared: "The data we aggregate to publishers is not as simple as feeding retail numbers into a database, and it's not ours to share -- the data belongs to the publishers."
Holtman also refused to discuss whether Steam is willing to pool data with other distributors like Direct2Drive and Metaboli in the future to form a unified sales tracker for digital distribution.
Since most servers work internationally, it's difficult to determine which countries have the greatest number of downloading customers.
Although this information is hardly unique to Europe, the strong concentration of PC gamers in the territory -- especially in Germany and even more so in emerging Russia, where nearly 90% of the consumer base plays on that platform -- means that there's yet another barrier to truly determining European growth and sales.
Social networking and online games are equally hard to track by region. Based on data contained in a report from ICO Partners, European gamers prefer free-to-play games, mostly MMOs, much more than a subscription-based formula.
According to the report, the pay-to-play business model only comprises 20% of the market, while free games are embraced by over 30 million players, with annual revenues -- mostly from microtransactions -- totalling between €400 million and €500 million.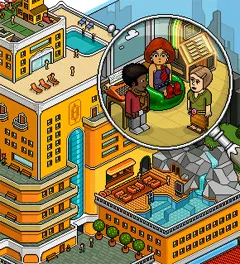 On a chart containing 21 popular online games, only two subscription-based titles made the list. It's no coincidence that the most played online game in Europe is the Finnish-developed Habbo, with over five million users, and that World of Warcraft is only seventh in this list, ranked behind regional hits such as Sweden's Stardoll, Germany's Travian and France's Dofus.
The only other pay-to-play online title that makes ICO Partners' list is Guild Wars, likely because it doesn't charge a monthly subscription fee. As a whole, Europeans widely seem to avoid the subscription-based games that have developed followings in North America.
According to research from ICO Partners, the rate of MMO adoption in Europe looks to outpace North America over the next three years, possibly due to the abundance of free-to-play titles.
Analysis indicates that while the North American user base is projected to increase by progressively smaller percentages year on year until 2012, European adoption will increase by an annual minimum of three million players during the same period. Even among pay-to-play MMOs, there appear to be strong numbers in certain games. In EVE Online, for example, European users make up half of the global community.
At first glance, it appears that the European video game market has exploded in the past three or four years, but part of this assumption may depend on the euro-dollar exchange rate and on higher retail prices.
As long as publishers keep releasing their sales data in dollars, instead of units, there's no way to conclusively establish that Europe is really outpacing North America. In addition, the lack of a sales aggregator for many countries makes it difficult to accurately gauge units sold outside of the UK, France, Germany, and Spain.
Even with these established difficulties, it's undeniable that Europe is experiencing a slow, steady growth rather than a sudden spike. NPD U.S. console retail figures for the current year show a decrease in sales -- Gamasutra analyst Matt Matthews currently forecasts an 8.5% decline for the year.
Whether this downturn is precisely mirrored in Europe -- where the downturn has also hit severely in some places -- or whether the territory can gain some ground in recessionary times remains to be seen.