They are the professional analysts whose job it is to research, keep track of, advise their clients, and opine to the media about the gaming business. Analyze This cuts right to the chase: Rather than reporting on a subject, and throwing in quotes by analysts to support or refute a point, Gamasutra offers up a timely question pertaining to the business side of the video game industry and simply lets the analysts offer their thoughts directly to you. Each person's opinion is his or her own and will (probably) not necessarily agree with their fellow colleagues'.
As the year 2006 winds down, the analysts take time to reflect and look back at how the industry fared this year...


Ben Bajarin, Creative Strategies
2006 overall was a great year; [game] sales of Xbox 360, PS2, DS and even PC platforms showed that the industry is still growing strong. It was interesting that the PS2 competed monthly with the Xbox 360 on a regular basis. I also found it very interesting that Nintendo seems to now target an older demographic on the back of the success of Brain Age. I think you will continue to see Nintendo explore what the DS can mean to a bigger demographic.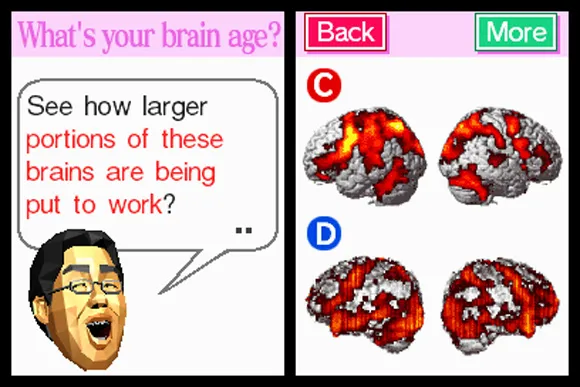 Nintendo's
Brain Age: Train Your Brain in Minutes a Day
I am looking forward to next year with continued innovation to the platforms, both in hardware and software and exciting, new immersive game experiences as developers expand their knowledge of developing for the next-gen consoles. The industry is learning what really matters to gamers in next-gen consoles and next-gen games. I am hoping that some real solid game titles start to evolve and that developers begin to really focus on new innovations in game play and game design. I hope we do not oversaturate any particular genre, thus making choosing a game like an FPS difficult for consumers.


Michael Pachter, Wedbush Morgan Securities
The biggest surprise was the complete reversal of PS2 software sales. Sales were down 23% for the first three months of the year, then averaged up 3% for the last six months. Interestingly, they turned negative in October (by 15%), so we'll see what happens in November and December. The point is that early in the year, we thought that the PS2 was dead, and it suddenly jumped back to life in April. For the full year, sales on the platform are down only 7%, which is far better than anyone had forecast.
I'm pretty disappointed in the Xbox 360. I think Microsoft is doing everything right: Games are good; Xbox Live is amazing; and the console is not prohibitively expensive. Yet people are just not buying. The console is lagging behind my initial expectations by at least 200,000 units per month in the U.S., and I don't know why. It could be that publishers continue to support the PS2, so most consumers don't perceive a need to switch yet.
I think Microsoft over-promised on the 360, led a lot of consumers to believe that there would be millions at launch, and these consumers stopped buying anything (through March) while waiting for their Xbox 360s to arrive. Sony promised nothing (yes, they screwed up the quantities, but did not suggest that retailers advertise or take [PS3] pre-orders); consumers expected nothing, and [PS2] software sales were fine all year. It appears that as long as consumers have current generation titles to choose from, they will buy that software. I think that future declines in current generation software sales will continue to be more gradual than in past transitions.
---


David Mercer, Strategy Analytics
The continued strength of the PS2, as it continues to out-sell the [Xbox 360], does raise the question as to whether a new generation has really begun. It supports Sony's view that systems should last for 10 years if they are going to generate sufficient payback on investment.
Nintendo's Wii was stronger than we had expected. But while we expect it to put in a good performance early on, doubts over its longevity remain.
For now, Microsoft and Nintendo can rest easy, but this time next year could be a whole new ballgame. 2006 will be seen as a transition year as the industry pauses for breath before the PS3 really begins to do battle in 2007. And it's only in 2008 and beyond that we'll begin to see the real impact on the publishing industry in terms of maximizing the development potential of the new platforms.


Ed Barton, Screen Digest
This year we watched Xbox 360 performing solidly in Europe and the U.S., although it has not become the next-gen console driver which PlayStation was in previous cycles. Despite the emergence of next-gen hardware, we expect the PS2 to continue generating significant software volumes until 2008, especially as the Xbox and GameCube are no longer addressing the player demographics of cheaper consoles. The PS2 turned around a potential software market decline in 2006.
Looking forward [to] 2007, Microsoft looks like it is deepening its software library at exactly the right time to compete with two platforms which are just getting out the starting gate. Gears of War, Lost Planet, Blue Dragon and Mass Effect are all exclusive to Xbox 360 and based on new IP. Sony and Nintendo may have a historic pull with gamers, but neither will be able to compete with the depth or quality of the Xbox 360's software library before late 2007, at the earliest. Whether new titles can drive Xbox 360 growth in the Japanese market, however, remains to be seen.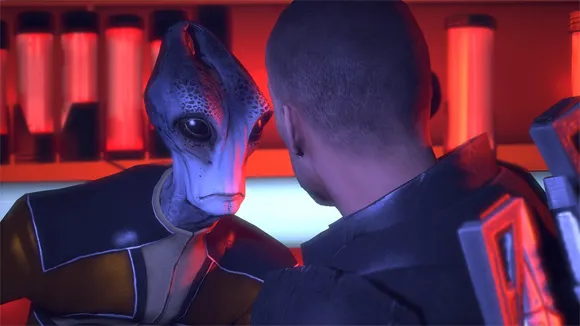 Mass Effect


Colin Sebastian, Lazard Capital Markets
Nine months ago we were forecasting industry software sales would be flat to down 5% in 2006. But now, largely due to the resiliency of the PS2 market and strong DS sales, we are projecting software sales will end the year up around 5%. This is a major change from the last transition period back in 2000 and 2001, when the software publishers largely abandoned the PS1 as soon as the new consoles launched.
The resurgence of Nintendo is the big story of the year, in my view. The remaining question is whether the DS and Wii can become robust platforms for third-parties over the coming years, or whether Nintendo hardware ends up primarily serving Nintendo software.
The focus in 2006 was on new hardware, but the spotlight in 2007 should be on the games. Not only will we see higher quality titles for the new platforms, there is also an exciting lineup of new games, e.g. GTA IV, Halo 3, Spore. Clearly there are higher expectations for next year in terms of the content that gamers are expecting from the developers and publishers. We are all crossing our fingers that they don't disappoint.
Got a business-related question concerning the games industry that you would like to suggest for discussion in Analyze This? Are you a professional analyst who covers the market and would like to take part in this column? Feel free to send an email to [email protected]