[They are the professional analysts who research, keep track of, advise their clients on, and opine to the news media about the video game business.
In Analyze This, we present a timely question pertaining to the business side of the industry, and then simply let a trio of analysts offer their thoughts directly to you. Each person's opinion is his own.]
Ed Barton of Screen Digest, Jesse Divnich of Electronic Entertainment Design and Research, and Michael Pachter of Wedbush Morgan Securities considered these questions:
With the slowing economy likely to enter recession, how do you predict each platform (console and handheld) will fare this holiday season?
Which titles coming out for the holiday season do you predict will be hits? And which ones will struggle for gamers' money in the weak economy?
In the end, how do you think the industry will fare this holiday season? Will gamers buy significantly less this season compared to last year?
---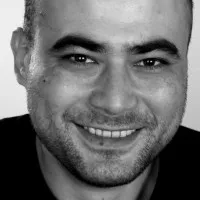 Ed Barton, Screen Digest
How each platform will fare this holiday season: Overall, I expect strong growth in current-generation home console games sales, up around 70 percent on 2007 on a global basis. I also remain relatively confident in seeing year-on-year hardware sales growth for all current home console platforms: around 30 percent for Xbox 360, 40 percent for PS3, and 50 percent for Wii.
DSi will be released in the Japanese market only in 2008. Territorial roll-out, alongside the new PSP-3000, should buoy the market for handhelds next year, but we expect hardware sales to fall in 2009.
Regarding this year, we expect PSP to finish the year strongly [with sales] growth of under 40 percent. DS hardware is likely to fall, but against extremely high comparatives after a banner year for DS in 2007 when it sold through just under 30 million units.
Titles which will be hits, and which will be misses:
My top sales picks for the final quarter are Guitar Hero World Tour, Call of Duty: World at War, Need for Speed Undercover, FIFA Soccer 09, Pro Evolution Soccer 2009 and Tomb Raider Underworld.
Of the platform-exclusive titles, I expect LittleBigPlanet, Gears of War 2 and Animal Crossing: City Folk to perform strongly.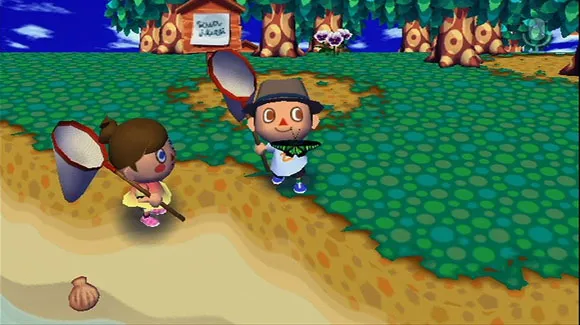 Nintendo's Animal Crossing: City Folk
Titles which might struggle for recognition, in one of the most competitive Christmas shopping seasons ever, include any game targeting more casual gamers and games based on new, non-licensed IP's.
Shelves at retail will be extremely crowded this Christmas and publishers must clearly communicate the benefits of their games, especially to more casual audiences who don't obsessively read every website preview.
How the industry will fare this holiday season:
Naturally, the wider economic situation could change suddenly. It is worth watching closely for further dents to consumer confidence. Potential negative factors include:
Although Wii demand has yet to show signs of softening, its pursuit for market expansion through more casual classes of gamers may leave it exposed to segments who are more likely to cut spending on video games because it is not considered an essential part of their entertainment media consumption.
This would apply to both existing Wii owners' games spending and prospective Wii owners considering a console purchase. A counter argument is that the ASP [average selling price] of Wii games is relatively low with a large proportion of budget titles on offer.
Both Xbox 360 (the high-end models) and, particularly, PS3 console sales could suffer from consumers shunning the most expensive hardware options.
Purchasers buying a console for someone else might also be more sensitive to hardware priced at the top end of the range. Such sensitivities might also have a negative effect on the market for peripherals.
---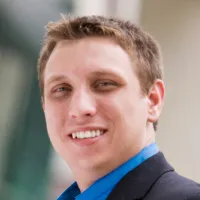 Jesse Divnich, Electronic Entertainment Design and Research
How each platform will fare this holiday season: The only console I am concerned about is the PS3. While our industry will be resilient through this economic downturn, there will be, however, some casualties. And because consumers generally become more price-sensitive during these periods, I foresee a lot of consumers who may have wanted to purchase a PS3 this season to hold off until the economy recovers or until Sony drops the PS3's price.
In other words, I do not think the Xbox 360 will steal too many potential PS3 owners this holiday season.
Recent data has indicated that the Xbox 360 price cut in September had little effect on PS3 sales, which could be a positive indicator that the difference in price between the two systems will do little to influence would-be PS3 owners to become potential Xbox 360 owners this holiday season.
I do not see any negative impact on the other major systems this holiday season. Among next-generation home and portable consoles, we expect a 15 percent increase in units sold compared to last year. This, of course, is mostly due to the Nintendo Wii, which we forecast will sell in upwards of 55 percent more units than last holiday season.
Titles which will be hits, and which will be misses:
I do not have any major concerns with all the high-profile titles this holiday season: Dead Space, Call of Duty: World at War, Far Cry 2, LittleBigPlanet, Fallout 3, Resistance 2, Gears of War 2, Guitar Hero World Tour, Rock Band 2, Fable 2, Prince of Persia. And any other AAA title will likely meet or beat the market's expectations.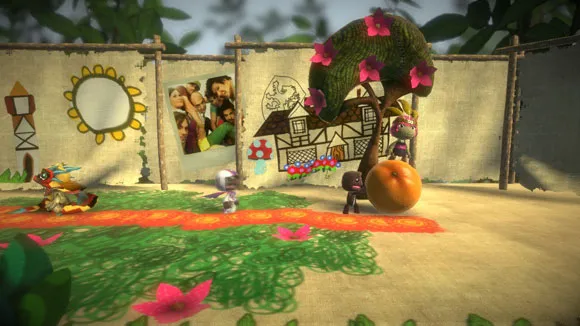 Sony/Media Molecule's LittleBigPlanet
If any cuts are made out of a gamer's holiday budget, it will be those titles that they could do without: games like Mortal Kombat vs. DC Universe, which is an awesome game with great branding qualities. However, it simply does not stack up against the large list of AAA titles this holiday season.
Others include: Need for Speed Undercover (which has become a stale brand as of late), Banjo-Kazooie: Nuts & Bolts, Spider-Man: Web of Shadows, Midnight Club: Los Angeles, and any other title that squeaks by with quality scores below 80 percent.
As consumers become more judicious with their discretionary income this holiday season, quality scores will likely have a bigger weight on a gamer's purchasing decision than in previous holidays.
How the industry will fare this holiday season:
Depending on whom you talk to, the last mini-recession was in 2001. Some say March 2001 through November 2001; others say November 2001 through November 2002.
Nonetheless, both periods showed software growth of [over] 5 percent and 25 percent, respectively. While the underlying mechanics of our current economic crisis is different from seven years ago, I still feel the video game industry is in great shape.
I will start to worry about the health of our industry when soccer moms, who would be the first to cut their gaming budget, stop buying 500,000 Wii Fits every month.
---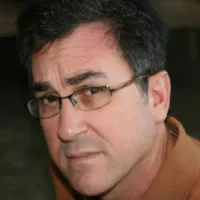 Michael Pachter, Wedbush Morgan Securities
How each platform will fare this holiday season: The Wii should continue to sell out. Nintendo shipped around 2.9 million to the U.S. last holiday, and they were sold out within hours of arriving at retail. This year, they indicated a substantial increase in shipments. Therefore, we're assuming that 50 percent more Wii consoles, or around 4.4 million, will arrive in U.S. stores this holiday season.
Although it may take a day or two for them to sell out, it's inconceivable to me that they would gather dust on the shelves. The Wii remains affordable for many, and quite fun, so I think that Nintendo "wins" the console war this holiday.
The PS3 remains the most expensive of the three, with an entry point at $399. This is a lot of money to most people, and the Blu-ray feature, while valuable, has appeal only to those households with HDTV. That's only around 35 percent of households.
Although I expect an increase in PS3 sales year-over-year, I don't think it will be dramatic. Last holiday, Sony sold 1.4 million PS3s from October through December. This year, I think that the number could be 2.1 million or so, but still well behind Wii sales.
The Xbox 360 benefits from both an across-the-board price cut and from a pretty strong holiday lineup. With last year's Halo 3 launch, Microsoft had a decent holiday, selling 2.4 million boxes.
I don't think that this number will be up dramatically, probably to only 3 million this holiday, but Microsoft should be comfortably in second place. Gears of War 2 and Fable 2 should move a few boxes, and the Arcade lineup is very strong. I think that if they market the Arcade version of the 360 aggressively, they'll capture some value-conscious consumers.
Also, Microsoft is launching in November an update to the Dashboard, which includes Netflix's "Watch Instantly" feature. I think there are a bunch of Netflix customers who are on the fence about a console, and the ability to stream 14,000 movies to their TV sets could convince them to buy an Xbox 360 this holiday.
On the handheld side, last year, Nintendo sold almost 4.5 million DS hardware units at holiday. I would bet that this figure will be flat, at best, unless there is a price cut before holiday. If there is a price cut, sales should grow by 10 to 20 percent.
The PSP is likely to perform a bit better than last year's 1.9 million units, with the redesign and a decent games line-up driving sales higher, probably by 10 to 20 percent.
Titles which will be hits, and which will be misses:
LittleBigPlanet, Dead Space, Gears of War 2, Fallout 3, Left 4 Dead, SOCOM: U.S. Navy SEALs Confrontation, Call of Duty: World at War, Guitar Hero World Tour, Rock Band 2, WWE SmackDown vs. Raw 2009, Far Cry 2, Prince of Persia, James Bond: Quantum of Solace, Resistance 2, Need for Speed Undercover, Mirror's Edge all will sell enough to be considered hits.
One or more of them will break out, the way last year's Call of Duty 4 and Assassin's Creed did, and it's tough to pick those. My guess is that Gears of War 2 will surprise, as will Mirror's Edge.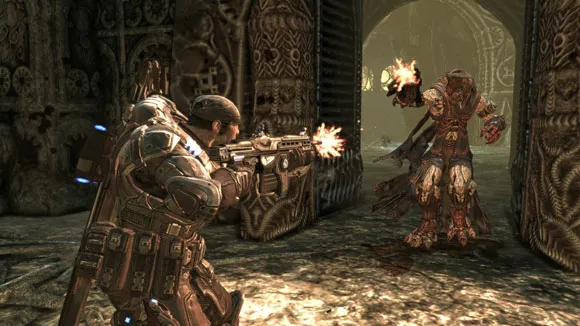 Microsoft/Epic's Gears of War 2
I'd say that the worst positioned are Midnight Club: Los Angeles (coming out in front of Need for Speed Undercover), Shaun White Snowboarding (the Wii version will do well, but is constrained by Wii Fit boards; the PS3 and 360 versions are not positioned well), Tomb Raider Underworld (a great franchise, but flying under the radar this holiday), and (waits for the slams from Gamasutra readers...) Animal Crossing: City Folk.
The last is a great franchise, but the Wii audience is dominated by the mass-market audience, and Animal Crossing is somewhat more hardcore than most Nintendo titles. I think that the game will do very well, but will likely be disappointing, relative to expectations.
[UPDATE: Michael Pachter has asked us to add the following addendum to his remarks: "When I commented on the likelihood of Midnight Club: Los Angeles being a disappointment launching in front of Need for Speed Undercover, I assumed (wrongly) that NFS would get solid ratings (it got 60s), and that MC would get fair ratings (it got solid 80s). Given the juxtaposition in their ratings, I now think that Midnight Club will perform in line with expectations."]
How the industry will fare this holiday season:
There are two types of buyers at holiday: those who purchase games for themselves, and those who buy games as a gift. The former category should be largely insulated from an economic downturn, given that purchases for self-consumption require a certain level of self-indulgence, and it's easy to rationalize why a game purchase has lasting value.
The latter category can be further split into two constituencies: those who are well-off (upper middle class) and are able to substitute games for a more expensive activity, and those who are less well-off (middle class or lower).
The prices of consoles leads us to conclude that the first constituency is probably larger than the second, as it is more likely that upper middle class families were the first buyers of DS, Wii, PS3, PSP, and Xbox 360.
The second constituency is the one most severely affected by a recession, and I think that this group will trim purchases of games at holiday.
My guess is that this group represents 20 percent of all games purchased, and will likely reduce spending by 10 to 25 percent, meaning that we will see a two to five percent hit for video game sales this holiday.
However, the industry was tracking to grow by 15 to 20 percent at holiday, so the two to five percent hit should result in lowered growth, not a decline. Adding the numbers together, we should end up at 10 to 18% holiday sales growth, [which is] still quite robust.
Do you have a business-related question about the video game industry that you would like to suggest for discussion in Analyze This? Are you a professional analyst and would like to take part in this column? Email [email protected].