Mobile game developers are likely familiar with the concept of whale spenders, or a small percentage of players that spend significantly more on free-to-play games than your average player, but data from DeltaDNA suggests that the spending scales are starting to tip more towards casual players.
The short report takes a look at data gathered from 800 million unique users across 2500 games collected since January 2016 to look at how per-player spending habits have changed across years, regions, and genres.
Data like this can be useful for game devs that want to keep an eye on trends in the industry, but it is worth keeping in mind that the data provided by DeltaDNA, which operates its own app analytics service, only represents a snapshot of part of the mobile games business versus the industry in its entirety.
DeltaDNA says that, according to its data, the percentages of paying players per game has increased to 4.02 percent in North America and to 2.43 percent in Europe, as illustrated by the graph below.
The firm says that this growth in the number of players shelling out cash in free-to-play mobile games is leading to a greater number of casual spenders and, in turn, creating a more balanced monetization spread.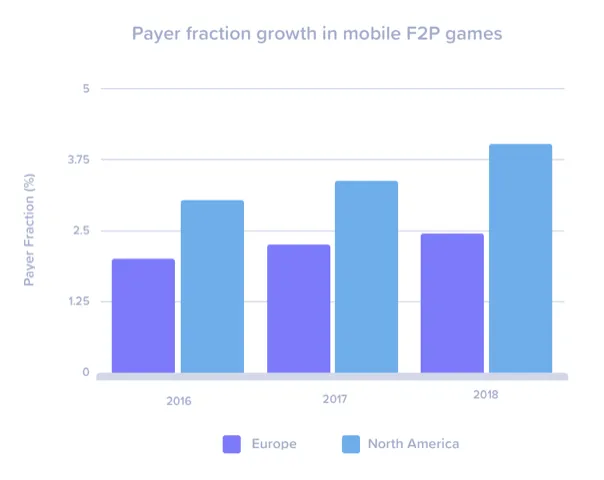 The full report on the company's site also offers a look at how average revenue per daily active user has changed in puzzle, action, strategy, and casino genres since 2016 as well.