[
As part of his monthly analysis of NPD results, Gamasutra analyst Matt Matthews explains what July 2011 was missing: first party Nintendo games and music titles.
] With the right mix of software releases, July could have been a month of growth for the packaged video game industry. However, a dearth of new releases and the collapse of titles from previous months drove July to a mere $336.2 million in revenue, a drop of nearly 17% from the $403.3 million figure for July 2010. During the last historical peak in video game sales three years ago, the industry experienced its best July showing ever, with software sales of $592.2 million in July 2008. The results of July 2011 represent 43% decline -- or over a quarter of a billion dollars -- in software revenue from that record. Looking back at the available sales charts for earlier in 2011 as well as July in the years 2008, 2009, and 2010 provides some helpful context for understanding what happened in July of this year. First, at least three titles which had been key to sales this summer did not perform well last month. Sony's PS3-exclusive
InFamous 2
, which had launched as the third best-selling game in June and sales of over 350,000 units, did not make the top 10 chart at all for July. Moreover,
L.A. Noire
and
Duke Nukem Forever
, the #1 and #2 games in June, respectively, also dropped out of the top 10 in July. According to Anita Frazier, analyst for the NPD Group, only eight games had sales of 100,000 units or more in July 2011. In this case, Frazier is speaking of sales after combining all versions of a game across all platforms (as shown on the chart below), so the aforementioned titles which fell off the top 10 chart each had sales of less than 100,000 units. Even accounting for the difference in the number of weeks (June is a 5-week month for NPD Group data, while July has only four weeks), that means the decline in sales of those key games was significant.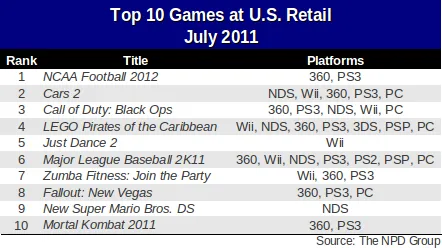 Looking back at 2008 and 2009, one gets a sense of what is missing in 2011: first-party Nintendo games and music games. During July 2008, the top-selling game was
NCAA Football 09
on the Xbox 360, but half of the top 10 was dominated by software for Nintendo platforms:
Wii Fit
,
Wii Play
,
Mario Kart Wii
, and
Rock Band
for the Wii and
Guitar Hero: On Tour
for the Nintendo DS. (Note that at that time the NPD Group was providing charts that did not combine titles across platforms, as the chart above for July 2011 does. So, for example, if the July 2008 chart were remade in the format used today by the NPD Group, it would combine
Rock Band
across all platforms and not provide a separate entry for
Rock Band
for the Wii. In July 2009,
NCAA Football 10
for the Xbox 360 wasn't even the top-selling title (again, without combining versions). Rather,
Wii Sports Resort
ranked first for the month with sales of over 500,000 units. That month six of the top 10 titles were for Nintendo platforms, including
Wii Fit
,
Mario Kart Wii
,
Mario Kart DS, Pokemon Platinum
(DS), and
New Super Mario Bros. DS
. Other than
New Super Mario Bros. DS
, which launched more than five years ago in May 2006, not a single Nintendo first-party title broke into the top 10 in July 2011. This isn't to say that Nintendo Wii software isn't selling. In fact, several titles in the top 10 this month are probably there precisely because they sell well on the Wii and the Nintendo DS. That includes licensed titles like
Cars 2
and
LEGO Pirates of the Caribbean
as well as
Just Dance 2
-- the current trend in music-based games -- and
Zumba Fitness
. As we have stated before, we believe that Wii software sales are driven primarily by the enthusiasm of new owners (consumers who have picked up a console within the last six months). We believe this is especially true for Nintendo's first-party titles, and so sales of games like
Mario Kart Wii
have simply fallen in tandem with Wii hardware sales. The sales of the third-party titles here is possibly the baseline support that the huge installed base of Wii owners can provide, along with some contribution from some new owners. The lack of big new releases in July isn't new, but it did compound the problem this year. Back in 2008 the biggest new title for the month (other than
NCAA Football 09
) was
Soul Calibur IV
for the Xbox 360 and PlayStation 3, and combined that title sold fewer than 400,000 units. Other than
Wii Sports Resort
, no new release made the top 10 in July 2009, and the biggest new release fin July 2010 was
Crackdown 2
for the Xbox 360, which sold just over 200,000 units. (If we combine versions as the NPD Group does now, the top new release would have been
LEGO Harry Potter: Years 1 -- 4
, which sold over 270,000 units combined on the Wii and Nintendo DS. Before moving on, we would like to note at least one bit of good news for EA's
NCAA Football
franchise. With the end of the PlayStation 2 and PSP as a key platforms, the seminal college football title has moved to just the PlayStation 3 and Xbox 360. (We'll decline to opine upon the aborted
All-Play
experiment for the Wii.) Despite consolidation on two platforms,
NCAA Football 2012
has shown 15% growth in sales over last year. The figure below shows historical data for
NCAA Football
on the three main platforms.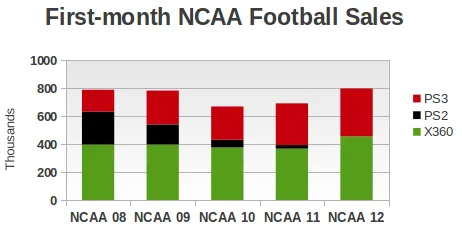 NPD Group analyst Liam Callahan noted that "while unit sales of NCAA Football 12 favored the 360 in absolute numbers, the ratio of PS3 to 360 units was higher than the ratio of the current PS3 install base to the 360 install base." He added that this result was "consistent with NCAA Football 11 which had the same 0.8 ratio of PS3 to 360 unit sales, also higher than the PS3 to 360 install base ratio last July."