[
As part of his most recent NPD U.S. retail game sales analysis, Gamasutra analyst Matt Matthews takes a look at software sales on the three major consoles, and how they relate to hardware sales.
] Occasionally we have the opportunity to examine console software sales at either the dollar level or the unit level. This month we will be able to consider the latest software tie ratios for the Xbox 360, Wii, and PlayStation 3 and from those figures be able to determine some indication of how well software is selling on each platform. Before getting to the figures, we should clarify what we mean by tie ratio, since the meaning can vary from analyst to analyst. By software tie ratio we mean the total number of software units sold for a platform divided by the total number of systems sold for that platform. So, for example, if the installed base of a system is 10 million units and 60 million units of software have been sold for that same platform, then the tie ratio would be 6.0 (i.e. 60 million divided by 10 million). The term attach rate is commonly confused with tie ratio, but the former typically refers to the percentage of the installed base that owns a software title or accessory. For example, as of March 2011, the attach rate for
Super Street Fighter IV 3D Edition
is 25 percent, since 100,000 copies were sold and the 3DS installed base is about 400,000 systems. Here are the latest tie ratios for the big three consoles, according to exclusive data provided to us by the NPD Group.

The tie ratio for the Xbox 360 first hit 8.8 around October 2009 and has remained in the 8.8 to 9.0 range during the eighteen month period since. Because a software tie ratio is combines both software and hardware sales into a single figure, it is affected by the dynamics of both areas. Since the introduction of the Xbox 360 S Model in June 2010, the console's hardware sales have been quite high. Given that the Xbox 360 tie ratio has remained approximately the same, and possibly even declined marginally during that period, we can assume that software sales have not grown sufficiently to increase the average number of titles purchased for each system. Moreover, the 1600 Point Card for Xbox Live has been a top-selling accessory for several months during the past year, and it is entirely likely that many consumers have been opting to purchase downloadable games from Microsoft's online storefront rather than disc-based games at a retail store. The Wii has increased its tie ratio consistently over the past 15 months. As of December 2009, each Wii owner had purchased 6.5 titles on average, and that ratio grew to 6.8 in September 2010 and approximately 7.1 in December 2010. During that same period Wii hardware sales rates have decreased dramatically, which means that it has been somewhat easier for that system to drive its tie ratio higher. Existing users haven't stopped buying software, and several hundred thousand new systems are being sold each month. Likewise, the PlayStation 3 has seen several year-over-year declines in system sales starting in September of last year, and so it comes as no surprise to us that its tie ratio has also increased from approximately 6.7 in December 2009 to 7.7 in December 2010. In terms of launch-to-date software sales, we have assembled the following estimates.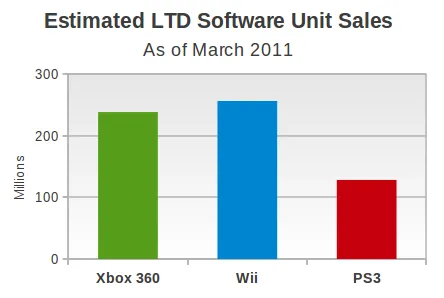 The Wii, with its installed base of over 35 million units, clearly leads in terms of total software sold. We also note that the Wii launched a full year after the Xbox 360, so it has moved significantly more software per year on average than has Microsoft's platform. By our estimates, about 50 million fewer units of PS3 software have been sold at this point in the system's lifetime than Xbox 360 software at the comparable point in its lifetime (i.e. March 2010). While the figure above gives a clear image of where the platforms stand on total software, we think it is also instructive to look at the average rate of sales over shorter periods of time. Let us consider the current-generation console market to consist of the Wii, Xbox 360, and PlayStation 3. Then in the last fifteen months, the Wii has accounted for 38 percent of software unit sales while the Xbox 360 has accounted for 36 percent. The PlayStation 3 claimed the remaining 26 percent. In the 15 months prior to that period (i.e. from October 2008 through December 2009), we estimate that the breakdown was 48 percent for the Wii, 32 percent for the Xbox 360, and 20 percent for the PlayStation 3. The key dynamic at play here is that Wii software unit sales dropped by over 25 percent from the first 15-month period to the second while PlayStation 3 software grew by 18 percent. Software unit sales for the Xbox 360 were basically flat between the two 15-month periods. This is a point we've made before, and one that's worth making here again: Wii hardware and software sales are still at healthy levels, for the moment. However, the system has declined from its peaks and shows no signs of slowing its descent. Simultaneously, the Xbox 360 and PlayStation 3 are either increasing sales (hardware for both, software for the PS3) or maintaining already strong levels (software for the Xbox 360). Before we leave the topic of software in general, we would like to draw attention to sales of dance software like Ubisoft's
Just Dance 2
and Microsoft's
Dance Central
. Both of these titles owe much to the original
Just Dance
, which was one of the Wii's breakout hits in late 2009 and early 2010. In spite of a near-invisible launch, that title went on to hit 1 million units in the U.S. within five months of its release.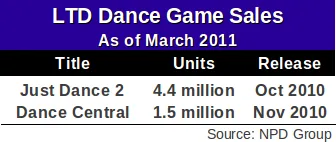 According to exclusive NPD Group data provided to Gamasutra,
Just Dance 2
has reached a staggering 4.4 million units just in the U.S. alone, on a single platform – the Wii. To put that in context, approximately 1 in every 11 units of software sold on the Wii since the end of September 2010 has been a copy of Just Dance 2. As Microsoft has pushed its new Kinect system for the Xbox 360, so have sales of Dance Central also continued to grow. According to the latest official NPD Group figures, that title has reached 1.5 million units. Given that the installed base for Kinect is still relatively small, that is a tremendous achievement. While we do not have updated retail figures at this time, reports from Ubisoft indicate that its
Michael Jackson: The Experience
game has also seen very strong sales
. That game has just been released on the Xbox 360 and PlayStation 3, and it is likely to collect many additional units on those platforms. Could these dance games be the next boom in video game software? We think that's precisely what's happening, and expect to hear more dance games announced throughout the year. All three major consoles have motion controls now, and Ubisoft and Harmonix (developer of Dance Central) have already done much to set the standard for the genre. Unlike the Guitar Hero and Rock Band phase that the industry passed through recently, the dance genre doesn't seem as likely to overheat revenues through sales of accessories. In this case, the sales are almost all pure software, with some possible effects on accessory sales as players pick up additional standard controllers for multiplayer.