[In the first in a new series, Gamasutra speaks to three major proponents of outsourcing at three different levels -- independent developer, major developer and publisher -- to discover the case for outsourcing and to what extent it should be applied in 2008. In the forthcoming second installment, Gamasutra will examine the issue from the perspective of the outsourcing companies.]
Whether a game developer relies on just a few assets to be created elsewhere or depends on contractors to complete the bulk of its production, outsourcing has become more the rule than the exception compared to just a few years ago.
Indeed, some developers -- like Wideload, Kuju and THQ, interviewed here -- consider outsourcing to be such an integral part of their corporate strategy that they have taken unusual steps to make their companies more than a little dependent on non-employees to help them meet deadlines.
Meanwhile, outsource companies are gladly accepting their roles as specialists who can partner with developers to save them money, increase flexibility in staffing, and create content with specialized skills that are complementary to those of their clients.
However, outsourcing is sometimes controversial in the developer community due to the perception that it might cause job losses in existing Western firms.
But the concept, as explained by proponent and Bungie co-founder Alex Seropian, is that it's the core design and execution that's maintained within the developer itself, and the lower-priority iterative work that is done elsewhere - leading to a different but still valid distributed model.
Indeed, at the Chicago-based developer Wideload Games, the importance of outsourcing rates a "10-plus," according to president Seropian, whose five-year-old company's business strategy was based on the outsourcing concept from day one.
"The fundamental part of our business model is that we have a core staff of full-time employees -- now numbering 25 -- which gets the extra manpower it needs to do all the production work from outside the company," Seropian explains.
"That means outsourcing all the art, animation, sound effects, music, voiceover, and even some of the engineering stuff. On our most recent game, Hail to the Chimp, for example, we had the help of 15, maybe 20 outside companies. Does that strategy work well for us? Phenomenally well!"
Consider the motion graphic interface in Hail To The Chimp that needed to look like a TV news program. The Wideload team believed that was a skill that didn't exist in-house and that it needed to go out and find.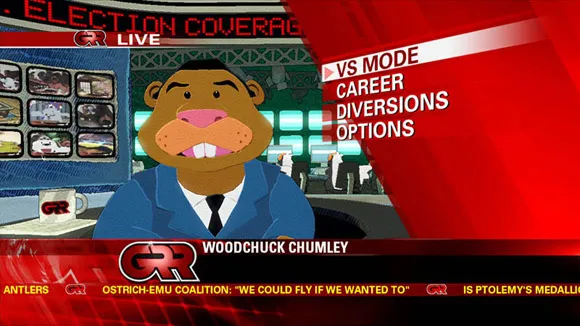 Gamecock/Wideload's Hail to the Chimp
"We did a bunch of due diligence on motion graphics companies that did work for CNN and 20/20," recalls Seropian. "It just goes to show that some things are better left to outside experts."
Seropian believes that the primary benefit of outsourcing is not necessarily to save money but to best employ company resources in the most efficient manner possible.
"To me it makes no sense at all to try and hire 100 people, which takes a long time," he says. "And it's even harder if you're trying to hire the best of the best, especially here in Chicago which is a great city but isn't exactly the heart of the video games industry."
"So it's a big effort, a big risk, and at the end -- when you've completed production on the game -- you've got 100 people on the payroll and you only have work for five or 10. I'm sorry; that model is broken and it's not one we intend to use."
---
But despite the advantages of outsourcing, Seropian is quick to admit that there are also high hurdles, all of which he's encountered in Wideload's five-year history.
High atop that list is what he calls "simply process" -- which includes setting expectations very clearly and providing outsourcers the tools they need to succeed.
"To make it work, you need to treat the outsourcers -- who may be halfway around the world -- like they are on the team," he explains. "And, for us, that means getting them into our source control system, allowing them to preview their work in mid-game as we are previewing our work, and providing them with a pipeline of assignments and feedback and expectations."
"For instance, we tell them that when they do a character model, we usually review it about 20 times before we call it done. Because, if we don't say that, when they get to the fifth iteration, they're going to be like 'Ah, come on, man. Isn't it done yet?'
"We're talking about a lot more here than just having good communications," Seropian notes. "It's treating them like they're working in the same room as you are. We have come to understand that and to build it into our culture that we aren't going to succeed if the outsourcers don't knock the ball out of the park. We have to do everything possible to enable them to do that."
At Kuju Entertainment -- one of the UK's largest independent developers, and owners of the Zoe Mode (Crush), Headstrong Games (Battalion Wars) and Doublesix Games (Geometry Wars Galaxies) -- president Jonathan Newth rates outsourcing a "seven" on a scale of 1-10 reflecting its importance to his company's success.
While, an average of 20% of Kuju's artwork is done elsewhere, there are some games -- Electronic Arts' Rail Simulator, for example -- where almost 80% was outsourced. And Newth aims to bring the average up to about a third.
"The number one reason -- by a significant margin -- for our using outsourcing is that it has minimized our fixed costs and given us flexibility in scaling our resources up and down," Newth explains. "We certainly couldn't consider always keeping a full set of teams on staff and trying to time it so that, as one project ends, another one is ready to start. Instead, we maintain a core team of skilled staff and then we increase or decrease resources as we need them. This has enabled us to bid for projects we otherwise couldn't even consider."
In addition to resource flexibility, outsourcing serves up skill sets that may not exist internally at Kuju.
"There are some areas of animation and character creation, for example, that we prefer to outsource simply because we know outsourcers who are capable of producing exceptionally high quality work in these areas -- as high quality as we could produce internally and, in some cases, with creativity and experience we might not have in-house," Newth admits.
Kuju -- which creates about a dozen games annually -- is comprised of six studios in the UK and one in San Francisco with a total of about 330 people on staff, about half of whom are permanent and half are fixed contractors. Then, on top of that, Kuju works on a fairly regular basis with about 20 people who are outsourcers.
The company, which was founded in 1998, began outsourcing its art, music, and voiceover almost from day one and, over the last few years, has been trying to outsource code as well.
What has also changed over the years is the ease with which Kuju is able to find skilled outsourcers.
"When we started looking at outsourcing, there were fewer around and we knew much less about the whole process and so it cost us a lot of money just to move along the learning curve," Newth recalls.
"The process we used was to do some research, create a long list of, say, five to seven outsourcers for each separate project, and then do due diligence on everything from their network security, what kind of insurance they had, how long their staff had been with them, and so on. Then we checked references."
"When the list had shrunk to maybe three to five outsourcers, we sent them our standard RFPs and gave them each a test which was an asset or an animation which we would normally have done in-house. Typically we ended up with two or three outsourcers on the project in order to spread the risk."
Today the process is much simpler. Kuju has its list of trusted partners and selection is based on costs, among other factors.
Newth believes that eventually Kuju might head down a larger "distributed development" path, perhaps not on art but possibly on bigger projects where it might try outsourcing scripting or actual code.
"We have certainly had some of the senior members of the outsourcing teams on our site at the start of a project so they can get to know the job and the team they are working with and to understand that they are a big part of the work we're doing," says Newth. "So I guess we've gone part of the way down that road already."
---
One publisher/developer that seems to be one of the highest-profile proponents of outsourcing is THQ which, in March of 2006, launched its so-called XDG unit -- which stands for "External Development Group" -- to better manage its outsourcing efforts, which are much more extreme and focused on reducing cost on a global scale.
At the time, Shiraz Akmal, then VP of operations and product development, explained that XDG started as "sort of a business development group that keeps an eye on product development and the requirements of our games. We do all sorts of due diligence, and we basically save our studios the time and hassle of determining where the work should go. We make sure that the outsourcers actually exist, that they have the resources and the quality they claim to have, and that they are financially stable."
He predicted that THQ would be expanding its outsourcing efforts from then 20% to maybe 40% or perhaps 50% "in the next few years."
Flash forward almost two and a half years to today... and outsourcing has become such a mainstay of game production at THQ that the company is about to announce the opening of a new office in Shanghai, China "from which THQ will spearhead the expansion of local partnerships to develop and publish both online and console games," according to Kevin Chu, now corporate director of XDG.
He will be moving his office to Shanghai to head up global XDG operations from its base there. "I believe that shows how big a commitment the company has to how well our process is working," he says.
First out of the gate will be a free-to-play, micro-transaction game called Company of Heroes Online, designed specifically for Asia, in collaboration with THQ's Chinese operating partner, Shanda Interactive Entertainment, Ltd.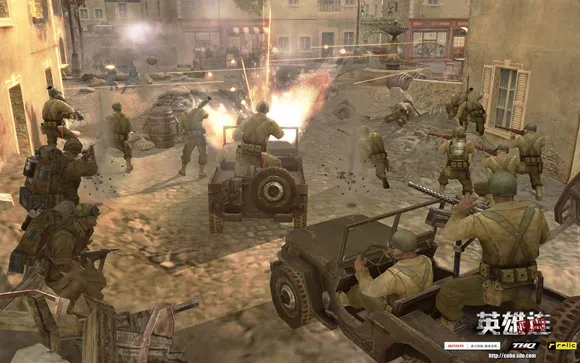 THQ/Shanda Interactive Entertainment's Company of Heroes Online
In fact, THQ has transitioned from outsourcing to what Chu calls "distributed development," a process in which outsourcers function as an extension of the developer's internal team rather than merely an external producer of piecework.
"We're talking about their contributing to pre-conceptualization, pre-production, prototyping... everything we do here back in the main studio," Chu explains.
The goal, he says, is to go far beyond traditional outsourcing that might sustain just 20-30% growth. "If you really want to get up anywhere higher than that -- perhaps to 50% or even 60% -- you can only do it with changing the way you think about making games, by achieving a level of integration with vendors that I think not a lot of developers are willing to invest the time and training to do."
"But, through distributed development, we have outsourced up to 40% of the assets and we hope to reach 60% in the upcoming year, perhaps with a game called Darksiders: Wrath of War" -- which is an action/adventure RPG scheduled for release on the Xbox 360 and PS3 this January.
THQ's Vigil Games studio has had artists working with their "partner vendors" for over a year now, says Chu, and almost all the concept art for Darksiders was pre-visualized at their studios overseas.
Showing the extent to which the company believes in a much more global, highly distributed environment, Chu concludes: "XDG has been working very closely with them, trying to train and improve their staff so that they become more experienced with the style of game and more proactive as far as interacting with the THQ team, which is the first stage of a true distributed development environment."