The Anti-Defamation League (ADL) is warning that in-game harassment targeting women, Black players, and Asian American players has increased over the last year.
This warning comes from a survey organized in partnership with analytic firm Newzoo, which spoke to players of different backgrounds to try and quantify the state of online harassment in video games. It's the third year that the ADL has conducted this survey, and its 2021 results include data that's relevant for developers working in online games.
Women surveyed by the ADL reported an 8 percent increase in harassment experienced while playing games, (jumping from 41 to 49 percent of surveyed players). Black players saw an 11 percent increase in harassment with 31 to 42 percent of respondents reporting racist incidents. And finally, an additional 12 percent of Asian American players reported experiencing online harassment, jumping from 26 percent in 2020 to 38 percent in 2021.
The ADL notes that for Black and Asian American players, these increases coincide with two major cultural events that sparked racist attacks on these communities—the Black Lives Matter uprising of 2020 after Derek Chauvin's murder of George Floyd, and the spread of COVID-19.
Former U.S. president Donald Trump deployed numerous racist attacks against China in response to the virus's initial spread, and that sentiment correlated with an uptick in verbal and physical assaults on Asian Americans as the pandemic spread.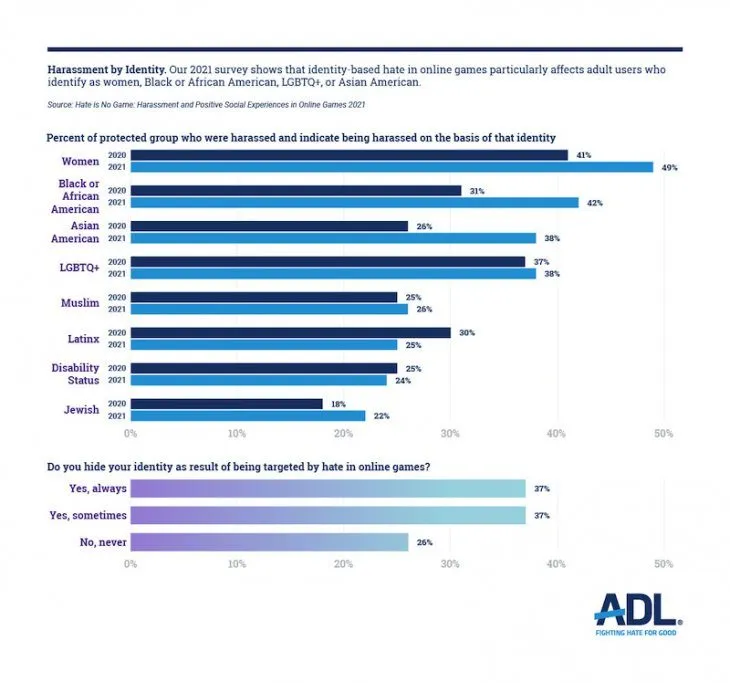 In the last year, game developers have spoken out both in support of Black Lives Matter and Stop Asian Hate, two parallel movements that have emerged to combat the racism that both demographics face in American society. However the ADL notes that while developers did speak out in support of these movements, it did little to blunt the harassment inflicted on players in some of their games.
The ADL's data notes some other worrying statistics as well. An increased percentage of players reported being victims of "swatting." (The act of calling the police and falsely reporting that someone is about to commit a violent act, prompting them to deploy an armed response on the victim's place of residence).
In 2020, just 12 percent of players reported being victims of swatting. That number rose to 20 percent in 2021.
Elsewhere, 60 percent of young players and 83 percent of adult players reported a personal experience with online harassment in their time playing online games.
Those statistics included experiences ranging from minor to potentially violent, and highlight that developers still have a long way to go in making sure their games are safe spaces for players of all backgrounds to connect with each other and have fun in an online environment.
You can review the ADL's full study—which includes notes on its methodology and year-over-year insights—here.