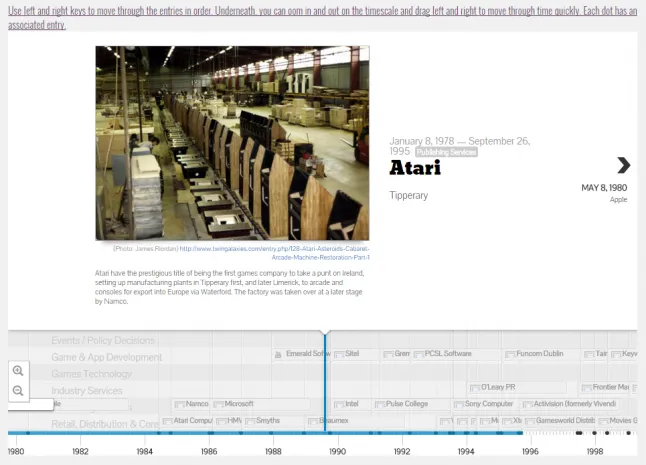 I had posted some time ago, about a project on the Irish Games Industry, the relic of which is on this GamaSutra blog post. While my games publishing company, Scraggly Dog Games, failed, our final games related project after we wrapped up working with the development teams was the redevelopment of non-profit, community run GameDevelopers.ie, which launched in the long ago internet of 2003.
I had volunteered, writing about the local industry here as stories came up, and in recent years, become an admin to help them redevelop the site from one build with a (now suspended) forum focus, built for WAP, to a more user friendly, responsive, site, which could do all the things we wanted to do, but technically couldn't. Thanks Wordpress.
This recently completed with a party in Dublin, giving the local community a free, public, open place in which to post news, and this has been greatly by Frank Whelan of the Irish Independent, who has spearheaded a broadsheet home for Irish games, on the Indo Indie, and writing articles based on my data such as his look at the value of the Irish Games Consumer market over the years.
While the mapping project stopped, and would take a huge amount of work to do on another service, given that Google Maps Engine is being retired soon, I still had attempted to put together a timeline of the local industry, using my cumulative research over the years, and "birth" and "end" dates using companies office information, and domain registration records.
I can't embed it on Gamasutra, but the timeline is available as an alpha prototype at gamedevelopers.ie/timeline-of-the-irish-games-industry/ and if you worked in a company mentioned, and can contribute, please use the contact form at gamedevelopers.ie/contact-us/ or submit information through twitter to @GameDev_IE
On a separate note, but happening at the same time is Geoff Newman's much anticipated, 48 minute documentary called #IrishGameDev 2014. If you want to see some of the more recent companies mentioned in the timeline, it's essential watching at https://www.youtube.com/watch?v=sbVq89daE5E
Enjoy, and comments and feedback are welcome!
Jamie / @DublinJammers