[In an overview of the current arcade game business, industry consultant Kevin Williams examines the state of the market, probing why, although the Western arcade biz is much changed from its '80s heyday, there's still room for new products.]
In a feature of this kind we would normally begin with a short history lesson on the "arcade" industry -- looking at past glories of the Golden Age and how nowadays retro arcade classics have managed to account for a high percentage of consumer releases on all platforms.
But the popularity of the classic arcade industry is so great that the sector is covered authoritatively in numerous fan-based websites and portals. The communities, such as Arcade Heroes, fans of the Multi Arcade Machine Emulator (MAME), and the fighting and driving game genres are legendary and constantly growing.
Though the arcade is a retro title goldmine, for many in the consumer game scene it has been easy to dismiss arcade gaming as nostalgia, but no longer a viable or functioning industry. That view has recently been contradicted; we are in the midst of a groundswell of new developments in this so-called "dead" market.
The reality is that while consumer gaming has evolved into the multi-billion dollar industry we know and love, the arcade industry has also changed -- having evolved itself into a sector that is still of interest to consumer game publishers and player attention alike.
The Shape of Today's Market
What many still call the "arcade" business has not existed in any serious size for 20-odd years -- the industry that this feature is covering is that of the video amusement and public-space sector (also known as the Digital Out-of-Home interactive entertainment industry).
Where once wooden black box arcade cabinets were crammed into retail units and called an "arcade", the modern industry places the latest dedicated amusement pieces in a multitude of sites ranging from retail, bowling centers, family entertainment venues, cinema chains, hotels, theme parks and airports -- and many sites in-between. Rather than supplying the stand-alone presence, public-space gaming is now largely a compliment to a facility's primary activities.
The general North American market, where these products are placed, also consists of Family Entertainment Centers (FEC), ranging in size from 15,000 to 200,000 square feet, mixing entertainment such as bowling, lasertag, mini-golf, go-karting, redemption and amusement under one roof, with 200 to 400 machines. An aspect of this includes facilities that focus on a centralized experience such bowling alleys, light-gun arenas, and video game rooms.
Next to this there are cinemas, with movie theatres including FEC elements in separate retail units or scatted throughout the venue -- such as the Cineplex chain and its 130 multi-screen venues, which include games as well. Some cinemas are broadening their scope to include mass audience interactive experiences unique to the movie theater, such as the TimePlay Entertainment's CineLynx platform -- offering 100 wireless consoles to take part in mass-audience game experiences.
Game rooms encompass standalone amusement venues, but also are being combined with existing venues such as hotel resorts and other visitor attractions. These are closest to the traditional "arcade" style game room -- but have now shrunk from 10,000 venues in the arcade heyday to roughly 3,000 sites across the United States.
The more familiar face of amusement are Children Entertainment Centers (CEC), exemplified by the Chuck E. Cheese chain, originated by Nolan Bushnell in 1977. Since then, it has grown into a 350 center operation with annual revenue in the region of $1.6 million per Center. Another leader in the field is Discovery Zone, with over 300 locations. In the U.S. and Mexico, there is also Peter Piper Pizza, which ranges in size from 5,000 to 10,000 square feet, with over 140 sites.
These restaurants are a mixture of fast food and gaming -- known as "EaterTainment" -- with a considerable emphasis on video and redemption (prize) gaming. EaterTainment also touches the hospitality industry, including such venues as sports bars and taverns that deploy digital jukeboxes, casual gaming decks, and gaming kiosks -- blending the drinking and dining experience with a gaming component.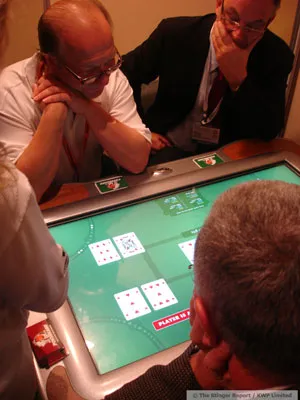 Another venue type is Urban Location Based Entertainment Centers (LBE), including what is known as Adult Entertainment Centers (AEC).
This is best illustrated by Dave & Busters, which has over 46 venues, each one mixing restaurant and bar enclosures with redemption midway, amusement gaming, and specialized attractions. These venues range from 30,000 to 50,000 square feet and typically have roughly 450 machines.
A re-emerging AEC chain is the GameWorks operation (owned by amusement giant Sega), with over 17 venues. These mix a bar and club atmosphere with the latest video amusement systems.
The sites, developed as entertainment anchors, are at home in a mall as well as being deployed as standalone venues. This parallels the evolution of the mall into a Retail Entertainment Center (REC), which offers shopping venues with high foot-traffic to entertain a family mix at the site.
New trends include re-application of the game room in new locations such as truck stops and airports, while edutainment -- using interactive entertainment to supply educational experience, including exercise gaming -- is linked to a drive against childhood obesity through physical game experiences. These are all opening new opportunities for developers.
---
Revenue Demographics
Revenue generated in this market, which is dependant on impulse play, was recently calculated at a per-capita expenditure per visit to a FEC in the $8- $14 range. Video amusement hardware, on average, has a profitable popularity of nine months in which it generates premium revenue numbers.
It has to be remembered that various states charge taxation on the operation of different types of amusement equipment. The need to service and repair machines is also a drain on their full revenue generation. Even with these issues, there are recent examples of popular amusement applications, including Guitar Hero Arcade, which has had a production run of 2,000 units in just three months.
The Applications of Entertainment
This Digital Out-of-Home entertainment (DOOH) has grown considerably in its applications over recent years. Where once only video amusement was installed, the market now has expanded into new and diverse applications of the core premise.
Emerging new applications encompass the hospitality sector, including placement of special bar-top kiosks and touch screen terminals offering casual gaming for bars, taverns.
There are also game kiosks for hotel and truck stop utilization. Growing in recognition under the moniker "VenderTainment", this application is married to network prize elements and tournament play. This also includes the pay-to-use game systems that build on a cybercafé-style experience.
The appliance of game methodology into new areas of public-space environments is one of the driving factors towards entertaining a sophisticated audience now highly familiar with digital play. This has seen the birth of exer-gaming, which blends interactive play with new-style fitness technology -- some systems using amusement-originated motion capture applications.
Another area that falls into this new development is edutainment -- with new-style interactive attractions placed in educational arenas, including new interactive simulator experiences and networked audience theater systems in museums, galleries, and heritage venues. Special needs education and rehabilitation are also being served by a new level of intuitive game experiences. While this falls outside the conventional pay-to-play revenue model, many public-space entertainment systems run like attractions in a theme park.
For amusement, a factor in shaping the placement of machines has been a change in the way the audience approaches video amusement. Once players would hunt down their favorite title at the local arcade; now, the market has moved to embrace an impulse play model, while working to cultivate repeat play.
Products such as Incredible Technologies' Golden Tee Golf range have created a profitable genre offering league and tournament prize gaming via network competition. The ability to offer a true prize (e.g. cash) is an environment right now rarely if ever achievable in console gaming applications.
This unique prize tournament model is thus essentially exclusive to amusement. The ability for operators to police the hardware and connection is a powerful defense to fraud. Over 25,000 Golden Tee Golf machines have found a home in the burgeoning leisure hospitality market -- video amusement hardware tailored for taverns, sports bars, hotels, and truck stops. However, not just trackball golf games find a home in this sector.
The market also contains the touchscreen terminal platform. Systems such as Merit Entertainment's MegaTouch or Funworld's Photo Play platforms offer the casual gaming experience. A hoard of Flash-style content is available via these "game jukeboxes", many of which are configured to be played in prize tournament format.
The ability for these types of systems to be incorporated into high-foot traffic environments with a repeat incentive of prize reward has driven the revenue generation of such hardware. The need for connectivity has also seen the utilization of these terminals as complete media networks -- able to be used for digital jukebox selection, along with food and beverage ordering.
The creation of a perception of the complete touch screen dining experience has been created by the father of the video games industry -- Nolan Bushnell. With his uWink Bistro facility concept, he has created a social gaming environment that incorporates waitress-less service and a multi-media experience with full downloadable content, and casual gaming experiences all on tap in a electronic payment environment.
The concept is not a simple one, and of the three facilities opened, one has already been closed (the Mountain View site, originally opened in September 2008.) However, uWink has licensed the fundamentals for the venues to a third party developer.
It is this monetization of the game system that makes amusement a new and attractive commercial entity. As seen in the vending sector, the use of electronic payments offers an attractive new revenue stream. New developments in the amusement sector offer direct access to the cashbox for content providers. The inclusion of product placement and attract-mode advertisements are also potentially profitable routes to new revenue generation.
---
Demographics of Production
The reality is that the installed base of machines is a fluctuating commodity. In the 1980s, classic Atari titles like Centipede saw sales of over 50,000 units. Nowadays, the reality of the U.S. market means successful sales are measured in 4,500 to 6,500 unit production runs. The current installed base of amusement machines generated revenue of $866 million in 2004, declining from $7.3 billion in 1982.
But looking at just the amusement market in isolation misses the great opportunity of public-space gaming market. Merit Entertainment has generated a 250,000 installed base for its hospitality specific MegaTouch touchscreen series, with nearly 4.6 billion plays per year; tournament connectivity adds to the versatility and revenue generation abilities of entertainment systems in this market.
The international market is equally as complex. In the early 2000s, the United Kingdom reported over 27,000 video machines in operation at a multitude of sites, including some 106,000 seaside amusement centers, 2,000 motorway service centers, and assorted cinemas, bowling and game rooms -- all this achieving some £58 million spent on amusement games and simulator attractions each year.
Demographics of Amusement Systems
The traditional upright arcade cabinet has been superseded by the larger and more impressive dedicated platform. At a typical price of $19,000, these machines have become a popular mainstay of the market in the genres of racing, shooting, and flying. Influences from the Asian scene have seen dedicated sit-down fight game cabinets gain some international popularity. Expensive at around $8,000, the Taito Viewlix and Sega Lindbergh cabinets offer HD flat screen gaming platforms. These systems sit alongside deluxe simulator-style cockpit platforms to offer a special play environment.
The unique application of public-space offers new pay-to-play models for the hardware. The bar-top mounted touch screen hospitality entertainment system is being superseded by wireless remote tablet units or even interactive projection systems.
Developments in multiple touch surfaces mean unique gaming platforms -- while new non-glasses 3D display creates a unique experience not achievable at home. All this is paid though the coin box, or with the application of electronic payment systems, through swipe cards or via the player's mobile phone.
While the Wii has lead the charge on consumer-oriented physical gaming, with Sony and Microsoft yet to deliver solutions, amusement has also championed highly physical gaming. Konami launched the genre of motion capture games with Police 911 in 2001. More recently, Canada's TrioTech Amusement released UFO Stomper exclusively into the public space.
The Adaptation Factor
While the amusement industry has continued to create original titles, a number of manufacturers have turned to console game publishers to adapt readily available content for amusement applications. However, rather than just dumping a console title onto a video amusement platform, a dedicated and detailed redevelopment of the game has to be undertaken to ensure it fits in this unique gaming environment.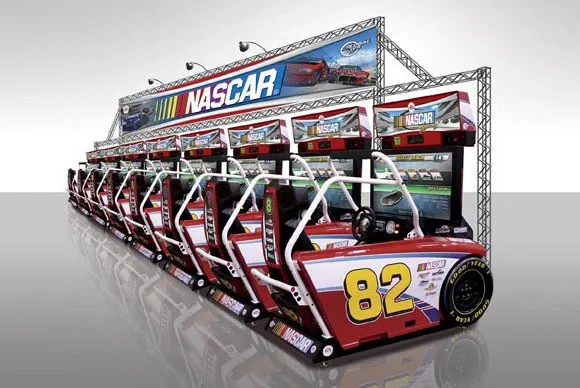 Most recently we have seen Electronic Arts successfully partner with U.S. amusement manufacturer Global VR. The company has produced unique coin-op adaptations of EA franchises such as NASCAR and Need for Speed. Global VR has also licensed and developed the Blazing Angels property from Ubisoft, transforming it into a compelling cockpit arcade system.
An often ignored aspect of consumer and console platforms is the illegality of using the systems and content for rental or public play. Building off of the popularity of content for cybercafé and internet facilities, software publisher and developer Valve Software has generated a public-use license for LAN game centers to use their content legally. Valve has also continued to explore other opportunities. In 2006, Taito adapted its most storied franchise with Half-Life 2 Survivor -- a dedicated arcade cabinet that brought the FPS into the coin-drop sector.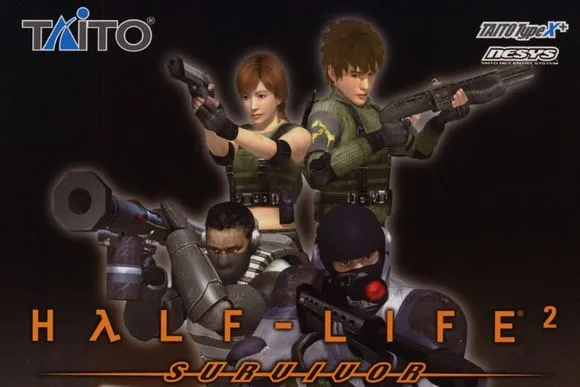 Taito's development team has moved forward with this concept in creating an FPS product called Cyber Diver that offers five cabinet on five cabinet combat action in a sci-fi environment; as of publication, it is yet to be released. The company will be using its GENESYS online tournament system, which also incorporates special VIP smart cards.
Guitar Hero Arcade takes the music rhythm game genre full circle. In an exclusive agreement, Konami Digital Entertainment released the amusement version of the popular series after having received from Activision full Out-of-Home game rights as part of an agreement linked to the settlement over the original Konami amusement Guitar Freaks (BEMANI) patent.
The arcade version of Guitar Hero was developed by amusement game development powerhouse Raw Thrills, headed by industry veteran Eugene Jarvis. Raw Thrills created the amusement version of the game with an extensive prize tournament capability in mind -- supported by its CoinUP system. The two-player cabinet is specially designed to appeal to the social element of public amusement. Raw Thrills was founded by ex-Midway amusement developers, proving the viability for independent teams to create successful amusement content.
Konami Digital Entertainment is no stranger to applying its consumer franchises to amusement, recently launching Silent Hill: The Arcade internationally. The two-player gun game applies a level of unique cabinet design to build on the suspense of the game narrative, while the company also employs their own e-AMUSEMENT network architecture to ensure repeat play.
Continuing to build on their extensive library of franchises, Konami announced at the E3 expo that Kojima Productions, creators of the Metal Gear Solid series, will help create Metal Gear Arcade -- a dedicated amusement release of the network play version of the game, with special stereographic 3D goggles incorporated into the game experience, along with four player network combat via the e-AMUSEMENT environment.
---
Consoles Enter the Fray
2009 also marks the latest attempt to have current generation consoles enter the public arena. Under the Game Gate VU brand, Quasimoto and American Reload have created a delivery platform which they hope will allow actual unmodified console content from PC, Xbox 360 and PlayStation 3 to be legally played in the public space.
The Game Gate has been developed in partnership with iGames, who has extensive agreements with the leading console and software publishers to utilize their products in public-space tournament competitions. This has allowed Game Gate to legally apply this content in a coin-operated pay-to-use format -- players paying for time to play on the game, rather than buying lives.
This is not the first legal application of console games in amusement, of course. Most famously, Nintendo launched PlayChoice-10 in 1986, which allowed gamers to try NES console releases in a pay-for-time model, with mixed success.
The new Game Gate sits astride the conventional amusement business, encompassing the new environments of hotel, truck stop, airport and retail applications. The system is already being considered as a next-generation game kiosk, incorporating support of the iGames tournament infrastructure.
The Hospitality Angle
The ability for strong game content to be applied in the public space also includes the most casual of games. It is possible to argue that the very nature of amusement represents the very essence of casual gaming, in some senses originating the genre during its golden age.
Now with a swarm of Flash-based games available for online and mobile applications, the amusement scene has suddenly become a new delivery platform for utilization of this readily available content -- perfect for application in touch screen terminals.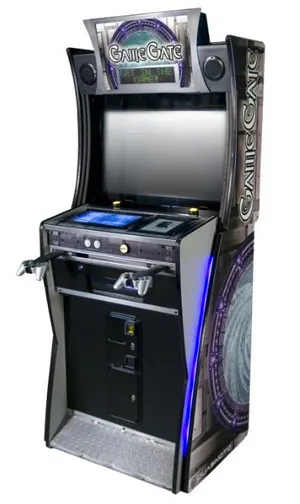 As mentioned previously, manufacturers such as Merit Entertainment in the states, or European companies Funworld and TAB Austria sit on a considerable installed base of touch screen terminals, with network functionality.
The market has embraced new content, and touch screen manufacturers are hungry for compelling content for the public space. These systems are tailored exclusively for gaming in hospitality locations (bars, clubs, hotels, and restaurants).
Casual, public-space gaming systems are another aspect of the casual game revolution; but in this case, it can attract a sophisticated audience keen for gaming outside of the home.
One area of considerable growth in this scene has been the with prize tournaments. Players log onto connected terminals and cabinets in bars to compete for a daily or monthly grand total. Incredible Technologies' Golden Tee Golf and Silver Strike Bowling continue to build a strong following around these tournaments, with YouTube coverage of winning games.
The need for cash incentive to maximize revenue illustrates its ability to build a level of fan following that simple high score tables cannot generate.
Along with golf and bowling, there has been a great popularity in the tournament connected sports arena with Big Buck Hunter Pro. The sports bar and tavern market audience is engrossed in competition, and local tournaments have arisen around this sports shooting experience.
Tournaments and Network Infrastructure
Though the networked playing environment was first championed by the amusement sector, it has found more of a home in hospitality, since with connected machines cash prize payout is possible. The popularity of VIP smart cards has expanded player retention -- with details and player statistics available online. These have generated a profitable repeat business for operators of connected games.
The number of tournament players regularly competing has mushroomed in recent years. Over 60,000 Golden Tee machines have been sold; over 20,000 are still in operation. In comparison, Big Buck Hunter Pro sold 7,000 units just in 2006, enjoying a popular tournament community of hundreds of regular players.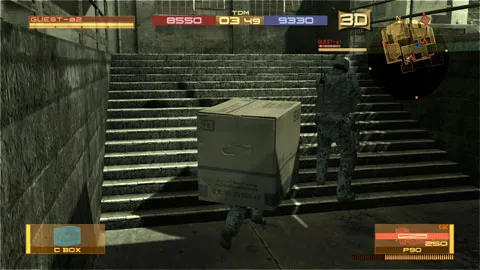 The Japanese amusement scene has championed the connected play experience with ALL.Net (jointly used by Namco Bandai and Sega). There is also the highly popular e-AMUSEMENT system from Konami, with over 46,000 installed systems in Japan during 2006.
This technology is now being applied in the States with the installation of e-AMUSEMENT PASS connected Dance Dance Revolution SuperNOVA 2 machines deployed in U.S. Brunswick Zone chain of FECs. This same network is to be used to deploy the new Metal Gear Arcade release.
---
Rebuilding a Lost Market
The popularity of the Chuck E. Cheese and Dave & Busters chain stores, with their amusement component, along with smaller family entertainment centers, is an unsung success of the modern amusement business mix. However the players (and accompanying audience) have found that venues that cater to their unique needs for some of the more traditional amusement genres have dwindled too far.
It is with the re-invention of past amusement gold that we see a re-insurgence in interest from the traditional player base. The success of Street Fighter IV showed signs of reinvigorating the market, despite a strategy that ignored non-Asian amusement placement. Core players, who wanted that experience, created their own SFIV coin-op cabinets. An avalanche of interest could have guaranteed success, but it was missed by Capcom, which focused solely on the game's console and PC release outside of Japan.
The players themselves have come to shape the reemergence of public-space gaming. Removed from the hobbyists building their own personal MAME cabinets or restoring original cabinets, there is a new audience that has come to enjoy the social aspect of arcade gaming. Much of this can also be traced to the dancing game explosion that saw thousands competing on Konami and Andamiro music rhythm game systems in the late '90s.
The fan following for some of the more popular genres shows signs of reinvigorating the approach to coin-op. The clamor for Tekken 6 and Street Fighter IV has changed the amusement landscape in North America.
Though first launched as amusement titles in Japan, these games were dismissed by the U.S. amusement representatives of both Namco Bandai and Capcom. But a groundswell of interest grew to the point that these representatives were totally circumvented and players started to install and operate their own arcade machines.
This situation of the players taking charge of the games they play is linked in part to a massive interest in league and tournament competitions. The amusement format lends itself instinctively to competitive audience-supported events. The Golden Tee Golf tournament infrastructure has paid out millions in prize money over the years. However, fighting fan tournaments have taken this model to a new level, organizing special events that gather players to compete.
The creation of specialist events which offer an arcade arena has mushroomed of late, with several international gatherings dedicated to fighting game tournaments. In July 2009, the first UK-centric event, Insert Coin 2009, launched. It builds on fans' hunger for both amusement play, and the hobby of playing, building, and owning classic amusement machines.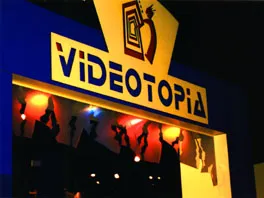 Insert Coin is a UK first, while the States has a slew of public events such as Showdown Championships in Texas and Evo 2009 in Las Vegas, which specialize in the fighting game genre (though Evo focuses primarily on console ports). The realization that amusement is still a hot property has re-shaped marketing and development thinking.
Already museums and galleries have started to incorporate exhibitions based on the video amusement sector as historic presentations. The latest 100-plus game Videotopia installation is currently, as of writing, live at the Strong National Museum Of Play in Rochester, New York.
Trends and Opportunities
Those looking for opportunities and a new direction in the public space entertainment sector are finding a unique merger of new gaming methodologies. Casual games for touch screens have blossomed. Flash content is now finding a new revenue-generating home in hospitality amusement. Companies such as the Germany-based FunWorld are actively licensing internet content for their PhotoPlay touch screen terminal install base.
Another aspect to consider is consumer crossovers -- taking established console brands and porting them for amusement. Ubisoft, Activision, and EA have established profitable licensing routes into this market -- with upfront $60,000 advance licenses and 15 to 20 percent cuts of a $19,000 cabinet's sales price. This is not seen just as a revenue generator; having an amusement presence offers a marketing platform to establish brand identity.
Licensing brands into amusement is a growing opportunity starting from the obvious: mascots and characters represented as plush prizes in skill machines. Licensed brands can be applied to pinball, gaming machines, and even as properties for theme park attractions, as recently seen with Lara Croft theme park ride at Paramount Parks.
The aspect of monetization from placement in the public space is constantly changing. Where once a developer would only look at a flat fee on machine unit sales, through connected hardware the ability to share in the coin-drop is now achievable. The use of tournament architecture enables subscription fees for connectivity, and so opens new revenue streams for content providers. This increased revenue stream is supported by electronic payment (e-payment) through smart cards, mobile phone, or virtual credits.
Finally, we come to the opportunity that this originator of the concept of digital play still holds for consumer developers. Already major franchise and licenses are looking to follow in Guitar Hero Arcade's footsteps. There is a marketing opportunity for brand recognition in the public space sector, one perhaps more engaging than simply attempting to advertise to an audience not touched by traditional game marketing.
In a consumer market under pressure from the restrictions on spending from its traditional audience, the opportunity to have direct exposure to the cash generated from public space placement means a viable market for those with consumer sector experience. It's a means to broaden the reach of an intellectual property, and find new revenue streams.
Rather than being dead, video amusement and Digital Out-of-Home markets seem very much alive, and offer opportunities for software developers and publishers keen to find new horizons.