[In this interview with Dark Souls producer Kei Hirono, he reflects on the development of the game and what director Hidetaka Miyazaki and his team at developer From Software have achieved with the eagerly anticipated, famously challenging, and innovative title.]
With all of the commentary about how the Japanese market is failing to create games that appeal globally, especially for hardcore audiences, you need only to point to Dark Souls as an example of a game that bucks the trend. Not only is it wildly successful in its home market -- as its debut on this week's Media Create charts at number one shows -- it is also one of the most eagerly anticipated games of 2011 in the West.
One reason it is anticipated so highly is simply because it's the direct successor to a well-respected and successful title: Demon's Souls, which debuted on the PlayStation 3 in 2009. It's a much more polished, thoroughly bigger and better-made version of that game, essentially, as many sequels and follow-ups are.
But it's also because it's a game that bucks trends: it's not simply a well-designed RPG, but it's one of the most challenging games yet released this generation. And as veteran developer Mark Cerny has often pointed out -- a point recently echoed by Gears of War's Cliff Bleszinski -- it's got innovative online play that may set the tone for how single player-focused developers will handle those modes in the future.
How did this game come together? To find out more, Gamasutra spoke to the game's producer at Namco Bandai, Kei Hirono. Gamasutra last spoke to Hirono at E3, where he told us that the secret to the game's success was getting out of the way of director Hidetaka Miyazaki and his team at developer From Software. In this new interview, he reflects on the development of the game and what the team has achieved with the title.
When we spoke at E3, you said that you're getting out of the way and letting the team really do the work. Our readers really liked that statement -- the idea that you really just let From make the decisions on the game.
Kei Hirono: Absolutely, our stance is the same -- we let devs do what they want. Every time we receive a build, we're actually surprised by the new aspects that have evolved. So our job is to deliver this game to you guys on time, so we'll do our best to do that, and make sure that a great game is delivered.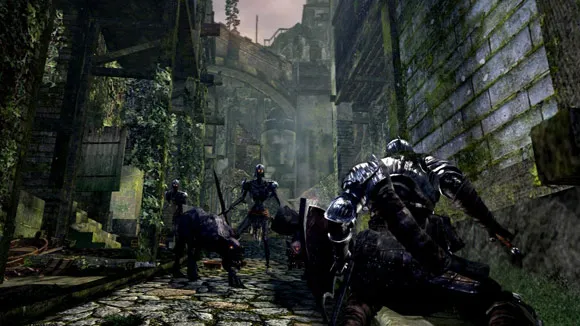 Normally you produce a lot of anime games.
KH: I do!
It's a pretty different experience from really hardcore games like Dark Souls.
KH: Well, the producer position might be a bit different in Japan; it's chiefly focused on the publishing side. Most of the design work and testing and so on is being handled by From Software; we're trusting them to be good enough for the task, so we're leaving it to them. Meanwhile, we're the ones who are figuring out how to deploy this product worldwide, in North America and Europe. It's really been a new experience for all of us.
You're gold on Dark Souls; how do you feel when you look at the final game and how it went?
KH: Oh, partly it's a relief that something we worked right up to the line on turned out so well. I do think it turned out wonderful, though, really.
Did it exceed the expectations you had at the beginning?
KH: It's really nothing like we pictured it at the start. There were concepts that went unimplemented because, especially with the online component, you can't really tell how some of it works until it's actually in motion. It was really a difficult project because it kept on changing and evolving as we were developing it. A lot got attached to it, so it's really a much greater project than we first conceived. I'm just glad it all came together.
---
Since it's a worldwide audience, did that change your role from when you're working on a game chiefly targeted for Japan?
KH: It's been a completely different experience, yeah. Completely different. I'd like to think I know the Japanese market pretty well, because I live there and that's the environment I grew up in, but how is it in Europe and America? What are gamers like; what are they looking for; what do you have to do to get their attention and have them understand what kind of game you're trying to make? I really didn't understand, so I've been feeling my way through this process alongside Miyazaki and a few others. I've been learning from a great many people, and I want to continue with that process.
Did you learn a lot from Miyazaki?
KH: I've been doing nothing but learn from him. He's really an amazing person, I think. He thinks on an incredibly deep level on any word you give him; deep and wide. The way he thinks everything through in the midst of what should and shouldn't be included in the game is impressive in motion.
In a way it's a good thing, because we know we can rely on him and his team to do the right thing for the game in any given part of it; we don't feel obliged to meddle. The fact that they've produced this great product, and we can concentrate on spreading it around as much as possible, is really thanks to him.
At E3, you spoke about the tremendous amount of information that Miyazaki knows about the game world, too. I was wondering how that's communicated to the player.
KH: Well, obviously, the NPCs will be the key relating what kind of story, what kind of background is involved. But what we really want players to do is to be able to roleplay their own roles in the game, and as they roleplay they will be able to reveal their own story. And I think there's enough background hints coming from the NPCs to communicate, try to elaborate on what the world involves. But the story will be mainly driven by how the player roleplays.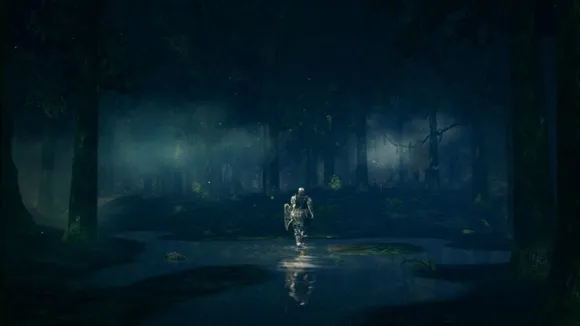 I noticed that this time you're less hesitant to compare it to Demon's Souls.
KH: [laughs] So it sort of came from our past experience. In the past everybody asked, "As compared to Demon's Souls..." and so we got used to that a little bit, so we're comparing before we even get asked that.
In terms of the increased volume of content, is that a matter of the team having more staff working on it? Or is it a matter of a longer development cycle from the last game?
KH: In terms of the content volume, it's not the team size or the dev time, I think it's more the underlying concepts the team wanted to deliver for this game. We really wanted to emphasize the exploration and the RPG elements for this game, and for us to do that we really needed to expand the world -- to provide the seamlessly connected environments for the players.
In terms of the difficulty, we wanted to really elaborate, again, on the accomplishment and satisfaction for the game, and with that we needed to increase the difficulty. In order to overcome that difficulty, we just needed to increase the number of weapons, increase the number of items, and increase the number of options for players to be able to explore it. So it's not just the time and resources, but more the underlying concepts behind what we want to do, to make this game deep.
---
So it sounds like this game puts more emphasis into the actual world than Demon's Souls.
KH: Yes, definitely. The world itself is physically a lot bigger, and the background story, and the background to the game itself is a lot more in depth; it's just something we really wanted to elaborate on. And, so, again, it's a result of being the type of game that we wanted to make.
I think that the bigger the world, the more isolated you're going to feel. I'm assuming, though, the online will address that, right?
KH: So definitely, yes. The interaction between other players on the online space is something very important. We've also added a lot more NPC characters as well for interaction for the player.
One thing that Mark Cerny has said is that the way this series is passively online-aware is going to be the standard for games in the future. Do you have any thoughts on its online connection?
KH: I do agree that this is a pretty unique system. We were actively trying to create an online experience that hadn't really been done before; we thought it'd be fun to take the interactive online experience and make it more accessible for players.
That's what I think is the most fun thing about this -- the fact that you can communicate with other players worldwide without requiring actual language. I think that's how things are going to go, and I think that's a good thing because it results in a more fun experience for everyone. It's definitely great that people are saying that about it, too.
Showing this game around and speaking to lots of people in the U.S. and Europe, did that also teach you a lot about how the global market works?
KH: It certainly did, and really there's still a lot I don't get! I wish I could understand more, but either way this has been a great step up for me, a new opportunity. I do feel like I know more about games now and that we've made a pretty big leap into the overseas market. It's been a fresh experience, and I hope I can do more.
Do you think what you've experienced will change how you approach your job as producer in the future?
KH: Well, I think it'd be great if I could help create a title that's built from the ground up to aim for the worldwide market. I now have this experience working with a game that people around the world are getting hands-on with, that's capable of competing worldwide. I'd like to see if I can do that with some sort of original content; that'll probably be the next step.
Would you personally want to continue working on projects like this that target a hardcore audience?
KH: Not necessarily just the hardcore audience; more like something that people worldwide are willing to accept and enjoy. I think that sort of thing would be great. I think I know the hardcore market at this point, and I'd like to explore the possibilities with a more casual audience -- a larger group of gamers, in other words.