Each month the NPD Group releases data about sales in the U.S. video game industry, including a closely watched list of the top 10 selling software titles. Unfortunately for market data mavens, the top 10 provides only a tiny window into the larger market.
When dozens of games are released each month across no fewer than six console and handheld platforms, there simply aren't enough data points to see how games are selling on each platform.
However, in coordination with the NPD Group, Gamasutra has exclusive data on the top 5 titles for each of the current-generation consoles.
While these are simply additional small windows on the market and not the type of broad view that a top 100 or even top 20 might provide, they do help illuminate what kind of software is selling on which platforms.
PlayStation 3
Here are the top five selling titles for the year on the PlayStation 3, through the end of August 2008.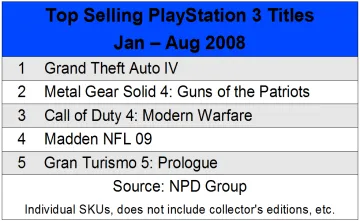 Note that this ranking does not include collector's editions and software bundled with hardware. Therefore, the Metal Gear Solid 4 ranking does not count the Collector's Edition, nor does it count copies bundled with 80GB PlayStation 3 units.
Seeing Grand Theft Auto IV and Metal Gear Solid 4 at the top of the listing is not a huge surprise. The former moved 1.4 million copies (including the Collector's Edition) in its first two months, and Kojima's latest opus moved around a million in its first month when hardware bundled copies were counted.
These two games were heavily promoted and were considered system sellers, although only MGS4 can probably claim that moniker with any real certainty.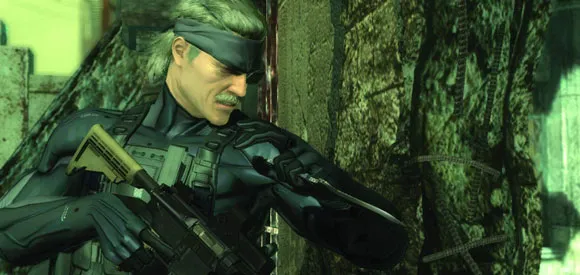 Meanwhile, we now know that the PS3 version of Call of Duty 4 had enough sales after Christmas 2007 to put it somewhere north of 600,000 copies for this year. (The NPD Group did not release unit sales data to us for these titles, so rough estimates will have to suffice.)
The staying power of Call of Duty 4 is simply amazing, and Activision will be fortunate to score again this year with Call of Duty 5.
The last entry in the list, Gran Turismo 5: Prologue is a bit of a surprise, at least to us. We had thought it probable that Devil May Cry 4 would have beaten out GT5P, but these figures suggest otherwise.
Depending on how well GT5P has sold through the PlayStation Store, it is possible that it has sold more copies (via retail and download combined) than the PS3 version of Madden.
---
Xbox 360
If there were any doubt that the Xbox 360 is the home of first- and third-person shooters, let this top five list put that question to rest.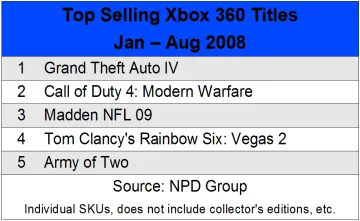 Four of the top five games this year on the Xbox 360 involve guns and explosions and lots of online mayhem. Moreover, they are all third-party titles: Take-Two, Activision, Ubisoft, EA, and UbiSoft.
After examining the PS3 top five, seeing Grand Theft Auto IV at the top of the Xbox 360 list is again no surprise. According to NPD Group figures, GTA4 has sold 4.8 million copies across both the Xbox 360 and PS3.
We estimate that the Xbox 360 version should account for around two-thirds of that total, or just under 3 million units, although neither NPD nor Microsoft have released specific figures.
Moreover, the Xbox 360 version of Call of Duty 4 was in the top 10 from January through April and we know it was above 100,000 units in May. That puts it somewhere higher than 1.2 million copies for the year.
In August the Xbox 360 version of Madden NFL 09 was right at 1 million units, although some of those were the 20th Anniversary Edition which wasn't counted in the NPD data used for this ranking.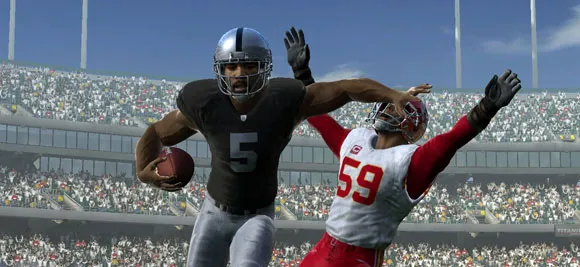 We don't have definitive data on the last two titles, but it is quite likely that Rainbow Six: Vegas 2 is between 900,000 and 1 million units while Army of Two is around the 800,000 to 900,000 mark.
---
Nintendo Wii
Finally, we come to the Wii and its top five titles so far in 2008.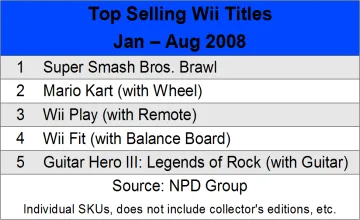 We can pin down the actual sales figures a bit more easily on this list than on the others. We know that Super Smash Bros. Brawl has sold more than 3.2 million copies since its launch in March. Second is Mario Kart, which we know has sold 2.7 million units since its launch in April.
Wii Play, a nigh permanent member of the top 10 list, comes in at #3 for the year on the Wii. Nearly 2.5 million of the controller and minigame package have been sold this year, and given its 45% attach rate with Wii system hardware, it is quite likely that it will sell another million before the end of the year.
Despite shortages and its $90 price tag, Wii Fit has sold over 1.8 million units since its launch in May, earning it the #4 spot in the Wii's year-to-date software rankings.
As noted in the monthly NPD sales figure analysis, Wii Fit sales have been accelerating in the past couple of months, which could mean that it will sell exceptionally well throughout the holiday season.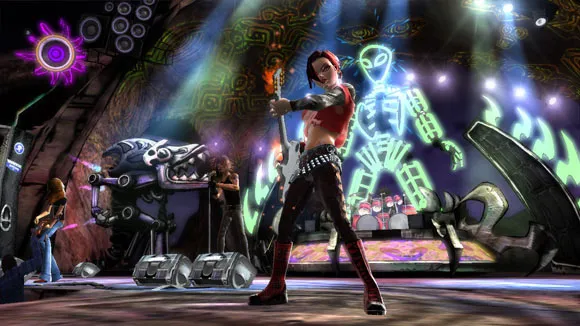 Finally, the only third-party title in the Wii top five is Activision's Guitar Hero III: Legends of Rock, packaged with the wireless Wii guitar.
Although hard figures are not available, the Wii version had sold 1 million copies as of the end of May and has probably sold at least another 300,000 copies since then.
---
Some Quick Comparisons
While the data here is limited, it is at least interesting to compare the sales figures across the platforms.
Given that we estimate (the pictured below) Army of Two's YTD sales at 800,000 to 900,000 on the Xbox 360, we can surmise that the #5 title for the Xbox 360 may have sold better than than the #3 title on the PS3.
However, the PlayStation 3 also has a much smaller installed base and some games, like Madden NFL, have sold to a higher percentage of PS3 owners than Xbox 360 owners.
Both the Xbox 360 and PS3 top 5 software lists are dwarfed by the figures for the Wii's top sellers. Starting with Super Smash Bros. Brawl above 3.2 million and ending with Guitar Hero III around 1.3 million, the Wii's top 5 games of the year account for somewhere between 11 and 12 million units of software.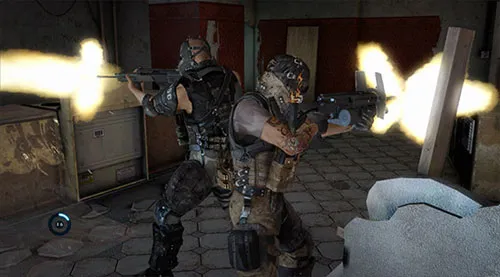 Even more importantly, two of those games - Wii Fit and Guitar Hero III - retail for significantly more than the standard $50 or $60 fee for most modern games.
Equally interesting is that four of the top five games on the Wii this year - all except Super Smash Bros. Brawl - include a hardware component in the box.
Mario Kart has the wheel. Wii Play has the extra controller. Wii Fit has its balance board while Guitar Hero has its plastic guitar.
It's become clear that we've never seen quite a hardware success story like the Wii. Looking at the top five games on each platform this year, it seems we've never seen a software success story like this either.