The developer Super Evil Megacorp has announced a three-year, multi-million dollar partnership with Twitch to promote and support the eSports community around its iOS/Android game Vainglory. The deal is the latest effort by Super Evil to position its touchscreen MOBA as a hardcore experience comparable to PC games that are eSports mainstays, like League of Legends.
Kristian Segerstrale, COO and executive director at Super Evil Megacorp, spoke to Gamasutra about the deal, and about what Super Evil is trying to do with its touchscreen MOBA. He concedes that you can tell at a glance that Vainglory eSports matches are different from standard PC-based games like Starcraft 2.
Players aren't staring intently at PC monitors, so you're more likely to see advantages and setbacks play out on their faces. Vainglory competitiors can choose the type of touchscreen device they want to employ--some clutch mobile phones, while some tap frantically on tablets.
Since the start of Super Evil, Segerstrale has been fighting for Vainglory's legitimacy as a "hardcore" eSport-style game. He insists that Vainglory offers the same sort of deep hardcore play experience that used to be involve lugging your rig to a LAN party.
The touchscreen experience has only been slightly tailored to mobiles, with 3x3 matches typically played over wi-fi lasting up to 20 minutes, instead of the 5x5 matches that can take more than twice as long on League of Legends. Touchscreen interaction is streamlined, requiring only simple taps--no elaborate swipes or curlicues. But Segerstrale says the pace of competitive play can be frantic--100 to 200 actions per minute.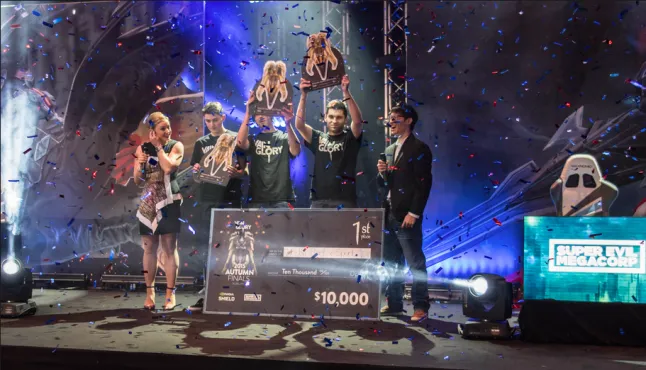 Segerstrale says that the streaming potential of Vainglory quickly became apparent after the launch of the game in November of 2014. Super Evil noticed that many were opting to play 2x2 matches instead of the standard 3x3 so that one player could spectate. "We slapped our foreheads, and we quickly got to work on adding a proper spectator mode," he says.
According to the press release announcing the partnership, Vainglory was the fastest growing mobile game on Twitch in 2015, with 2.5 million minutes viewed. The game was also the biggest touchscreen eSport last Fall, with $350,000 global prize pool. High profile professional teams like TSM, SK Gaming, Team Secret and G2 Esports have recently begun acquiring Vainglory teams and competing in tournaments.
Segerstrale says that assistance from Twitch will take the form of things like a team to help with organizing competitions, promotion of Vainglory steamers and eSports broadcasters, and helping competitors with sponsorships and merchandising
The press release also notes that teams hoping to compete in the Vainglory Spring Championship, which will have a total prize pool of $80,000 USD, can register here.