A month ago, Threes developer Asher Vollmer spoke to Gamasutra about the team at Sirvo's decision to make a free version of the up-till-now premium-only iOS game, which is supported by video ads. Though the game did "super well" as a paid app, the game's daily revenues have been doubled since the free version released, Vollmer revealed today on Twitter.
The game was Apple's iPhone game of 2014, but became overshadowed by the success of 2048, a free-to-play clone that exploded across the mobile app stores -- so overshadowed, in fact, that Vollmer and collaborator Greg Wohlwend released their design archives, to illustrate all of the effort that went into creating the game in the first place.
"Basically, what 2048 did for me is expose the potential for Threes, and the potential audience, and how big it could be. It didn't force our hand or anything, but 2048 actually encouraged us to go free-to-play," Vollmer told Gamasutra.
In another Tweet, Vollmer shared graphs that show the performance of the free-to-play Threes; we've included them below. The top graph is paid profits, and the bottom is free-to-play profits.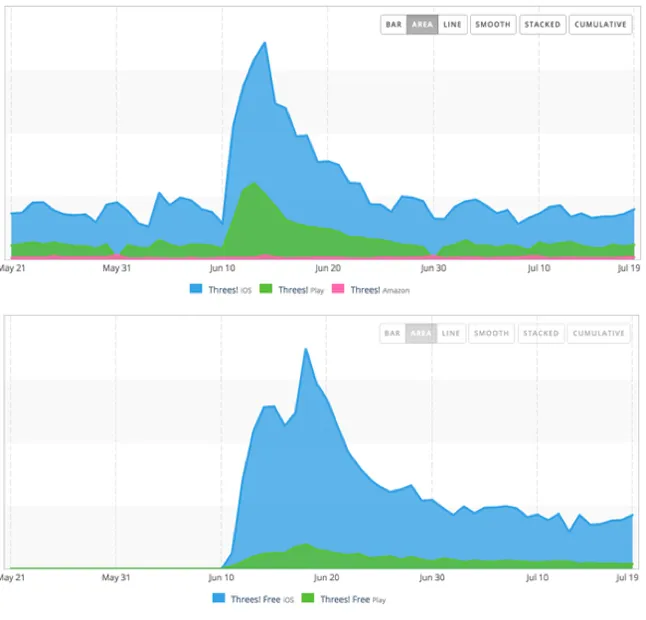 He went on to share stats on retention and the effect releasing a free version had on player numbers.
Importantly, Vollmer told Gamasutra that the free version of Threes was designed with respect for both its players and developers -- including its very specific implementation of ads.
Last year, Leigh Alexander explored the relationship between Threes and 2048, offering a thoughtful analysis of the cloning issue peppered with comments from Ian Bogost, Adam Saltsman, and 2048 developer Gabriele Cirulli.