Starting today, Roblox Corp. is hosting a month-long virtual development conference for creators making games on the Roblox platform. Though the company has dipped its toes into the conference business in the past with the invite-only event Roblox Developers Conference, this event is modeled on more conventional developer events (like our sibling organization Game Developers Conference).
During the month of June, Roblox creators with backgrounds in topics ranging from VR development, to 3D modeling, to live in-game events will present sessions that explain how other creators can replicate these experiences on the platform. It's just one of the many ways that the platform is starting to resemble a cottage game industry.
One interesting tidbit about the conference is that it's being hosted on Guilded, the Discord-like communications platform that Roblox Corp. acquired back in August 2021. Head of developer relations Justin Sousa told Game Developer that Guilded's advancements in moderation tools will be part of the company's efforts to moderate chat and virtual interactions during the event.
It's possible that successful moderation efforts for Connect 2022 might be filtered back into the main Roblox platform, where the company has faced extensive criticism for not sufficiently preventing abuse and harassment among its (often very young) community.
Sousa also talked to Game Developer about what Roblox Corp. hopes to achieve with this conference, and what it might mean for game developers who aren't even on the platform. Not only does he hope that some of the topics will help developers interested in broad game design principles, but that it opens more doors for aspiring game creators in the Roblox community and VR.
Why a conference format?
Roblox Connect 2022 is a month-long virtual conference, meaning that attendees can watch live session broadcasts, network with other attendees, and discuss content in the Guilded chat channels. But if Roblox Corp. wasn't planning on gathering people for in-person connections, we wanted to know: why even structure this as a conference at all? Why not just make it a series of video presentations?
"There's a human real time connection element that I think is very important," Sousa said. He explained that in his seven years at the company, he's learned that many Roblox creators are here "because of a community connection," and that learning to make games without just following tutorials made users want to come back for more.
Roblox creators feel attached to their creations and the people who helped bring them to life. While archived videos can help self-taught developers how to hone their technique, Sousa said that learning or creating alongside other people is meant to show "that the barrier to entry is not something to intimidate you."
Though Sousa reminded us that Roblox creators aren't all just teenagers (he paused at one point, trying to remember how many 40-50 person companies were chugging away on experiences at this time), his points about inspiration and learning to make games do highlight the fact that Roblox has traditionally been aimed at younger users, many of whom might be attending their first developer conference this month.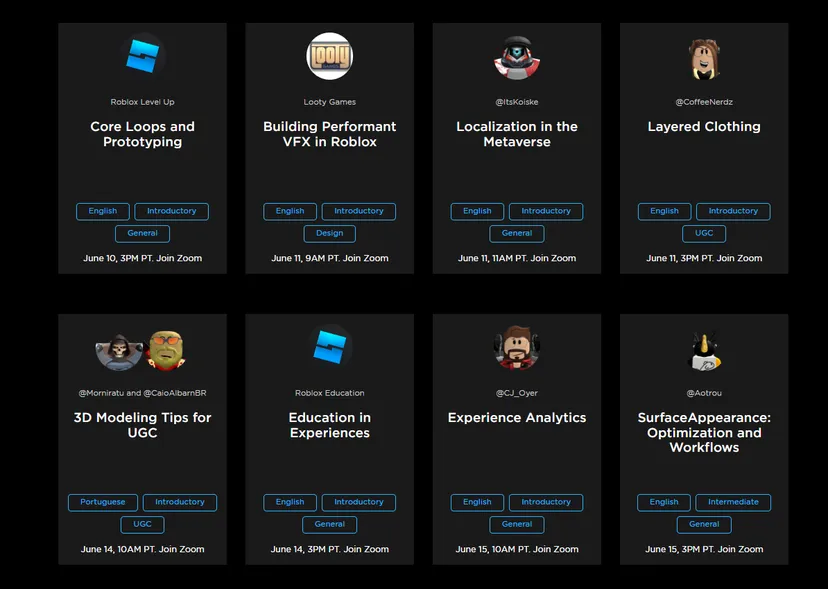 Guilded's moderation tools, as mentioned before, are what Sousa says the company intends to rely on to make sure the experience is safe and trustworthy. "It's hard to have a sentence without the words trust, design, and moderation at all within the company," he mused. "There was a rather long laundry list of what it means to be trusted and safe. Moderation is something we hope is associated strongly with Roblox."
We should note again that this is regrettably not always the case for some developers. Not only has the team at People Make Games documented struggles with the platform, we've heard about developers trying out the platform with their kids and encountering adult content or slurs targeted at children. Roblox Corp. has spoken about its efforts to to address these issues previously.
Connect 2022 does seem like a chance for Roblox Corp. to earn some goodwill on this subject, but it might be contingent on moderation lessons from the event flowing back into Roblox.
What can creators teach creators?
Sousa identified a number of topics that developers might not expect to find in Roblox creation. These include virtual reality development, which not only relies on creating VR experiences, but also the act of creating games using virtual reality tools. He also said that the conference hopes to serve creators who aren't even making games at all.
"There are creators who focus on music creation on Roblox and sharing the kinds of music [with users]," he said. That one group represents the "broad array" of creators that Sousa and his colleagues hoped to cater to.
Roblox creator CJ Oyer, who's giving a talk on predicting "game health" to help developers identify underperforming projects, said that he's already found fellow creators to be "receptive" about analyzing metrics. "Analytics offer a stury foundation for responsible development," he told us. Roblox creators who "value a game's health" can use this data to avoid potential issues and track where their experiences are improving.
Sousa's comments about community and collaboration being a core part of the Roblox game-making experience ring true for creators like Naomi, who goes by the in-game handle CoffeeNerd. She's giving a talk on implementing the new layered clothing feature, but she said she's motivated by "being able to help people to understand the new system."
And some speakers, like Rikardo Aguilar, want to help fellow creators use Roblox as a tool for personal expression. He said that developers who "who have the vision of putting part of their personality in such projects" are often best at creating what he called "new-and-different kind of games."
Aguilar's aim is to help Roblox creators develop consistency through their experiences that run from in-game assets to promotional materials. His hope is that developers who pursue this consistency can make experiences that cut through the overwhelming noise of the internet—an especially relevant topic given the challenges of discovery that Roblox creators face when trying to monetize their experiences.
Oyer, CoffeeNerd and Aguilar's talks gain new relevance when you consider the Roblox team's larger ambitions, which is to help share ideas with the platform's growing international audience. Sousa explained that one of Roblox Corp.'s biggest successes is its huge international following, and Roblox Connect 2022 will be its attempt to bridge communities across languages.
Some talks will be given in the speakers' native languages, including Spanish, Portuguese, and Korean. Viewers who aren't fluent in these languages will be able to follow along with machine-language-managed closed captioning that will hopefully make these talks approachable in even more parts of the world.
A small test for Roblox Corp.
Sousa's breakdown of Roblox Connect 2022 highlights a new venue of growth for the world game-making platforms: not only do these spaces need to be fun, functional, and safe, they also need to think broadly about the learning experience for aspiring creators.
If you run through the archives of Roblox Developers Conference, you'll note that much of the content published to date has a more centralized structure. It's programming produced by Roblox Corp., to teach users how to use its technology based on its internal understanding of it.
With Connect 2022, the company is ceding the ground to its creators, acknowledging that the ecosystem has grown so large that its users are sometimes the best to teach other users. And if Sousa's right, that's a better learning method for the people who make the platform possible.
It will also be worth paying attention to how well the company uses the Guilded platform to facilitate talks and moderate social spaces. When Roblox Corp. acquired the company in 2021, I did wonder "what use does a game-making platform have for a social application?"
This may be a test flight for what's possible in the world of moderation and community-building.
Will similar products need to build or acquire their own social platforms, or run their own curated community conferences to match Roblox's success? Those are the questions those of us outside the world of Roblox will ponder this month. Inside its blocky boundaries, creators will have much smaller concerns, like how the heck do you implement layered clothing anyway?