Industry tracking firm Media Create posts a weekly list of best-selling retail video games in the Japanese market, and devoted NeoGAF posters translate and compile the data on a weekly basis.
And now, they've taken the trouble to make a master list for 2014. We now have access to the top 1,000 best-selling games in the Japanese retail market for 2014 (or, more accurately, the period from December 30, 2013 to December 28, 2014.)
You'll notice a difference in the top 10 list below as compared to the raw data; we've condensed the Pokemon and Yo-Kai Watch 2 releases into a single entry to produce our top 10. Note: Listed sales figures are for 2014 only.
Yo-Kai Watch 2: Honke / Ganso (Level-5, 3DS) 3,040,100
Monster Hunter 4 Ultimate (Capcom, 3DS) 2,345,260
Pokémon Omega Ruby / Alpha Sapphire (The Pokémon Company, 3DS) 2,283,344
Yo-kai Watch 2: Shin'uchi (Level-5, 3DS) - 2,039,205
Super Smash Bros. for Nintendo 3DS (Nintendo, 3DS) 2,001,935
Yo-Kai Watch (Level-5, 3DS) 1,037,890
Mario Kart 8 (Nintendo, Wii U) 851,776
Dragon Quest Monsters 2 (Square Enix, 3DS) 802,173
Kirby Triple Deluxe (Nintendo, 3DS) - 677,319
Puzzle & Dragons Z (GungHo Online Entertainment, 3DS) 498,410
A few notes:
For one, the shift to Level-5's monster collecting RPG Yo-Kai Watch from Nintendo's monster collecting RPG Pokémon appears to be near-total. On one hand, a remake Pokémon (Alpha Sapphire and Omega Ruby are based on the franchise's first Game Boy Advance release) tends to sell worse than new original Pokémon titles (Such as X and Y.) But on the other, if you look at the total numbers of Yo-Kai Watch 2, including re-release Shin'uchi, the overall franchise sales are insane.
To further clarify things, the reason Shin'uchi's sales aren't condensed with the Honke and Ganso versions of the game is that it's an expanded version of Yo-Kai Watch 2 that came several months later, while the latter function like different "colors" of Pokémon and shipped on the same day.
If you want to better understand the Yo-Kai Watch phenomenon, don't miss our explainer. The franchise will hit the West later this year with the release of the first game.
It's also clear that the 3DS is the dominant console platform in Japan, or at least the one with the biggest, most mainstream hits right now. (Of course, the mobile market is even hotter, thanks to games like Puzzle & Dragons and Monster Strike.) Nonetheless, Nintendo president Satoru Iwata recently pointed out this many multi-million retail sellers in one year is actually unprecedented in the Japanese game industry.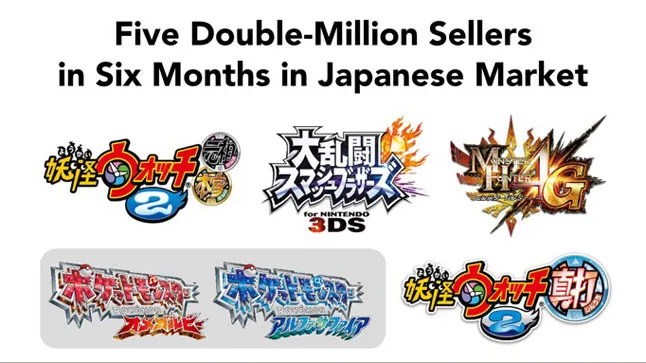 A Nintendo earnings report slide, which looks a lot like the top of this top-10 chart.
Finally, these 2014 sales don't incorporate prior-year totals for the titles. Yo-Kai Watch and Puzzle & Dragons Z were both released in 2013, selling 1.3 and 1.5 million copies respectively over the course of 2013-2014.
The full NeoGAF post contains Japan's top 1,000 games for 2014, so if you want to bury your head in data, you know where to go.