[In Ryan Rigney's new book Buttonless: Incredible iPhone And iPad Games, he looks at the genesis behind more than 65 titles for Apple's iOS platform, such as Canabalt, Angry Birds, Words With Friends and more. In this excerpt Gamasutra presents a look at the unusual story of Nimble Strong, a game inspired by Cooking Mama, Phoenix Wright, and New York City cocktail culture.]
Platform: iPhone/iPod Touch
Price: $4.99
Developer: Nimble Strong LLC
Released: July 10, 2010
What Is It?
So here's the story: you're a total screw-up. You've lost both your wife and your best friend, and you have no job. Somehow you manage to land your sorry self a position as a bartender at a local pub. The only problem is, you have no idea how to mix drinks -- ANY drinks. Fortunately, outside knowledge of cocktail mixing isn't required because your patrons will happily teach you how to make them.
During the game your customers will saunter up, tell their stories (which are usually pretty interesting, surprisingly enough), and order drinks. There are over 70 drinks in the game, and the ingredients are all at your disposal. In order to make the requested drink you'll have to know the actual recipe, and that's where your patrons come in handy.
The rest of your challenge is pouring the correct amount of each ingredient into a glass, which you do by holding anywhere on the screen. The goal is to pour just the right amount in one try, and that can sometimes be pretty difficult. Nimble Strong: Bartender in Training is educational and entertaining, since it's essentially a bartending class wrapped up in a fun, Phoenix Wright-style puzzle game.
Behind the Game
Adam Ghahramani had just launched his big new site (theOtaku.com), and he was exhausted. Ghahramani decided to allow himself a one-month vacation in Vancouver, where he spent time exploring the sights and thinking about what he should do next.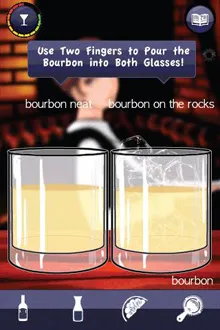 Ghahramani had heard that gaming legend Will Wright (creator of The Sims, Sim City, and Spore) was giving a lecture at a local university, so he wangled his way in by getting a press pass. Wright, who is known for his eloquence, delivered a powerful speech that Ghahramani called inspiring.
"I left it amped up with the confidence that maybe my web experience and wealth of game industry/gaming expertise could translate into actually making a game," he says.
As he walked back, Ghahramani thought about what sort of game he'd like to make. He knew that he wanted it to be for the iPhone because the development cost would be low, he'd have control over the distribution, and the App Store was beginning to take off.
He also knew that he wanted to do something in an anime/Japanese style. That wouldn't have come as a surprise to anyone -- Ghahramani's recently launched theOtaku.com later grew into one of the web's most popular sites for Japanese anime.
Ghahramani had already been thinking a lot about educational games like Cooking Mama and Wii Fit. He was inspired by those games' ability to entertain while teaching, but says that the games are too dumbed-down to be counted as truly valuable educational tools.
"All these thoughts were circling in my head," says Ghahramani. "Suddenly, I was struck by inspiration when I saw a sign outside a building advertising a bartending class for a few hundred dollars. The spark of an idea set in and it became a possibility."
Ghahramani came up with other game ideas, but says that an educational bartending game was the idea he kept coming back to. The more he thought about it, the more he liked it. He decided that the best way to make the game interesting and educational would be to add in story elements. "I wanted to make a darker game, something that retained the quirkiness of a Japanese-style game but with the dark neo-noir feeling of a more Western title," Ghahramani says.
---
Ghahramani returned from his vacation to his home in New York City and decided to put off finding a full-time job to focus on his game idea. His first order of business was to learn more about the bartending industry, which he says he knew very little about. "Of all my friends, I was one of the least frequent drinkers," admits Ghahramani. "So it was a bit odd to make a game about cocktail culture."
Ghahramani described the four-step research method that he used to quickly familiarize himself with bartending:
He signed up for a $300 bartending course.
He bought multiple books on the topic from Amazon.com. These included both technical books from mixologists like Gary Regan, and autobiographical/historical books "to get a feel for the culture."
He signed up for a couple of advanced-education classes taught by local spirits enthusiasts/mixologists.
He "obsessively" went to all the top bars in New York City.
In his very first bartending class, Ghahramani realized that making drinks was inherently suited to video game gameplay, thanks to the sense of timing that bartenders have to rely on to pour each drink.
"A typical shot takes three seconds to pour with a standard free pour," explains Ghahramani. "But bartenders have no progress bars or anything like that; they need to build a sense of what three seconds is intuitively.
"As a game this was interesting because we can have 'perfect' pours that are exactly three seconds, 'good' pours that are a little less or above, and 'worse' pours that are much less or well above. I realized that the combined mechanism of timing and remembering recipes would make for a glorious gameplay dynamic." This was important, because it provided a way for the game to be fun, not just educational. "I was super excited," Ghahramani says.
Ghahramani was further interested to learn that many drinks are closely related, and can often be divided into separate families. "Swapping one ingredient for another would often quickly make another drink altogether," he says. This, Ghahramani says, would serve as the basis for the game's educational progression. Players could start by learning one drink, and then easily pick up on others in the same family by swapping out just a few ingredients.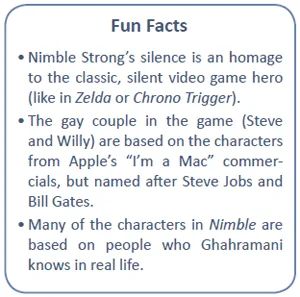 Since the bartending game was to incorporate storytelling in a major way, Ghahramani began reading up on playwriting. He completed his first draft and showed it to Don Gatterdam, whom he describes as a friend and mentor.
Gatterdam didn't hold back his criticism. "The mixology content is inauthentic, the dialogue sucks, and nothing in the story reminds me of a real bar," he told Ghahramani. Humbled, Ghahramani scrapped his first draft.
Around this time, Ghahramani was introduced by a friend to Jefferey Lindenmuth, a well-established journalist who has written about spirits for outlets like Wine & Spirits Magazine and Men's Health.
Lindenmuth agreed to help out with the project, even going so far as to put Ghahramani's second draft through a significant round of edits. "In the end the script balanced my quirky JRPG/manga/video game sensibilities with his deep knowledge of cocktail culture," says Ghahramani.
Ghahramani had made it this far, but he still didn't have a developer to program the game for him. He posted ads, attended meet-ups, and asked friends for connections, but had no luck finding someone with the programming prowess to take his idea and turn it into something real.
Some weeks after Ghahramani had stopped posting ads, he got a call from Joshua DeBonis, a professor of game design at the Parsons school in NYC. DeBonis was also fascinated with educational games. "We clicked instantly," Ghahramani recalls. Development on the game commenced, and Ghahramani dipped into his personal savings to fund it. He managed to raise a little extra money from friends, but as the game neared completion, he was broke and in debt.
---
A little over a month before Nimble Strong was released, a Korean game developer released an iPhone game about bartending. It had anime-style art, quirky characters, and it only cost 99 cents. Ghahramani had planned to release his game for $4.99.
This was devastating for Ghahramani. He had already been stressed out about the fact that Nimble Strong didn't run very well on older iPod Touch models, but this was an unbelievable coincidence. "While this game was nowhere near the quality of Nimble -- it lacked the education, the gameplay wasn't very fun, and it didn't have much of a soul -- it did come to market first and had very good graphics," he says.
The game that Ghahramani is referring to is Bar Oasis, developed by Corners Studio. I picked it up and played it for a bit to make my own judgments about his quality, and I have to say that he's right. The interface is sloppy, the writing is unbearable, and the tutorial dragged on FOREVER, but it does have very nice art.
Its flaws didn't matter to the biggest iPhone game-review sites, though, which lauded Bar Oasis for its originality. 148Apps. com praised it for being new and "refreshing," and TouchArcade.com called it "unique."
Ghahramani knew that it would be incredibly difficult to convince these sites to review a second game in the same genre so soon after they had already covered Bar Oasis, and he says he became depressed, "complete with nightmares." He also knew that he couldn't compete with the 99-cent price tag.
Ghahramani sums up the day that Nimble Strong launched: "The first day of Nimble's launch was one of the worst days of my life," he says. "I posted about the game on a message board and it got SHREDDED. People mocked its price, saying they would never download a game that expensive.
"They said it was a cheap clone of the other Korean game. The first few sites we asked to review it didn't because they'd already reviewed the Korean game. First-day sales were pretty bad."
Everything changed when Justin McElroy from Joystiq.com picked up Nimble Strong and gave it a glowing 4.5/5 star review. When Ghahramani read it, he was overwhelmed with emotion. He calls it "one of my life's favorite moments." McElroy introduced the review by saying "finally video games have a purpose," and lauded it for being one of the first games to teach him a real-world skill.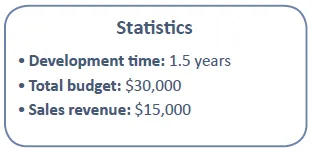 McElroy's review brought the game into the limelight, and soon The Unofficial Apple Weblog (TUAW.com) posted its own review of the game, calling it "quite a gem." Nimble Strong's sales surged, and the game got mentioned in the New York Times, GamePro (I actually wrote that one), and Reddit.
Nimble Strong never became profitable (Ghahramani estimates that he's made back about 50 percent of what he put into it), but it did lead Ghahramani to get an excellent job in the beverage industry -- he's now associate director of mobile for Wine Spectator magazine, where he helps drive the company's mobile/tablet product strategy.
He was integral to the launch of Wine Spectator's VintageChart+ app, which has enjoyed very positive reviews. The game currently has more four-star reviews than any other app I've seen on the App Store. Who knew that wine aficionados could also be snobby about review scores?
Ghahramani says that he would love to do an Android port of the game, but money is still an issue. "My dream would be to make a Kinect port," he says.