Rockstar Games and its parent company Take-Two Interactive are cracking down on alleged Grant Theft Auto V cheaters after an Australian federal court granted search and seizure orders against players believed to be connected to the cheating software "Infamous."
The "Infamous" cheat allows players to access restricted features of GTA V, including manipulating the game's environment and virtual currency for their own benefit and generating virtual currency for themselves and other players.
Most notably, the federal court of Australia has approved several broad enforcement actions barring defendants from any cheating related activity, and leave them subject to a search and assets freezing order.
The majority of the accusations in the legal complaint reported by TorrentFreak are issued against Christopher Anderson, Cycus Lesser, Sfinktah, Koroush Anderson, and Koroush Jeddian.
The freeze order prevents the defendants from taking out more money than needed for regular expenses, which includes any cryptocurrency and other digital currency.
It seems likely that Rockstar and Take-Two will attempt to claim copyright infringement-related damages, and the freeze order ensures that the money isn't spent beforehand.
In addition, the federal court also allowed for a search party to enter the buildings and search, copy, or remove relevant evidence including any computer, electronic storage device, or documents related to "Infamous."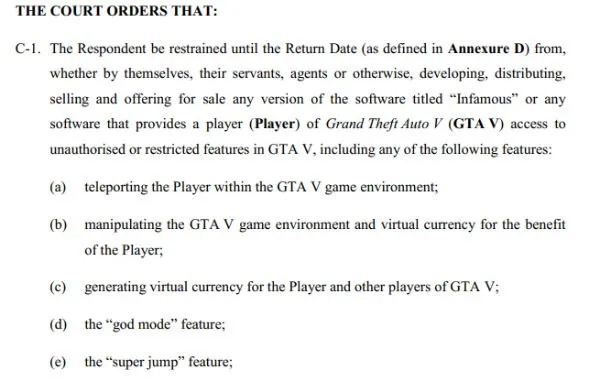 The federal court orders can be seen here.