[PressOK's VP of engineering describes how iOS App Store success Finger Physics was conceived, greenlit, developed, and marketed -- with tips on how to change small side-projects into big successes.]
At PressOK Entertainment, our product strategy is pretty simple: make games so fun that people want to share them with others. As most developers or publishers will tell you, this is much easier said than done. Sometimes we succeed, sometimes we fail, but the goal never changes.
One of the biggest challenges we face in meeting that goal is making sure that the team working on the game is invested in it, not only because it's their job, but because it's their baby. As anyone who has kids or friends who have kids will tell you, no one is as interested in your baby as you are. It's no different in game development.
The Original Concept
In an attempt to overcome this challenge we instituted the "Rogue Development Project" program. The idea is simple: let our developers spend a certain amount of their time working on whatever game idea they want.
If the resulting ideas or prototypes fit our broad product strategy, they become full-scale projects, led by the developer or team who came up with the idea. Six months after the program started, it was already paying dividends.
Vladimir Agafonov and Efim Voinov, who work in our Moscow, Russia office, were the first to submit a rogue project called "Block-it" to the review team three weeks after the program started.
The process for reviewing games submitted under this program is not scientific by means; it is really basic: is the first five minutes of the game fun? Do we believe the can game be marketed? If our management team answers yes to both questions, then we are off to the races.
Evolution
Our initial feedback included several points that could be improved to help turn this game from a good idea to an outstanding, marketable contender in the puzzle genre.
Starting with the name, we suggested a change from Block-it to something that better described the mechanics and play style of the game itself; ultimately concluding in what we think was a home-run of a title in Finger Physics.
The original game also featured just one basic game mode. Our suggestion of adding more content would help Finger Physics stand out from the crowd of "stacker" games and countless other puzzle games on the App Store.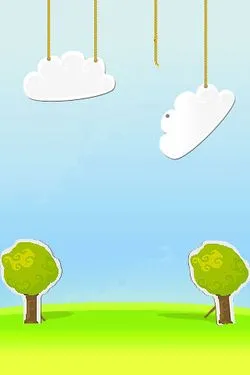 Original background.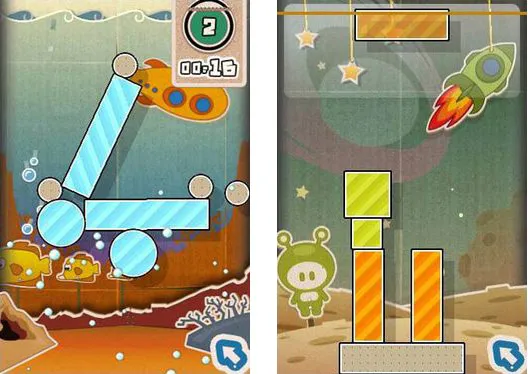 Release background.
For the interface and overall look of the game we listed a few improvements that could help bolster the game's appeal and a player's likelihood to be entertained for longer periods of time. First off, we opted for more backgrounds and different visuals to keep the player intrigued.
The original background was a stark contrast to the moving pieces of the puzzle and we felt that the "hard" background should blend more with the game to help minimize any distraction from the gameplay itself. The UI underwent a major overhaul; everything from the main menu to the level selection mode was reevaluated and redesigned to polish the game, preparing it for the market.
Agafonov and Voinov took our feedback and ran with it, all while completing development on other projects. Three weeks later, they provided us with an updated build that integrated all of the suggestions, including multiple game modes and addicting gameplay -- needless to say, they quickly changed our opinion of the game.
The following week, Agafonov and Voinov teamed up with Anton Antonov, Ilya Koryakin, Dmitry Chernenko, and Grigory Kireev to further develop Finger Physics and make it into the game it is today.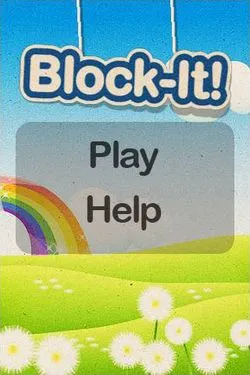 Original menu.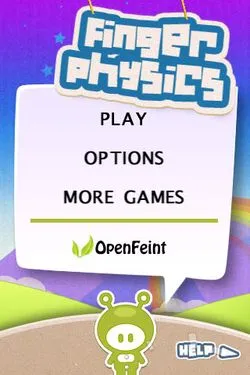 Release menu.
Typically, the entire team, from top down, is involved in a game by defining features, driving scope changes and shaping the game; this is not the case with rogue projects.
Outside of a few suggestions, we left the development, art, and game play entirely up to Agafonov and Voinov and the team working on the game. I felt that giving this amount of leeway would lead to a more invested development team and, ultimately, a better game.
In the case of Finger Physics, this process worked wonders. Once the game went in to full production the total development time was approximately three months, versus six months for a typical development cycle.
As with most products we develop, we review builds weekly and provide feedback up to the beta of the product, after that point we review builds at least every other day as we make minor changes to the game play, menu UI, et al to improve our likelihood of success. With Finger Physics, this process lasted approximately two weeks before we were satisfied that the game met all business and end-user requirements.
---
Marketing
When defining the marketing plan for a game, we tackle each of the following items individually:
App Store variables: Game name, icon, product description, screenshots and price
Consumer outreach avenues
Retention strategies
Game Name. The goal in naming Finger Physics was to avoid immediate comparisons to other stacking games on the market; though stacking is certainly part of the game, it is by no means the main game mode. Ultimately, we decided that since it was a physics-based game that you play with your fingers, Finger Physics was the most appropriate name.
Game Icon. The only thing we care about with an icon is that it stands out visually in the App Store. Our artists provided at least 30 different variations, all of different colors, sizes, shapes, et al. We'd be lying if we said the Finger Physics icon was beautiful, it's not. But it serves its purpose; it is eye-catching and conveys the message of the game.
Product Description. For most games, the product description is a straightforward formula. Some user/blog reviews at the top, a list of features, and a call to action.
For Finger Physics, we decided to go in a different direction and make the description as entertaining as possible, with the feature details interwoven in to the description. In our opinion, a game description isn't about conveying features, it's about conveying fun.
Screenshots. Once you get a consumer to click on your game, the screenshots are the most important of the App Store variables. We made sure each screenshot showed various modes of the game, and later added basic text outlining some of the features, reviews, etc. Screenshots are the most visible part of the App Store variables, use them wisely.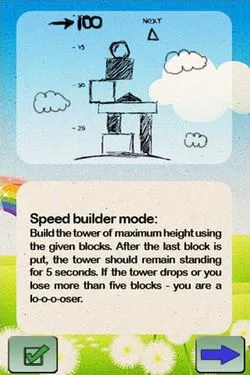 Original help screen.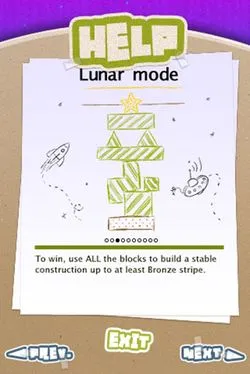 Release help screen.
Price. In retrospect, we should have priced Finger Physics at $1.99 or $2.99 instead of $.99. This would have given us an additional lever to pull during our marketing efforts. But, we launched at $.99 and as the game kept moving up the charts it was impossible to justify an increase in the price. Given the brand awareness created around Finger Physics, $.99 wasn't a terrible decision.
Consumer Outreach Avenues
There are endless ways to reach out to consumers: forums, review sites, PR, direct advertising, social media... and the list goes on and on. For Finger Physics, and we did all of them. From our perspective, the most important thing we did for Finger Physics was beta tests with TouchArcade forum users.
Not only did we get invaluable feedback, but more importantly, they became champions of the game. When the game launched, those beta testers posted links to the game and their reviews before we had time to do it ourselves. That's powerful marketing.
Success doesn't happen overnight for all but the luckiest of us, and if consumers like your product, they'll tell their friends.
---
Retention Strategies
We believe there are two steps in selling a game. The first part is getting a user to download it; the second is convincing them to keep playing over time. If you can retain users, you have a built-in community of users to potentially buy your next game or additional pieces of content.
For Finger Physics, we decided that we were going to do the unthinkable, according to some, and give away additional stages and levels to both Free and Full version users.
This has two distinct benefits: first, it keeps our Full version users engaged and happy, and therefore more likely to tell their friends about the game; secondly, it keeps Free version users playing instead of deleting, giving us additional opportunities to up-sell them to the Full version.
We've done seven updates with additional levels so far, and our conversion rate from Free to Full doubled each time in the days following the updates, and our user retention rates remain high to this day.
Ultimately, none of the above created an overnight success. What it did do, however, was lay the groundwork for success to build over time.
The Free version of Finger Physics was in the top 100 of the Puzzle category the first day it launched (September 27th), took a quick dip, and then started back up before we lifted a marketing finger (this was not intentional, submission mistake on our part).
By the beginning of November it had made its way up to the top 25 in its categories, and broke in to the Top 100 Games when it hit the 15th spot in the Puzzle category. Once that happened, it skyrocketed up the charts peaking at #1 Overall on November 30th, staying there for a week while generating over 100,000 downloads per day.
Not surprisingly, the Full version followed suit, peaking at Number 4 Overall a week later. Using Flurry data, we found that approximately 45 percent of the people who downloaded the Full version, had downloaded the Free version first.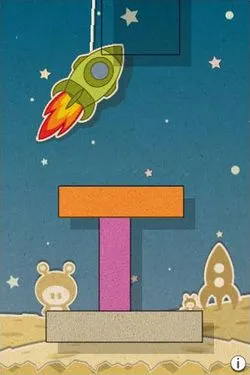 Original gameplay screen.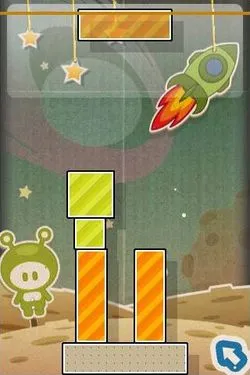 Release gameplay screen.
Success on the App Store means doing a lot of little things right before you launch your game and throughout the title's lifecycle. The success of Finger Physics has changed the way we look at game development and marketing on the iPhone, with the major lessons being:
Give the development team(s) freedom and let them do what they do best. A developer working on a game of their own desire isn't doing their job, they're having fun.
Have fun with your marketing. We're talking about games here, remember? If your marketing isn't fun, then why should a consumer believe your game is?
Have patience. Success doesn't happen overnight for all but the luckiest of us.
Give your customers what they want. Assuming you're getting enough downloads to justify the development cost, giving your customers the features they request and additional levels not only endears them to you, but provides you with more opportunities to sell them content.
Market the Free version of your game. People like Free stuff.