[The GameDiscoverCo game discovery newsletter is written by 'how people find your game' expert & GameDiscoverCo founder Simon Carless, and is a regular look at how people discover and buy video games in the 2020s.]
We're back, crew, and we're not even mad about it! Welcome to another GameDiscoverCo newsletter, in which we look at the wild, wild world of game discoverability in ways that only we know how.
BTW, I know we said we'd run 'funniest Steam refund messages' for 2021 as a newsletter section. But to be honest, the examples mainly ended up being a bit depressing this time! Thanks to submitters, though - you can still read them in the replies to our Tweet. "My dad told me to get the wrong game" is probably the most jovial?
[Kudos, new members of our GameDiscoverCo Plus paid subscription - only $12 a month if you sign up for a year, and includes an exclusive weekly Plus newsletter, an info-filled Discord, a data-exportable Steam data back-end, two high-quality eBooks, & lots more - join them!]
A game console subscription turning point?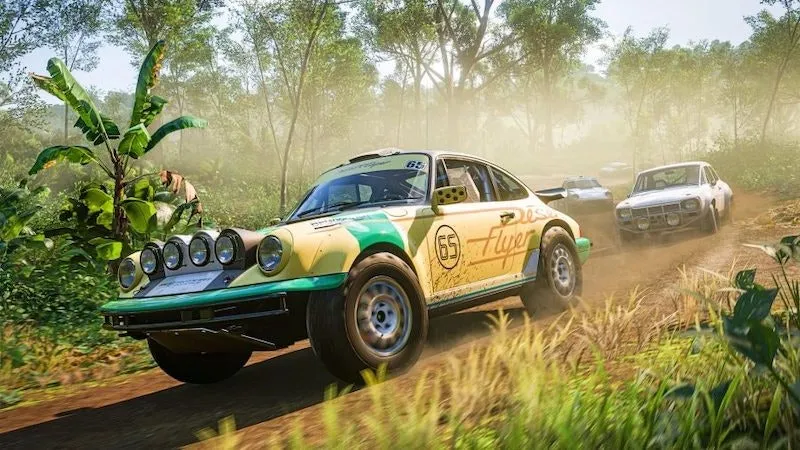 After we saw the news that Forza Horizon 5 had more than 10 million players in its first week, we started prepping a lead newsletter section around what a crazy milestone that is, and ramifications. And then, Polygon passed along this news:
"Sony is reportedly planning a new subscription service aimed at competing with Microsoft's popular Xbox Game Pass, according to Bloomberg. Reportedly codenamed Spartacus, the unannounced subscription service could offer access to retro PlayStation games on top of existing PlayStation Plus and PlayStation Now benefits."
We don't know a lot about specifics right now, besides '2022 launch'. You may have seen me hinting in previous newsletters about this refocus. (I didn't know know, but I'd heard rumblings - and it's the logical thing to do.) So perhaps the new PlayStation Plus will look something like this - 'straw man' for speculation only:
$5 per month: existing PlayStation Plus offering, with select free games.
$10 per month: existing PS+ offering with PlayStation Now-style game access.
$15 per month: current PS+ and PSNow perks with additional retro game access.
Of course, Sony will likely not be pushing prominent first-party games into these services on their launch date, as Microsoft is. Sony needs the profit from Uncharted-ish games being bought at $60-$70 at launch to help power the earnings of its parent company.
And Microsoft (ahem, $137 billion in cash on hand, where do you think the Bethesda acquisition money came from?) does not. And it's partway through rebuilding a high quality first party line-up after a few years of frustrating developer and IP churn, anyhow. As the underdog with a rich uncle, it can afford to be a bit more aggressive.
Overall, I wouldn't be surprised to see indie titles debut in the mid-tier PS+ subscription on their PlayStation launch day - and first-party Sony titles moving in there in similar timing to their PC release - 12-24 months after release. And the 'new' PS+ catalog is likely to be way more competitive and interesting than the current PlayStation Now offering, which is - frankly - a bit dull.
And yes, this (eventually) means more competition for games in the 'high reach' section of the game subscription space. There's been a little, previously - Apple Arcade (big funding, growing reach) and Game Pass had a bidding war or two, before AA pivoted more family, prominent IP & smartphone-centric. And Google Stadia (big funding, smaller reach) and Amazon Luna (smaller funding, smaller reach) also figured at certain times.
But now you may have both Sony and Microsoft interested in your title for higher-profile streaming services - especially if it's small/medium sized on Sony's end. And maybe even if it's larger and has IAP/DLC, because the publisher will be happy to give the platform companies a good deal in exchange for the upsell potential!
(I still think Sony as a company doesn't have that GaaS/IAP gene in its DNA, though, an area that Microsoft is aggressively moving into. Maybe this will change over time. Or maybe, like fellow Japanese firm Nintendo, it'll be more of a multi-year 'baby steps' thing. Hey, if Nintendo figured out DLC with Splatoon, anything is possible!)
What's also exciting about these changes - if I've understood what's going to happen correctly - is that PlayStation Indies has been hamstrung as an organization by an inability to offer true reach on PlayStation, as id@Xbox is increasingly able to do with the help of the Game Pass team.
The ability to move indies into a PlayStation Plus tier - if that's part of the platform - will change the game here. (Although it will, again, create a single, subjective and possibly whimsical gatekeeper to platform success - see GameDiscoverCo grumblings passim ad nauseum.)
When you talk about the road to hundreds of millions of people playing console games, I'm reminded of Sony's Jim Ryan recently saying: "I would also like to see a world where the games that we make at PlayStation can be enjoyed by many tens of millions of people. Perhaps hundreds of millions of people. Right now success with the current console model, a really great PlayStation hit - you're talking ten or 20 million people being able to play that game."
Building substantial subscription services is the most likely way for Sony to do that, long-term. If you look at Netflix, which just revealed 328 million minutes watched of Red Notice in its first three weeks, and the fact that "at least 121 million accounts have watched at least two minutes" - wow, that's scale.
And Forza Horizon 5's '10 million in week one' is a starting point towards that scale in the 'console' games space, even if Sony has no intent to put the next Spider-Man game in PlayStation Plus just yet. Nuff 'said.
Eye Of The Temple: VR 'postmortem' lessons?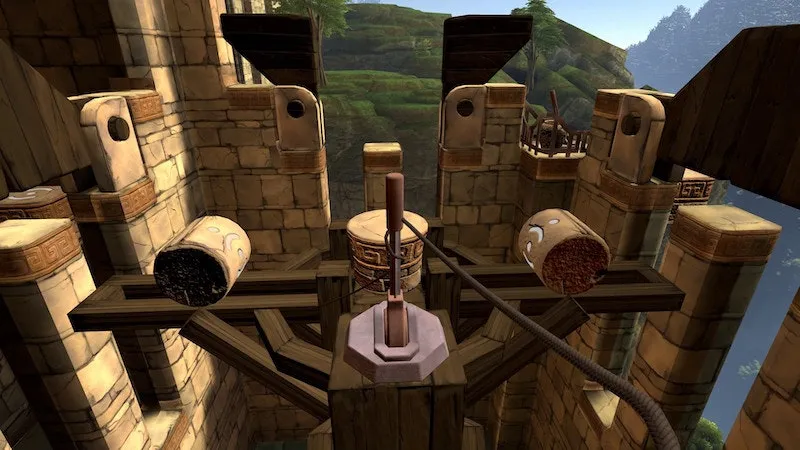 We rarely see post-release analysis of the performance of VR games from their devs. So we were delighted when Rune Skovbo Johansen published a detailed 'postmortem' of his Steam VR title Eye Of The Temple a couple of weeks ago, following its October 14th release.
A year or two ago, we still saw VR as a smoking hole in the ground, sales and ROI-wise. The early promise hadn't panned out - though there were still core fans. And many OG hardware buyers had forgotten or 'lost' their hardware, we suspect. (Wonder what % of PlayStation VR headsets are used every month?)
But the rise of a simpler form factor in the form of Oculus Quest 2 (possibly at 10 million units manufactured now, if you believe Qualcomm!), and the heavily curated nature of the Quest store have made people more excited about the space again.
Eye Of The Temple, which is an innovative and extremely well-received title, requires a higher-end PC - though you can connect the Quest 2 headset to your PC to play - and a lot of 'room space' to play. So what did Rune - and we - learn about this?
People who played EotT loved it: as he noted: "The reviews on Steam are just awesome. They proclaim Eye of the Temple to be not only mechanically groundbreaking with an unprecedented level of immersion, but also simply one of the best VR games created." And it still has 97% positive reviews, even today.
Not as many people bought it as he hoped: "Sales of Eye of the Temple were not absent. The game was selling. It just wasn't selling a lot… Really, the main reason the sales feel mediocre to me is that I think there's a lot more people who would enjoy the game (and have the means to play it)." It has 165 Steam reviews, so - maybe 5,000 copies sold or a little more so far?
He doesn't really understand why people didn't cover the game at release: after some stellar pre-release coverage: "I had kind of assumed that the press outlets and popular YouTube channels that had covered the game before its release, and spoken highly of it, would most likely also cover the release of the game. That turned out to be an incorrect assumption." (Our take: covering things once is enough for many streamers, with certain types of game - reviews not big.)
From my perspective, Eye of the Temple looks pretty darn good to me. It is a puzzle-centric game without shooting or bad guys, which is a slight limiter to success in certain demographics. I think the main problem is that, because Steam is so big as a market, people presume Steam VR must be big versus something like Quest 2.
And I think that assumption is incorrect. Even Rune notes 'Steam VR is slow, Oculus Quest 2 is doing better' as a possible reason, and admits: "There might be something to this, though this doesn't explain why some other recent PC VR games like Sniper Elite VR, Cooking Simulator VR, or I Expect You To Die 2 sold way better on Steam than Eye of the Temple…"
Well - it's tempting to pick out the absolute stars of the space you are in, and compare yourself to them. And it seems like these games only sold 2-4x as well as Eye Of The Temple on Steam, if we compare review counts. And we went to the GameDiscoverCo Plus back end and looked up all games with the 'VR' tag released in October, and:

Looks like Eye Of The Temple was the top new VR-tagged game released in October 2021 on Steam, if you rank by total reviews in its first week. (And LTD reviews!) Eye Of The Temple is a higher-percentile (by units!) release in a rough/busy market - that's our conclusion, at least. So VR folks - get thee to Quest, in addition to Steam?
The game discovery news roundup...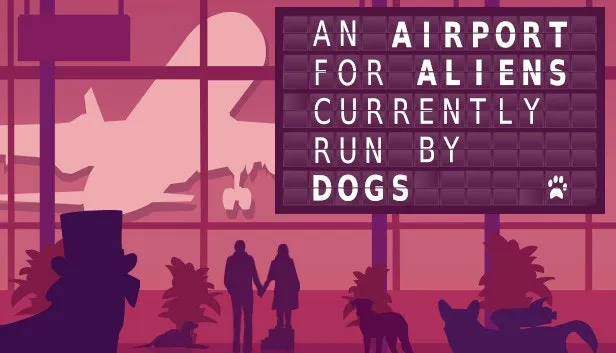 Finishing up today's free newsletter, let's delve deep into some of the discovery and platform news goodness coming out since our last newsletter round-up last Wednesday. Here's what we've got:
Finally, those who are GameDiscoverCo Plus subscribers will have seen this in last Friday's Plus newsletter. But we wanted to reprint - minus analysis - our Plus data on the top Steam launches of June 2021, sorted by 'average weekly lifetime reviews':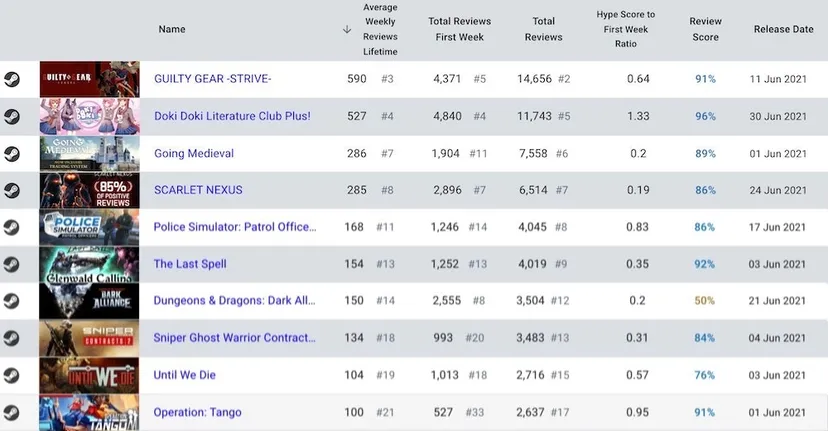 What we find interesting here? We spend a lot of time looking at launch success & velocity, and that's super important. But when you check back a few months later, some titles (Guilty Gear Strive) will have soared, and others (Dungeons & Dragons: Dark Alliance) will have plummeted - relatively speaking.
Long tail is vital on Steam, which is why we're trying to track it better, to avoid the 'I haven't checked this game for a few months, and it sold 250k copies when I wasn't looking'effect. (Which happens quite a lot in this GaaS-heavy era!)
[We're GameDiscoverCo, a new agency based around one simple issue: how do players find, buy and enjoy your premium PC or console game? We run the newsletter you're reading, and provide consulting services for publishers, funds, and other smart game industry folks.]