As the curtain rises on the 42nd Annual Grammy Award ceremony, the legitimacy and expectations of game music will rise with it. The National Academy of Recording Arts and Sciences (NARAS) Board of Trustees, last year, approved opening 3 categories to include music written for the continuously evolving digital arena that is video games: Best Soundtrack Album for Motion Picture, Television or Other Visual Media; Best Song for a Motion Picture, Television, or Other Visual Media; and Best Instrumental Composition for Motion Picture, Television, or Other Visual Media. 'Other Visual Media' is the term designed to encompass video and computer games, multimedia and the future possibilities of the internet into one tidy little package. Although no game music was nominated this year, the ball has begun its roll. I call upon you to help keep it rolling.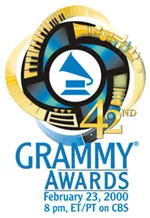 Game music has traveled from the bleeps and bloops of yesteryear to an art form now recognized on par with Motion Picture and Television Scores, with full orchestration and ever growing recording budgets and techniques. The line is quickly becoming blurred as years of hard work and dedication by outstanding composers culminate. Incredible efforts by our very own game industry music notables, lead in force by powerhouse Chance Thomas (Quest for Glory V, Middle Earth) and supporting cast (Tommy Tallarico, Mark Miller, Ron Hubbard, Brian Schmidt, George Sanger, Bobby Prince, Tom White, Michael Land, Alexander Brandon, Murray Allen, Greg Rahn and others) presented a strong case to the Awards Committee which could not be disregarded. We owe them all a great deal of gratitude for their spirit and tenacity.
A couple years back I was invited to the studio of TV theme great, Mike Post, for an afternoon of musical rapture. He was writing and recording a theme for a shows pilot episode, the studio was abuzz, creativity was oozing, and I was sitting next to a man I had admired for years as he played guitar. We talked about alot that day, our mutual love for music, flying and the industry. But time passes and my memory fades as I struggle to hold on to this highlight of my life. The one moment I will never forget, though, is the site of all his Grammy Awards lined up on a glass shelf just outside the studio door. I remember standing there in complete awe, unbreathing for several minutes, having what could only be described as a religious experience. From that moment on, I've wanted one and now I am thankful to be working in an industry where the pinnacle of music awards is at last attainable.
In The Beginning
And to think this all simply started by accident. Chance Thomas had met one of the key leaders of the academy and during a conversation, mentioned composing for video games. This man of great stature and influence scoffed, wrinkled his nose and said, "You mean like PacMan and Donkey Kong?" Well, not only did the public need a little re-education, but so did those of this prestigious organization. If only outwardly unaffected by the situation, Chance explained he had just completed a game soundtrack using a live orchestra and other high brow instrumentation like classical guitars and layered voices. The nose became unwrinkled and eyebrows raised in pleasant surprise. Now that he had his attention, he casually asked if there could ever be a Grammy category for game scores. The answer surprised even Chance, he was to write up a formal proposal and send it to the address on the business card which was being thrust into his hand.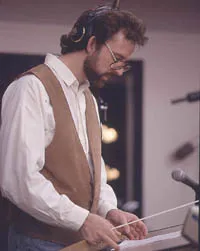 Chance Thomas
Thus began a 2 year journey into what Chance has described as "like getting a bill passed through Congress." Endless letters, emails, phone calls, faxes, meetings and an ever growing number of allies on the inside led the Awards and Nominations Committee to eventually review the proposal. Their interest became evident when they scheduled a Game Music Summit in December 1998 with a dozen of the game industry's top music professionals. This 'Working Group on Game Music Awards and Membership" opened the eyes of the committee, giving them clear insight into the quality of game music. On May 6, 1999, NARAS made the announcement many had eagerly anticipated, that game scores would be allowed to compete for a Grammy Award beginning with the years 42nd awards ceremony.
Many key players helped with certain direction and backing to make this all a reality. Behind the scenes efforts were especially concentrated during vital phases, by individuals which Chance, and others, wish to also recognize. "There were two individuals at NARAS that played pivotal roles in getting game music included in the Grammy Awards. Without the guidance, support, and campaigning of these two amazing ladies, it would have never happened: Diane Theriot (Vice President of Awards) got me started in the right direction, was an early supporter of this initiative, and came through with some turnkey information at a critical time in our campaign. Leslie Ann Jones (National Chairperson) was the rock solid support who brought tremendous clout to our proposal and worked it effectively on the inside. Important support also came from San Francisco chapter president Steve Savage and from Mix magazine founder Hillel Resnor. Both of these men opened up opportunities for influential stories on game music in widely read NARAS publications. One more person who deserves recognition and high praise for his role in this is my former boss at Yosemite Entertainment, Craig Alexander. It was his bankroll that paid for my lobbying trips to Los Angeles and San Francisco, the phone bill for all the long distance calls to drum up support, and my time (on the clock) that I spent drafting proposals, gathering support materials, and leading the campaign. He was a big believer in it right from the start and it probably wouldn't have happened without his support."
Another one of the essential pieces of this grand puzzle was the original proposal submitted to the Academy. As an interesting historical note, and for those who are curious, Chance has made this labor of love available for download. The document is quite impressive and spotlights many areas which you will find thoroughly thought provoking. Click here to download the Grammy proposal.
Prominence in the Industry.
This new attention can only be positive to gaming and to the music makers within the industry. There is no better advertisement that putting "Musical Score by Grammy Award Winner… " on the box cover and the buying public will respond in force. Besides the obvious affects, that game composers would receive mainstream recognition and that perhaps even established recording artists and composers might find our trade more attractive, there are others worth considering.
"As far as legitimizing the craft, it would do alot in that sense, I think. Those that do it feel the music we write is as valid as on any movie or TV show. It would be nice to get out from behind the scenes, quit being that bastard child of the music production world." says Jamey Scott, Presto's in-house composer and sound designer. Efforts by industry composers has been tremendous and development of game scores is obvious. The Grammy's would encourage more growth, expansion and the continued pursuit of musical excellence in games.
Tim Larkin, currently the audio director at Cyan, agrees that game music receiving recognition on its own merits is important. "I hope it will raise the awareness within the musical community that music can be made as well and be just as effective for a gaming environment as any other. I imagine that it won't hurt game sales either."
Besides the increase of music budgets, Jon Holland, composer of the upcoming Ms. Pacman Playstation game, Baseball 2000, the Vectorman series and others, had some thoughts as well. "It would probably be taken more seriously. Budgets would go up and we would start to hear more robust, serious music in games. That grand style of music is out there, it seems to me that every successful game that has an epic orchestral score gets taken very seriously - Game of the Year! It would force a new perspective on game scores from the developers standpoint. And I don't feel that only orchestral scores should be eligible for this award. Any good score should have the chance to win, Electronica included. Great music should translate in any medium."
The Grammy's could also standardize game soundtrack release by the composer, opening greater possibilities for getting the music 'out there' and receiving added income. While soundtracks become elevated to this new level of credibility and share shelf space in music stores, there are side effects which should be monitored. If the composer is able to maintain certain rights, especially for commercial release of the music, then our perfect world will indeed exist. But as publishers and developers enter the record business, composers will need to ensure they receive compensation for that extra product income.
Joey Kuras, sound designer at Tommy Tallarico Studios is also excited about the prospects. "We would definitely get better quality music knowing that a Grammy could come from it and more people would get involved. Back in the '80's video game music was just simple little melodies but now it is music like movie scores or pop albums or other commercial music. It's up to that level now, just not getting the same exposure. I think more soundtracks will be released to compete. I would love to pop in a CD of my favorite game." And think about if everyone felt that way. It would inflame the growth of music product being released by the industry musicians. More soundtrack albums and enhanced music CD's would mean greater career opportunities and revenue for more and more recording professionals such as composers, musicians, engineers and producers. A win-win proposition for all of us.
---
Because the Grammy's are awarded to honor excellence in recorded music and judges the music on its own merits, not just any game soundtrack is eligible. Many past and current games have an outstanding score but unless the music is available in its own stand-alone format, it won't even be considered.
To make the eligibility requirements, a game score has to be commercially available as either its own separate music CD or stored in Red Book audio format on the game CDROM, or 'enhanced' CD, which can play back the music on a standard CD player. NARAS has the exact definition of a commercial release, but for our purposes, it must be a serious commercial distribution and not from our own 'vanity' label, burned on our
CD-R, available only through our personal website.
Even though the music is available, there is no guarantee it would be noticed by the voting membership and perhaps a little schmoozing may be in order. One issue we probably also need to address is how the Academy gets a complete list of released game scores. More to think about.
Keep It Rolling
I mentioned earlier it was our responsibility to keep the ball rolling. As we gain the momentum, more and more game soundtracks will be nominated and eventually win the coveted golden gramophone. It won't just happen because of a stellar soundtrack, someone has to be there to lend support and actually vote for the accomplishment.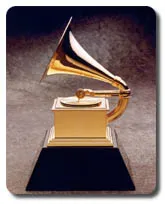 Game music: gaining momentum.
It was no accident that game scores were noticeably absent from the 3 Grammy categories this year. Competing this year with the like of John Williams, Phil Collins, Randy Newman and Madonna, all major players in their own right, is an undertaking indeed and will take some organization and support from our very own industry to do it. There are things can do together.
Join NARAS. The biggest single step we can all take together is to get on board with the 14,000 musicians, composers, producers and other recording professionals of the music industry. Not only is NARAS the place to be seen but it actively represents the music community on issues of intellectual property rights, piracy, preservation and censorship, subjects which we too share concern. NARAS is also responsible for numerous outreach, professional development, cultural enrichment, education and human service programs which are worthy of our support as well. Our support is keen and brings us in as part of the family.

The NARAS official rhetoric gives some great reasons to join:

-Participate in the Recording Academy's Awards process.
-Opportunities for professional education and networking.
-Participate in music education and cultural awareness activities.
-Receive award winning trade publications.
-Respond to legislation which effects the music community.
-Receive the Grammy Award guide.

We have gotten this far. It has taken quite an effort but who would have ever thought game music could stand up on its own? Let's be frank, though, until more voting members from our industry join and become actively involved, the odds will not increase. We are competing directly with the Television and Film industries, both highly entrenched organizations with many years of history to draw upon.

Tommy Tallarico, with over 130 games to his audio credits, also agrees. "We need 70, 80, 200 people to help weed out stuff, that's the way the Academy works. So we need members to join NARAS. The more video game people we have, people that do what we do, compose for multimedia, composers, producers, players, anyone who's played on a game tune, the better. We need anyone who does music and sound for games to get on board."
Start an organization of game music. I always notice around Oscar or Academy Awards time the various film industry trade papers are cover to cover advertisements and memorials, highlighting this film or that actor and the great accomplishments of the previous year. This isn't by accident, this is a calculated assault on their voting membership, campaigning vehemently for their studios or their actors performance. It's become so much a part of big Hollywood business that their financial gains can expand exponentially with an award winning actor or film on their résumé's.

Why couldn't we do the same for our piece of the Grammy pie? With an active organization campaigning on our behalf, our publishers, developers and game score composers could also benefit from this kind of assistance. While an organization sponsored by game composers would serve us well, the greatest boost would be realized if we also had the financial backing and support of the larger game companies, all of us pulling together for the same purpose. Not only could we campaign effectively for a Grammy but use this as a forum to establish industry standards and as a source of information of audio knowledge with benefit to us all.

Anyone among us, who is willing to stand up and lead the charge, feel free to do so. You have my support and that of many others.
Encourage soundtrack production, release and creative marketing. By helping others discover the benefits of releasing game soundtrack albums, we can encourage the industry composers to put forth that extra effort required to put one together. As more are released, it will further drive others to do the same, either matching or surpassing the quality of music available to the public, pushing us all to our creative peaks and putting more emotional content in our productions. Eventually, the garbage will fall by the wayside and game music will attain an ever higher level.

We also need to sit down as a group and share ways to market these offerings. By collectively using our creative minds, we can grab the buying public, lead them to the stores and show them how great it is to buy their favorite game soundtrack. The Japanese market has this down cold and we could learn a few tricks from them.

At this years Game Development Conference, there will be a panel discussion on some of these very issues. For those attending, I hope you will be there (Game Music Soundtracks; Gateways to Profit, Publicity and Grammy Potential, Friday, March 10th, 2:30-3:30pm) to lend your ideas for the benefit of the industry and view first hand the enormity of our task. After the dust settles, I trust someone will pick up the ball and continue to run.
Show support, wave the flag. Suppose I have this idea. I go on and on, adrenaline flowing, I'm charged and really pumped about it. Suppose I write it down and present it to the gaming world and it turns out everyone loves it, they are ecstatic. Suppose no one bothers to tell that to me, though. Do you think I am going to continue in my quest thinking no one approves of the idea and waste my time with it? Probably not. (But then again, this is me we are talking about, the guy who doesn't take 'no' for an answer.) Unless we tell those who take the reins and drive this herd to market that we support them and that we believe in the fight, they will eventually fall by the wayside. As we grow in our efforts and as our numbers swell, we need to line up at the curb, wave the flag and fire them up, whatever they need to make it a reality.
Encourage others to do their part. Because of my busy schedule, I sometimes discover it hard to find the time to do, even what I know is important. A swift kick in the ass from a coworker, colleague or even my wife can get me off my duff and moved into action. We all need some form of encouragement on occasion and that may be all it will take to get our brethren to do their part. Encourage each other, share the benefits of the industry, politic. It's not hard to do.
---
NARAS Details
Are you interested yet? Well then, let's talk about how to become a part of it all, shall we? There are 3 categories in which an individual may join the Recording Academy:
Voting Member. This is where everyone wants to be, an actual voting member of the Academy. You and your peers determine who will be nominated and who will win by 2 rounds of voting. Professionals with creative or technical credits on 6 commercially released tracks or their equivalents, those who have had credits as either a vocalist, producer, songwriter, composer, engineer, instrumentalist, arranger, conductor, art director, album notes writer, narrator, music video artist and technicians are eligible in this category. Proof, such as photocopies of album jackets or liner notes, are required.

As a game composer, most of us will be eligible in many categories, everything from songwriter, arranger, engineer, musician and producer. And if you have at least 6 tracks on a single game, or on a combination of others, you are eligible in this category.
Associate Member. This non-voting membership category is open to those who are the creative and technical professional with fewer than 6 credits and those other recording industry professionals such as writers, publishers, attorneys, label staff and artist managers who are directly involved, on a professional basis, in the music business.

By joining in this category, you are getting involved and showing your support for the process. And after you have your 6 credits, it's an easy transition to Voting Membership status.
Affiliate Member. This category of supporting members are music students, music educators, music merchants, music therapists and others whose professional interests are closely aligned with the goals of the Academy.
The applications process is fairly easy, you just have to actually do it. From this link (http://www.grammy.com/academy/) you can download the latest Adobe Acrobat file, you can email ([email protected]) or call (310) 392-3777 for an application. Fill it out, mail or even fax it back, along with any proof of participation and membership fee and you are set. After the Academy's membership committee reviews your application and verifies your eligibility, you will receive notification of their decision.
If applying for Voting Membership, you must list your credits and show proof by way of a copy of the album jacket or liner notes. Associate membership also requires proof of what credits you do have (if you have less that the 6 credits for voting status) or send a business card and detailed description on your company letterhead outlining any professional affiliation to the music industry for consideration.
Other Game Music Award Possibilities
While NARAS is the most prestigious organization to recognized musical achievement, they are not the only ones who acknowledge excellence in our work. The Academy of Interactive Arts and Sciences (AIAS) offers the Interactive Achievement Award in the Best Sound Design and Best Original Score categories at their yearly presentation. This previously combined category was split after a proposal and considerable lobbying and followup by a now familiar name, Chance Thomas. This year's awards will be presented on May 11th, 2000 at E3 in Los Angeles. More information and membership information on this growing organization is available on their website, www.interactive.org. This is also a superb way to show your support for continued industry excellence. "If we will support and nurture this, our own Academy," Chance Thomas adds, "it will become meaningful to our careers in offering education, networking opportunities, legislative support and, of course, an award that means something to our peers."
Additionally, there are also several industry and magazine sponsored events which hold their own yearly awards competitions. The Electronic Entertainment Expo (E3), the Game Developers Conference (GDC) Independent Games Festival and PC Gamer Magazine are among others which also recognize achievement in various categories including music and sound design.
The One, Two Punch
I know I've probably been preaching enough to everyone about our future as game composers and our need to be proactive in the quest, but for those of you who are still unconvinced or feel the Grammy Award is nothing but a reward to the political abilities of the elite few, consider this. Game music has evolved from its infancy only a few short years ago into a respectable art form and an entertainment dynamo. It wasn't solely because the technology advanced on its own or because the public cried out for improvements. It was because of us, the game composers, who fought in what we believed in, our passion for the power of our music and our dream to see the improvement in its quality and presentation motivating us. It was us, the little guys, who took the job over from the programmers who coded in the bleeps and bloops, and with our musical abilities and talents created more involving melodies and audio enhancements. Despite all of our previous shortcomings, we have finally taken an indispensable place on the team, ready to make shrewd use of increasing budgets and technological advancements. We couldn't have done it alone. The vocal few have paved the way for us, and now it is time for fellow game composers, developers and publishers alike, to take up the cause, as one, to lead us blazing into the next gaming century.
A famous military leader once spoke: "Lead, follow or get the hell out of the way!" Which one do you want to be?

I'd like to give special thanks to Chance Thomas for his wisdom and guidance for the accuracy of this article. His help and patience is greatly appreciated.
Aaron Marks ([email protected]) is a sound designer, music composer and the proprietor of On Your Mark Music Productions. Look for more of his life story at www.onyourmarkmusic.com.