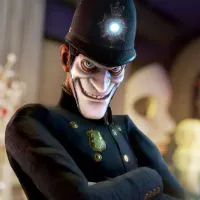 [Video Game Deep Cuts is a weekly newsletter from video game industry 'watcher' Simon Carless, rounding up the best longread & standout articles & videos about games, every weekend.
This week's highlights include impressions of the much-pivoted We Happy Few, hands-on with the vaunted Magic Leap AR glasses, and lots more besides.

Until next time,
- Simon, curator.]

------------------

Why are AI researchers so obsessed with games? (David Gershgorn / QZ - ARTICLE)
"Games are an easy way for those of us without PhDs to understand how far AI research has come: When put in complex situations, can an AI beat humans? We understand what it meant for IBM's DeepBlue to beat Garry Kasparov in chess, and DeepMind's AlphaGo beating Lee Sedol in Go—decades of human practice and skill were defeated by mechanical computation."

Water Rendering in Super Mario Sunshine and Beyond! (DigitalFoundry Retro / YouTube - VIDEO)
"John is back for part two of in-depth look at water rendering in classic games, as we complete our look at the PS2, Xbox and GameCube eras and dip our toes into last-gen! [SIMON'S NOTE: Here's Part 1, if you missed it.]"

Discord can beat Steam at its own game with a curated store (Jessica Conditt / Engadget - ARTICLE)
"The Discord homepage doesn't mince words. "It's time to ditch Skype and TeamSpeak," it says in large white letters, just above buttons to download or open Discord, a video game-centric chat service that's exploded in popularity since launching in 2015. Today, Discord has 150 million users, and it's about to take on another major company in the gaming space: Steam."

Fortnite on Android: Epic's Tim Sweeney discusses clones, payment systems and timing (Ben Kuchera / Polygon - ARTICLE)
"Epic Games has shaken up the world of mobile gaming by announcing it's not going through the official Google Play Store to bring Fortnite to Android... It sounds as if this was a purely financial decision. I asked Epic Games' CEO Tim Sweeney over email if this was, even partially, a reaction to all the unofficial Fortnite apps that already exist in the Google Play Store."

Programming New York for Video Game Development (Neil Gladstone / New York Times - ARTICLE)
"While the West Coast has a relatively long history of game development, areas like Texas (with Austin as its hub), Quebec (with Montreal as its hub) and London have used a combination of tax incentives, rebates and active lobbying to entice video game companies to build outposts or relocate completely. New York, located between the vibrant centers of the West Coast and London, finds itself in the unusual position of being in flyover country."

For women on Twitch, disclosing their relationship status is a minefield (Patricia Hernandez / The Verge - ARTICLE)
"With rumpled bed sheets filling the frame behind him, a YouTuber unearths a digital trail of photographs, old forum posts, and messages. He is here to tell his audience about a transgression by a Twitch personality who, in his estimation, is taking advantage of her audience. It is a story as old as time: here is a woman, once again using her feminine wiles to trick men, and the men, fools that they are, can't help but fall for it."

'I am drawing from different sources': Hidetaka Miyazaki on life after Dark Souls (Keza MacDonald / The Guardian - ARTICLE)
"The downside to making something critically revered and loved by millions is that it isn't easy to get out from under its shadow. For Hidetaka Miyazaki and the game development studio he now leads, FromSoftware, Dark Souls was a golden ticket."

INSIGHT - How to build a community ahead of launch (without crowdfunding) (Haley Uyrus / PC Games Insider - ARTICLE)
"Now that the indie games space is more crowded, putting time and effort into building a community for your game is a must. Not only is it a way to boost your visibility ahead of your launch, but store pages these days favour titles with heavier wishlists stats. [SIMON'S NOTE: two more here from the Failbetter marketing lead.]"

Inside The Culture Of Sexism At Riot Games (Cecilia D'Anastasio / Kotaku - ARTICLE)
"Throughout her three years at Riot Games, the company behind League of Legends, Lacy made it her mission to hire a woman into a leadership role. Lacy had heard plenty of excuses for why her female job candidates weren't Riot material. Some were "ladder climbers." Others had "too much ego." Most weren't "gamer enough." [SIMON'S NOTE: this follow-upabout Riot's European studio from Meagan Marie is particularly damning - and I hope this will be another (shocking) part of the push towards inclusivity.]"

The daunting aftermath of releasing your dream game, as told by the devs of Stardew Valley, Owlboy, and more (Alex Wiltshire / PC Gamer - ARTICLE)
"Release day for an indie developer sounds like it'd be a celebration. Years of work have finally reached a successful conclusion. They can sit back, relax, and wait for the adulation and money to roll in. But it's not really like that."

Nobody Cares About It But It's The Only Thing That Matters: Pacing And Level Design In JRPGs (Aevee Bee / Medium - ARTICLE)
"Level design seems to take a low priority in general for games criticism, especially for RPGs; it isn't the only thing to talk about, obviously, and the script often rightly takes priority in many writers' minds. That being said, I am less forgiving that discussion of level design is almost always overshadowed by discussion of battle design..."

Designer Notes 41: David Sirlin - Part 1 (Soren Johnson / Idle Thumbs - ARTICLE)
"In this episode, Soren Johnson interviews veteran game designer David Sirlin, best known for his work on Super Street Fighter II Turbo HD Remix, Yomi, and Puzzle Strike. They discuss why games with more mechanics are not deeper, whether fighting games should also include cake baking, and why he didn't end up designing Street Fighter 4."

Inside Magic Leap: How it works and what it means for game devs (Alex Wawro / Gamasutra - ARTICLE)
""Why can't we do the stuff we see in movies, in the real world?"According to Magic Leap founder Rony Abovitz, that's the question that helped kick off the company's nearly decade-long journey to build a better way of looking at the world. [SIMON'S NOTE: excellent hands-on from Alex here.]"

Is Clubbing in a Video Game Fun? (Kevin Lozano / Pitchfork - ARTICLE)
"Allowing players to run their own nightclubs is the logical next step for a video game this obsessed with its own musical universe. Developers invited four different DJs to collaborate closely with them: beloved Chicago house producer the Black Madonna, low-key techno duo Tale of Us, big-room techno favorite Solomun, and Dixon, the Berlin club king known for swooning, orchestral sets."

Developing the Art of Fortnite (Peter Ellis / GDC / YouTube - VIDEO)
"In this 2018 GDC session, Epic Games' Peter Ellis covers the evolution of art style used in Fortnite and best practices used to create a AAA-quality free-to-play game with a small art team."

We Happy Few is a creepy, fascinating game that gets lots in its own ambition (Adi Robertson / The Verge)
"We Happy Few is a unique piece of dystopian worldbuilding. It's also frequently confounding, occasionally miserable, and eventually lost within its own ambitions. [SIMON'S NOTE: a massive gameplay pivot during dev has got the title very mixed reviews- it still seems to be selling right now, though.]"

Building the monstrous transforming puzzle heads of GNOG (Joel Couture / Gamasutra - ARTICLE)
"Debuting on PC last month after intially launching on PlayStation 4 back in 2017, GNOG is about hiding puzzles and secret places within the cogs and devices lurking inside monstrous faces – about finding a narrative within the various mechanisms, creatures, and objects hidden with them."

Nintendo's Offensive, Tragic, and Totally Legal Erasure of ROM Sites (Emmanuel Maiberg / Motherboard - ARTICLE)
"Miodrag Kovačević, a 29-year-old game developer from Serbia who currently works on big budget video games, didn't grow up with a lot of money. Importing consoles to Serbia was expensive, so only people who were well off had them. He played many Super Nintendo games at friends' houses or at unofficial "arcades," where he could pay by the hour to play a variety of consoles."

Why Japan's Gaming Bars are Fighting for Survival (Super Bunnyhop / YouTube - VIDEO)
"[SIMON'S NOTE: more on the difficult circumstances with Japanese game bars & the law, as covered by Kotaku and others a couple of weeks back. In some ways a companion piece to the ROMs story!]

Playtesting the CIA's training games (John Brindle / ReadySet - ARTICLE)
"What do you think is the biggest problem for a modern American intelligence agent? Infiltration, perhaps, by Russian or Chinese agents? Retaliation by foreign governments against your local staff? Maybe it's the threat of leaks and the ensuing attention of do-gooders in Congress? Nothing so exciting."

------------------

[REMINDER: you can sign up to receive this newsletter every weekend at tinyletter.com/vgdeepcuts - we crosspost to Gamasutra later on Sunday, but get it first via newsletter! Story tips and comments can be emailed to [email protected] MINI-DISCLOSURE: Simon is one of the organizers of GDC and Gamasutra & an advisor to indie publisher No More Robots, so you may sometimes see links from those entities in his picks. Or not!]