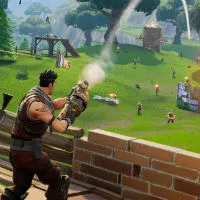 [Video Game Deep Cuts is a weekly newsletter from video game industry 'watcher' Simon Carless, rounding up the best longread & standout articles & videos about games, every weekend.
This week's highlights include a fascinating longform piece on a video streamer, Fortnite's unexpected story flourishes, and more on gaming addiction being 'singled out'.

Another busy week, then, despite the U.S. July 4th holiday, and there's a lot going on - warring factions online, a fractal array of games being adored or complained about, and plenty of sharp questions all around.

But for me, the distillation - what was actually good, or touching, or provoking (at least writing and video-wise) - helps me focus on what I should care about. Hope it helps you too.

Until next time,
- Simon, curator.]

------------------

After I stepped into Yakuza's world, Yakuza's world seeped into mine (Malindy Hetfeld / Eurogamer - ARTICLE)
"There's something magical about video games set in the real world. At the intersection of the fantastical and the mundane you get to become the hero of our very own world while taking in some of the most beautiful vistas our planet has to offer, all from the comfort of your couch."

Banjo-Kazooie Is Now 20: Here Is How The Game Made History (Angelica Frey / Medium - ARTICLE)
""The game was very reflective of our humor. The humor in Banjo was the humor of the team," lead designer Gregg Mayles, now creative director at Rare, told us, citing among their inspirations Scooby Doo, Monty Python and The Simpsons."

Japan's Video Game Bars Are In Danger (Brian Ashcraft / Kotaku - ARTICLE)
"I press record. "Just by doing this interview," I say, "to a certain degree you're really putting a target on your back." It's important Matt Bloch understands this before we proceed, especially after the recent video game bar arrests in Japan."

Fortnite has the most interesting video game story in years (Andrew Webster / The Verge - ARTICLE)
"I couldn't name a single character in Fortnite. I'm not able to tell you anything about the lore or the plot, or even really explain where the game takes place. Yet somehow Epic's multiplayer shooter has produced the most arresting video game narrative I've experienced in some time — and it's only getting stronger as Fortnite evolves."

From pen and paper to Dying Light 2 – Chris Avellone wants to flip the RPG script (Kirk McKeand / VG247 - ARTICLE)
"Star Wars: Knights of the Old Republic 2, Planescape: Torment, Alpha Protocol, Fallout 2, Fallout: New Vegas, Pillars of Eternity, and Divinity: Original Sin 2. You might assume this is simply a list of some of the best, most reactive RPGs ever made, but it's actually just some of the amazing video games Chris Avellone has written for."

The British teenagers who taught Nintendo how to make Star Fox (People Make Games / YouTube - VIDEO)
"In today's episode of People Make Games, we tell the story of three British teenagers who somehow ended up leading the way on the development of a Nintendo classic."

10 Lessons from Making 100 Games in 5 Years (James Cox / Gamasutra Blogs - ARTICLE)
"It's over! From June 2012 through June 2017, I made 100 games in 5 years. Before we dive in, it's important to have some framing about the 100 games in 5 years, why I'm writing about it now, and lend some quick numbers and facts about the games themselves."

Henry Lowood interview (David Wolinsky / Don't Die - ARTICLE)
"Okay, so, my name is Henry Lowood. I'm the curator for history of science and technology collections and also for the film and media collections at Stanford University in the library. My background is in the history of science and technology. I have a PhD from UC Berkeley in that field."

How a Diablo expansion led to behind the scenes trouble (David L. Craddock / Polygon - ARTICLE)
"The following is an excerpt from a near-complete version of Stay Awhile and Listen: Book II – Heaven, Hell, and Secret Cow Levels, now funding on Kickstarter. The book chronicles the making of StarCraft and Diablo II, and reveals new details about cancelled projects and the history of Blizzard Entertainment and Blizzard North."

Why Is There a 'Gaming Disorder' But No 'Smartphone Disorder?' (Ian Bogost / The Atlantic - ARTICLE)
"If you play a lot of chess or Settlers of Catan on a card table in the den, don't worry, you're fine—according to who, gaming disorder is a digital affliction. If you play obsessively online with other people, to the detriment of other activities, that's one possible sign of trouble. But playing offline and alone—Candy Crush, say, or even Tetris—is also a potential red flag."

Subserial Network (Bennett Foddy / That's Not Fun - ARTICLE)
"Here's why you should play it: As Rob Fearon once put it, 'we're 30 years on from some genres and barely touching the sides'. Subserial Network is one of those short-form experimental games that gestures at the great untapped wealth of ideas that the medium of games is capable of, that suggests we are nowhere near touching the sides. It is a game about mutability that demonstrates the unprecedented mutability of the form. [SIMON'S NOTE: I'm still excited about this new project from Bennett because there's so little game criticism like this for new, interesting niche games.]"

Telling a great road trip tale without words in Far: Lone Sails (Joel Couture / Gamasutra - ARTICLE)
"Far: Lone Sails is a game of curiosity and exploration. It's also a 2D game chiefly concerned with moving from the left side of the screen to the right, which mens the Lone Sails devs had to get creative in order to spark the player's curiosity."

Valve leaks Steam game player counts; we have the numbers (Kyle Orland / Ars Technica - ARTICLE)
"A recently discovered hole in Valve's API allowed observers to generate extremely precise and publicly accessible data for the total number of players for thousands of Steam games. While Valve has now closed this inadvertent data leak, Ars can still provide the data it revealed as a historical record of the aggregate popularity of a large portion of the Steam library. [SIMON'S NOTE: don't forget that free weekends, bundles & other major sales can inflate player numbers. But still super-useful data!]"

Shawn Layden and Mark Cerny: from Icarus moment to managing 3,000 devs (Dean Takahashi / Venturebeat - ARTICLE)
"Most of you think of Shawn, perhaps, as the guy who gets on stage at E3 in a Crash Bandicoot t-shirt and talks about the upcoming games. Of course, Shawn does that in his role of chairman at Worldwide Studios. Perhaps 2,000 or 3,000 developers work for Shawn. But there's this other story that hasn't been told."

The Truth About 'Video Game Addiction' (Cecilia D'Anastasio / Kotaku - ARTICLE)
"When one of World of Warcraft's top ten guilds recruited Cam as their chief hunter, his suicidal thoughts surged. To earn the enviable invitation, Cam had spent 16 hours a day grinding on WoW, to the detriment of everything else. He told his father he'd scored a job at a local restaurant, but every day after his dad dropped him off at the McDonald's across the street, Cam would hop the first bus home and log back on."

'Vampyr' is a Deeply Flawed Game, But That's Exactly Why It's So Memorable (Patrick Klepek / Waypoint - ARTICLE)
"Most video games, especially big budget ones, arrive with rough edges sanded off in favor of putting their best foot forward. This often means leaving some measure of ambition behind, because there isn't time to make it all work. Vampyr is not one of those games."

Inside the 10-Year Sequel to One of the iPhone's Most Famous Games (Brian Crecente / Variety - ARTICLE)
"If Steve Demeter could do it all over again he'd wish for less success, more failures. More time to come into his own before becoming the momentary face of a growing, now powerful economy. Nearly everything that his fame earned him, at least the money and international attention, slowly dried up as he spent it all chasing that first unheralded success, running from his own shadow."

Historical Methods: Interviews (Ethan Johnson / The History Of How We Play - ARTICLE)
"I sent out my first request for an interview for a person in the games industry in March of 2015. Since then I have collected the stories of over 100 people, some well known names and others scarcely mentioned in any source. It has been a very fulfilling enterprise and it's the first step in the matter of preservation."

ArenaNet throw two Guild Wars 2 writers to the wolves (Graham Smith / RockPaperShotgun - ARTICLE)
"ArenaNet have fired two Guild Wars 2 writers for tweets they made this past week. In doing so, they've thrown their lot in with players and harassers who make unreasonable demands of game developers. Good work, ArenaNet. Let's start at the beginning. [SIMON'S NOTES: a lot of reactions to this online - Ask a Game Dev has a pretty well-thought out one, for starters]"

Let's Be Realistic: A Deep Dive into How Games Are Selling on Steam (GDC / YouTube - VIDEO)
"In this 2018 GDC session, No More Robots' Mike Rose helps developers get realistic about how well PC games are truly selling by using deep sales data and an understanding of the Steam Marketplace."

Ice Poseidon's Lucrative, Stressful Life as a Live Streamer (Adrian Chen / New Yorker - ARTICLE)
"A strange creature stalks Los Angeles, hunting for content. He is pale and tall, as skinny as a folded-up tripod. His right hand holds a camera on a stick, which he waves like an explorer illuminating a cave painting. His left hand clutches a smartphone close to his face. [SIMON'S NOTE: largely not about video games, but 100% about streaming culture, which is a massive part of games nowadays.]"

------------------

[REMINDER: you can sign up to receive this newsletter every weekend at tinyletter.com/vgdeepcuts - we crosspost to Gamasutra later on Sunday, but get it first via newsletter! Story tips and comments can be emailed to [email protected] MINI-DISCLOSURE: Simon is one of the organizers of GDC and Gamasutra & an advisor to indie publisher No More Robots, so you may sometimes see links from those entities in his picks. Or not!]