[In this in-depth article, the editors of Game Developer magazine present the 2008 Front Line Awards, with industry notables ranking and discussing this year's best game tools.]
For more than a decade, Game Developer magazine has been singling out the best in game development tools with our annual Front Line Awards.
Here, we take a moment to honor the products that are most effective at helping developers do great work. Whether in the trenches or on the cutting edge, these are the tools that artists, designers, and engineers rely on.
While the tool business can be hotly competitive with the next greatest thing always just around the corner, we also want to pay special tribute with our Hall of Fame Award to the product that has made a lasting impact on the game industry year after year (and which was also not eligible to win in its specific category).
Nominations for this year's Front Line Awards were open to all new software products and new versions of software products related to game development released between September 1, 2007 and August 31, 2008. In determining the winners of the 2008 Front Line Awards we took a different approach than in previous years.
After a period of open nominations in October we collected the results and combined them with our own picks to come up with a list that we then narrowed down to five finalists in each category.
The result was a mix of focused solutions along with more general applications. We then handed the finalists over to you, the readers of Game Developer and Gamasutra, via an invitational online survey in November, so that you could have a voice in picking the recipients of the Front Line Awards.
We gathered over two thousand responses to the survey and we are proud to present the winners along with commentary by developers from throughout the game industry.
A special thanks goes out to everyone who contributed to this year's Front Line Awards and congratulations to all the finalists and winners.
- Jeff Fleming, Game Developer magazine
---
Hall of Fame: Unreal Engine
Epic Games, www.unrealtechnology.com
By: Albert Reed, Demiurge Studios
Epic has been pretty clear about its message -- use our engine, and you will save time and money. Not just that, but you'll be able to prototype faster, iterate more, and get more support. Unreal Engine 3 seems to have delivered on that promise for the company, as consumer web site Kotaku was heard to joke "I fully expect to hear that my mom has licensed Unreal Engine 3 any day now."
After three consecutive years of winning the Engine category of the Front Line Awards, Epic Games' Unreal Engine has become the Front Line Awards 2008 Hall of Fame winner. Since the release of Unreal in 1998, Epic's Unreal Engine has helped set the technological bar for the video game industry. With the release of Unreal Engine 3 in 2005, Epic helped a host of developers make the transition to the current generation of consoles.
The Unreal Engine stands out in part due to its robust and thorough toolset. For shooters, real-time strategy games, or even sports titles, teams have been able to create games without authoring substantial core technology. Cutscenes and camera work are created and previewed in-engine by the Matinee cinematics system, and teams are provided with a visual scripting system (Kismet), as well as the UnrealScript programming language. The Cascade particle system editor offers effects artists a huge array of parameters to control.
Layered across all these tools is the renderer that made the Unreal Engine famous. The materials, lighting, and shadowing systems are all seamlessly integrated into each of these tools. For example, post-processing effects in Matinee-authored cutscenes are created using the same material editor that lets artists create the surface effects for water. All these tools are bundled into a single application called UnrealEd.
Add these tools together, and you've got an engine that would take even the best of teams years to create on their own. Not insignificantly, these tools provide cross-platform game content enabling developers to reach as many customers as possible.
Use of Unreal Engine 3 is now pervasive in the game industry, and the engine has basically become the defacto standard for game development. Art outsourcing partners are increasingly familiar with the technology and are able to test and preview their work directly in-engine, cutting down on iteration time.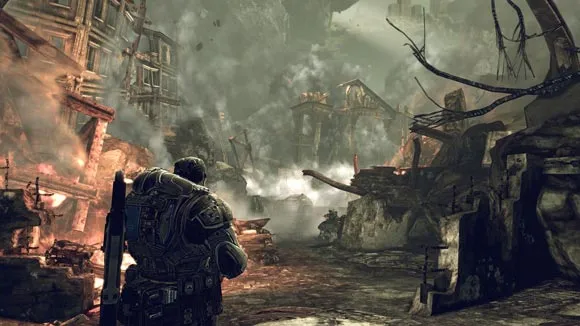 Epic Games' Gears of War 2
Furthermore, thanks to Epic's Integrated Partners Program, middleware like Scaleform's GFx and RAD's Bink Video come ready to drop in and use. This standardization also applies to co-development partners. Many teams like ours which have now been working with the technology for years can hop into projects with a full team, or join a project mid-stream thanks to familiar tools.
Epic is also renowned for its hands-on customer support. The Unreal Engine 3 mailing lists get hundreds of posts per week from developers discussing their use of the engine along with the engineers, designers and artists at Epic who are expert users of the technology. When a licensee asks a question about a section of code, the actual engineer responsible for that code will frequently be the one to answer back.
You need only look at the titles that have shipped using Unreal Engine 3 to full appreciate the breadth of impact it has had on the gaming industry. Whether it is ground-breaking work like BioShock or Mirror's Edge or franchises with rich histories like Medal of Honor or Splinter Cell, Unreal Engine proves time and again that it has everything a team needs to ship a successful AAA title.
We are experiencing a renaissance in our industry that can be partially attributed to being able to focus on design rather than the hurtles of technology. For many developers, that is possible because of Unreal Engine 3.
---
Art Tool: Photoshop CS3
Adobe, www.adobe.com
By: Tom Carroll
In the 1999 film The Matrix, when Neo reached for the red pill Morpheus warned, "Remember ... all I'm offering is the truth. Nothing more."
If you've been using Adobe Photoshop CS3, then you've been using the red pill, because that was the code name for the software during its development. And for many people who chose it for the first time or upgraded to CS3 from whatever they were using, it was indeed the truth.
While the new version was marketed with the phrase: "Work more productively, Edit with unrivaled power, and Composite with breakthrough tools," (phraseology that would make the Wachowski brothers positively weak in the knees with envy) in reality Adobe's product marketing wasn't Hollywood hooey. In fact, if you collect photo reference or are interested in extending your 3D modeling to 2D applications, you might find it very much the real deal.
For instance, think of CS3's Auto Align as Photomerge on 'roids. While Photomerge can stitch and blend a panorama together by aligning elements within your photos, Auto Align scans through the layers of the current document and calculates which pixels match with the proper layer, and transforms each layer appropriately to achieve astonishing results.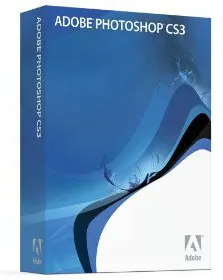 If you're taking photo reference for a video game, for instance, gone are the days where you snap scads of freehand photos of a location and align them by hand (or worse yet stitch them together in your head). With Auto Align you can, for example, take multiple photographs walking along a street (sans tripod, of course), and Auto Align does all the heavy lifting to put them together. Use Auto Blend on the results and your tableau becomes a seamless construct.
For anyone using sliders to adjust Raw parameters within Adobe Bridge, the performance in CS3 is quite speedy, and in addition to the basic Contrast, Brightness, Shadows, and Saturation sliders found in CS2, CS3 adds Clarity, Vibrance, Recovery, and Fill Light. Again, video game pros collecting photo reference will appreciate the flexibility.
Last, but certainly not least, Adobe Photoshop CS3 enables 3D objects to be included in special layers and manipulated therein. Once loaded, you can spin, scale, and move the model; the camera can also be moved around the 3D object. All of the model's textures can be edited since they're all found on individual "child layers" beneath the main model layer. Changes are immediately shown.
While it may be carrying the analogy too far, if you stayed with Adobe's Photoshop CS2 (or continued using some other package), and then chose the blue pill, then everything stayed the same for you. While CS3 is far from perfect, it makes a great addition to Photoshop's lineage and provides powerful tools for video game artists and animators.
Art Tool Finalists

Autodesk 3ds Max 2009
Autodesk Maya 2008
Luxology Modo 302
Softimage XSI 7
---
Audio Tool: FMOD
Firelight Technologies Pty, Ltd., www.fmod.org
By: Damian Kastbauer, Bay Area Sound
In audio development, we do our best to assess the needs of the project, establish a working methodology, and lay the groundwork before suiting up and heading in to battle. The development war wages on at a breakneck pace, shooting at moving targets until everything is in full swing, and just as we're hitting the beachhead, ammo is running low. The best we can hope for is the minimized stress of well-implemented systems and creative user workflow.
It's times like these when the power of established audio middleware comes in to save the day. One of the leaders of the pack is Firelight Technologies' FMOD Audio Engine and FMOD Designer Tool. Though the Designer Tool is the winner here, the combination is what delivers a total interactive audio solution that addresses the burgeoning specialization of audio integration in today's highly technical world of game development.
After the initial integration with the game engine, most of the work involved with creating dynamic, multi-layered sound is left in the hands of the audio team. FMOD's comprehensive Event system manages everything from volume, pitch, and positioning to more complex functionality such as playback behavior, distance attenuation, and falloff curves. Having this level of control allows the audio team to tailor the way things sound, and make sure that the sound content is played back in the best way possible.
With additional programming support, values and parameters from the game engine can be passed to the FMOD Audio Engine and used within the Designer Tool. This functionality enables a level of dynamic flexibility over an event allowing you the ability to parametrically define what sounds are played back, dynamically effect the sounds through the use of DSP, and trigger multiple sounds over time. Parameters can be leveraged in order to better mirror the reaction of sound in realistic ways, or take them further away from reality and infuse them with a higher level of interactivity driven by gameplay.
Imagine using a parameter for player distance to change the directivity of a fireplace within a 3D space, making it more directional the closer you get to it and alternately distributing the sound of it throughout the available channels when further away.
Additionally one could tie a 24 hour clock in the game world to a looping ambient event that would change the types of sounds played based on the time of day. Adjusting the speed of a flange based on distance could add a dynamic effect to the sound of an approaching ghost, making the sound content vibrate at a greater rate when closer to the player. Or you can trigger an event that sets off a time-based chain reaction of sounds, allowing for a type of interactive sound design within the tool.
The FMOD Engine and Designer Tool is a magic box full of functionality that allows the audio team to make creative decisions about how things sound. As interactive audio specialists, we are continually dreaming of new ways to enhance the sound experience for our audience. With FMOD, we can realize some of those dreams.
Audio Tool Finalists

Vivox Precision Studio v. 2
Audiokinetic Wwise 2008.3
Rad Game Tools Miles Sound System 7.2c
Di-O-Matic Voice-O-Matic 2.6
---
Middleware: Havok Physics
Havok, www.havok.com
By: Jeremy Gordon and Michael Boccieri, Sega Studios
Let's face it: as the computational power of gaming hardware continues to increase, so too do consumer expectations. Demand continues to rise for game experiences presented within the context of believable virtual spaces: living worlds that are huge, interactive, persistent, and "real."
While realism can be a loaded word for game developers, there is no question that the inclusion of advanced real-time physics has become a necessity for many of today's game engines. And while team sizes continue to balloon to meet gamer demands, physics is not necessarily an area that teams want to throw internal resources at, all things considered.
Enter Havok. At its core, Havok offers developers the foundation for creating realistic physics simulation though efficient and optimized calculations. This package allows games to simulate a lot of complexity simultaneously without a serious hit on performance, and provides a framework that's easily adaptable to both online and offline games.
This solid codebase continues to make Havok a prime choice for physics middleware across the industry.
If that were all Havok offered, Havok Physics would be just another middleware choice among qualified competitors.
What sets Havok apart are the layers of developer support that the company has integrated into all aspects of its product and services. Havok understands what it means to be a middleware company, and what it means for middleware to bring real value to a game's development cycle.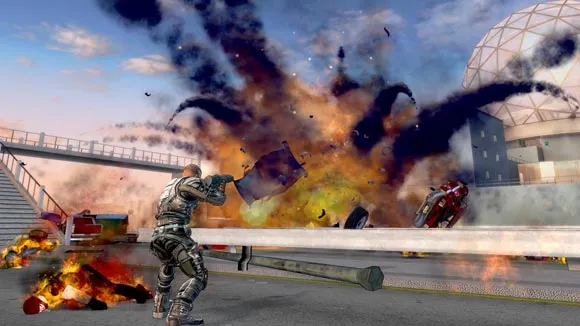 Realtime Worlds' Crackdown
Real value is a company that delivers a solid middleware solution and continues to update it with developer-requested features. It's a mindset of getting to know your clients' products and their product goals, and aligning middleware roadmaps toward providing them with their most-important features wherever possible.
It's providing responsive and thorough developer support when bugs do arise, and a dedication to providing solutions quickly and efficiently. It's continued expansion of Havok Physics' integrated product set, with new modules like Havok Behavior and Havok Destruction seamlessly integrating with the core Physics SDK; modules created based on cross-discipline developer feedback, and expanded and refined with an eye towards versatility and ease-of-use.
It is this real value that Havok Physics brings to developers with its bottom-up methodology, an optimized and integrated codebase, and dedication to supporting the creation of more believable virtual worlds. It stands out among some tough competition as winner of this year's Front Line Award for Middleware.
Middleware Finalists

Autodesk Kynapse 5
PathEngine 5.16
NaturalMotion Euphoria
GameSpy SDK
---
Engine: Torque Game Engine Advanced 1.7.1
GarageGames, www.garagegames.com
By: Andy Schatz, Pocketwatch Games
I'd like to congratulate GarageGames for winning a Front Line Award for its flagship game engine, Torque Game Engine Advanced. I've personally used the Torque line of products since I quit my mainstream game programming job four years ago and went indie.
Over that time, Torque has evolved from a somewhat clunky and underpowered 3D engine to a framework that supports the Xbox 360, Wii, PC, Mac, and iPhone and sports many of the bells and whistles that make Unreal and other high-end engines cost a million dollars. But in stark contrast to those high-end engines, TGEA costs under 300 dollars. And over the past four years the engine has evolved: it's not just for indies anymore.
Originally, the founders of GarageGames had the vision that if they could create a low-cost 3D engine, the world would explode with revolutionary games made by hobbyist game developers. My first indie game, Venture Africa, sold over 100,000 copies, which made it one of the very few to fulfill this vision.
Unfortunately, it turned out that the engine was too feature-rich and obtuse for most hobbyist developers to handle. So GarageGames shifted its focus to building a 2D engine in order to compete in the casual space. Again, the bulk of the engine made it compare unfavorably to other simpler engines out there in the 2D space.
But the rise of casual gaming on the consoles finally created the perfect niche for the GarageGames product line. Rather than focusing on hobbyist developers with their heads in the clouds, GarageGames began to incubate slightly larger studios with visions grounded in reality.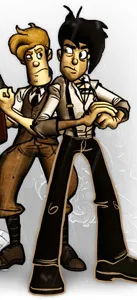 The company consolidated and componentized its codebase, offering the features of all of its products in a single engine. The engine was then ported to the Wii, the Xbox 360, and the iPhone. Torque Game Engine Advanced became an incredibly versatile tool with a competitive feature set for small to mid-size developers while remaining dirt-cheap.
GarageGames is now focused on helping developers with a high potential for success, rather than on the myriad dreamers hoping to make their first game into the next WoW. Penny Arcade's Precipice of Darkness series is a good example of what a relatively small team can do with the engine.
These days, TGEA offers complete source code, DirectX and OpenGL support, and Xbox360, Wii, iPhone, PC, and Mac support for only $295 ($1495 for commercial developers). The multiplayer framework is still one of the best in the business, and GarageGames continues to improve the WYSIWYG game and GUI editors.
Now that some successful titles are beginning to prove the potential of the engine, it's impossible not to see Torque Game Engine Advanced as an emerging player in the field of major game engines.
Over the past two years, indie games like Portal, Braid, and World of Goo have made their mark on the mainstream game industry. It's finally come time to recognize a piece of indie technology that has broken through to compete with the major engines. Congratulations GarageGames, Torque has finally realized its massive potential.
Engine Finalists
Unity Technologies Unity 2.1
Crytek CryEngine 2
Emergent Game Technologies Gamebryo 2.5
Valve Corporation Source Protocol 14, Build 3531
---
Programming Tool: Visual Studio 2008
Microsoft, http://msdn.microsoft.com
By: Noel Llopis
Visual Studio is, without a doubt, the most-used programming tool in the games industry. Used for development of Xbox and Windows games, creation of Windows tools in C#, web development, and sometimes even just as a powerful editor, Visual Studio is the go-to tool for most programmers.
But Visual Studio has had a rocky history with game developers. From the solid Visual C++ 6.0, to the best-forgotten Visual Studio .Net (2002), it has had its highs and lows. The recent Visual Studio 2005 was the best of the series and it was an absolute pleasure to work with. The bar was set very high for a follow-up.
Is Visual Studio 2008 a worthy successor? Definitely. Microsoft wisely followed the formula of not fixing what ain't broken, and made 2008 an incremental improvement over 2005, along with a few, big new features.
On the C++ side of things, the improvements are very subtle. It looks so much the same that you might forget you're using a new version. You need to look under the hood to find some of the new features: better multiprocessor build support, managed incremental builds, and improved multithreading debugging support among others. My only wish is that Visual Studio 2008 supported the C99 standard, but alas, that's not to be.
Programmers are in for a real treat with the new features on the C# side. Visual Studio 2008 introduces C# 3.0 with all the goodies: Automatic properties, initializers, anonymous types, and lambda expressions.
It also comes with support for Language-Integrated Query (LINQ), the new API to perform SQL-like queries and operations on different sets of data. And if all that is not enough, 2008 also includes a visual design tool for Windows Presentation Foundation GUI tools, which should make most tools programmers feel like Santa just came to town.
Microsoft deserves props for continuing in the tradition of previous versions, and offering a set of Express editions that can be downloaded for free. These editions have slightly limited functionality, but they're a great way to allow students and the online community to create games with the Visual Studio.
For professional developers in large teams, a big issue with any new version is how painful the upgrade is going to be, and how much down time it is going to cause. Again, only good news in that front: The upgrade was seamless, and I was up and running in no time.
Both 2008 and 2005 can live side by side, and you have the option to import your settings from earlier versions. It even brought over Add-Ins from 2005 and they worked flawlessly under 2008.
Visual Studio 2008 manages to maintain the quality and robustness of 2005, while introducing some significant features for tools programmers. It should be in every programmer's workstation and is a most deserving winner of the 2008 Front Line Awards.
Programming Tool Finalists
Seapine Software TestTrack Pro 2008.2
Perforce 2008.1
Microsoft XNA Game Studio 2.0
CollabNet Subversion 1.5
---
Book: The Art of Game Design by Jesse Schell
Morgan Kaufmann, www.elsevierdirect.com
By: Noah Falstein
There are hundreds of books written that discuss computer game design. But only a very small handful of those were written by professional game designers. And although many of them are intended as possible textbooks for courses about the subject, very few have been written by successful teachers of game design.
So the fact that Jesse Schell is one of the dozen or so full-time professors who have had a successful career in game design would be reason enough to be excited about his book.
But it goes far beyond that. This book was clearly designed, not just written, and is an entire course in how to be a game designer. The very structure of the book serves as an object lesson in interactive design. Its subtitle "a book of lenses" is not just a promotional phrase, but rather says a lot about how Jesse thinks about the meta-process of game design.
He uses the term lens metaphorically, as a way of looking at a game and asking questions to help analyze it. He includes 100 lenses he uses in the book, with names like Fun, Surprise, Flow, Chance, Emergence, Puzzle, Beauty, Client, Pitch, Technology, and many more. This philosophical approach captures in concrete form an intangible truth about the essence of game design
A good game designer has to wear many hats -- but that's a tired and obsolescent metaphor. Looking at the world -- or at the game you are designing -- through different lenses is a much fresher, more accurate one.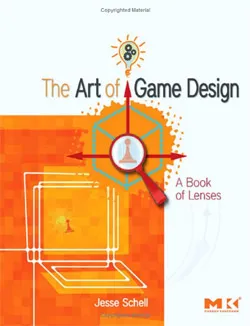 That perspective frees Jesse to scan the landscape of game design, scrutinizing aspects of game development, creativity, psychology, technology, and many other related fields. He uses skillfully-written, relevant vignettes about what designers must learn in order to practice their art.
He also approaches each aspect as a good designer would, providing not just bare facts but also captivating stories to set the mood and provide context, and adds charts, tables, drawings, and cartoons to capture the essence of his subjects and to illustrate them, figuratively and literally, from many different perspectives.
The book is also intensely practical, giving some of the best advice on how to harness your own subconscious I've ever read, as well as short and useful descriptions of probability theory for non-mathematicians, how to diagram interest curves, working with a team, and dozens of other topics.
It is simply the best text I've seen that really addresses what a designer should know, and then actually gives practical advice about how to gain that knowledge through life experience. It's a marvelous tour de force, and an essential part of anyone's game design library.
Book Finalists
Dungeons and Desktops: The History of Computer Role-playing Games, by Matt Barton
Game Production Handbook, 2nd Edition, by Heather Maxwell Chandler
Real-Time Rendering, Third Edition, by Akenine-Moller, Haines, and Hoffman
Game Programming Gems 7, by Scott Jacobs