This is the fifth year for the indie developer salary report (full 2014 salary report here [
PDF
]), in which we survey non-salaried game developers. 2013 was a mixed bag overall, with some salaries up, some down year-on-year. The drop in solo salaries is particularly alarming, while the rise in indie team salaries seems promising -- but be careful in making assumptions about this data. We've found that average
indie salaries are prone to big fluctuations over the years
. Practice the fundamentals of good game development, and adjust for a market that is noisier than it has ever been. Here are the highlights from the indie survey*:
1. Solo indie salaries were down
Solo indie developers earned an average income of $11,812 in 2013, down 49 percent from 2012's $23,130 average. This drop may be attributed to the fact that most anyone can make and release a game if they want to, from experienced full-time game developers to part-time hobbyists with less experience with the market.
2. Members of an indie team earned more income
Individual members of an indie team fared better than solos, earning an average of $50,833, up 161 percent from 2012's $19,487. Of course, more overhead for a team doesn't automatically equate to making more money, but there is something to be said for having more hands (and brains) on a project.
3. Game sales made up most indies' game dev income
Most indie game developers -- 57 percent -- said they did not have any additional game dev income outside of game sales. Meanwhile, 27 percent said they made additional income through contract work.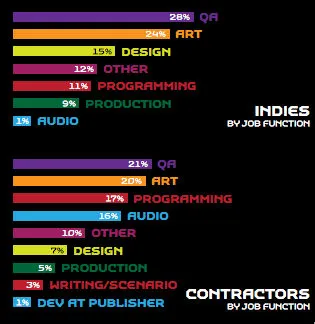 Other sources of income came from promotions (including non-game DLC and other content), sponsorship opportunities, awards or grants, crowdfunding, or other methods. Less than 6 percent of respondents said they made income in any of these other categories.
4. Only a few braved the crowdfunding route
Crowdfunding is a hot topic, but only 5 percent of indie respondents had collected any income from crowdfunding. Of the very small sample who said they made crowdfunding money (only 17 responses), one collected over $200,000.
5. Less than one in 10 indies made sales on paid alphas
A small percentage of respondents -- 8 percent -- said they made money from paid alpha sales. Nearly half of the developers who made money from paid alpha sales said those sales comprised 96-100 percent of their total game sales in 2013.
6. Most indie game devs made…not so much
Fifty-seven percent of indie game developers (including both solo indies and members of indie teams across
all
pay ranges) made under $500 in game sales. On the other end of the spectrum, 2 percent made over $200,000 in game sales.
Check out the full report!
Conducted in May 2014 for the period between January 1, 2013 and December 31, 2013, Gamasutra gathered well over 4,000 unique responses worldwide, with help from market research company Audience Insights. You can
download the full PDF here
, and check out Salary Survey highlights all this week at our
special Salary Survey page
on Gamasutra.
*Results only include developers who made more than $10,000 in 2013, and were capped at $200,000, except for point 6.