In our new blog post, we hear from Donovan Valdes, the Art Director at Hazard Studios, and learn more about the art design behind one of the icon characters in Scrap Squad.
A key factor to the success of any game is the art design, and how well it conveys the game's tone. As Art Director at Hazard Studios, my job is to ensure that the visual elements in "Scrap Squad", our upcoming mobile title with Relevant Games, do exactly that. Along with fitting the game's humorous tone, our visuals have to relay a specific style, and are designed in a way that makes sure the player knows exactly what's going on at any moment, and how they can react.

A little bit about me -prior to working on Scrap Squad, I worked with Vicious Cycle, Red Storm Entertainment and before all that, worked in traditional animation and illustration. Hazard Studios is my first stint in indie game development!

I grew up old school w/ pencil and paper, and could use nothing but as a student. Nowadays, though, I can't imagine my job without a digital art tablet. I've grown comfortable enough over the years with drawing on a tablet to use it about 90% of the time. This is especially true with painting and color. However, there are times when you just can't get an idea down on screen, and you just have to pull out the old reliables. This is especially true when generating those very first thumbnail sketches…they always seem to come easier on paper for me.


When I was creating the characters for the game, I had some ideas in mind beforehand, but I also sort of started free-drawing a bit, just to see what came of it. For example, when I first heard of the idea for Scrap Squad, the "Rebots" (your robotic recycling bins) weren't robots at all…I imagined them as bugs, living deep in the landfill lair, serving their master. I thought they could carry around bins over their heads, and make funny faces as they got heavier.

I remember someone once tossed around the idea of using robots...but the idea never truly clicked for me until I thought "What if the robots are the bins?" Everything started to fall into place after that. The idea of a robot eating trash fit perfectly with a waste bin design. Combined with the idea of an Evil Genius inventor with tons of assorted junk at his disposal, it seemed natural to make these robots his crazy creations, constructed of whatever parts he could scavenge from the pile.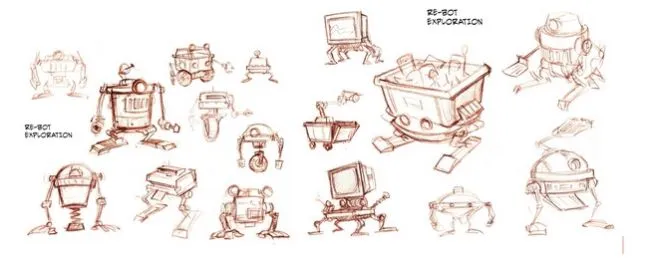 After some more iteration, many technical concerns were suddenly solved, without sacrificing any "cool" factor. Why animate a complex bipedal creature with functioning arms, when I can make a robot that rolled? UI needs were also solved with the idea of old CRT screens as the belly screens. Headlights could be eyes. Springs and wheels could be used as speed upgrades.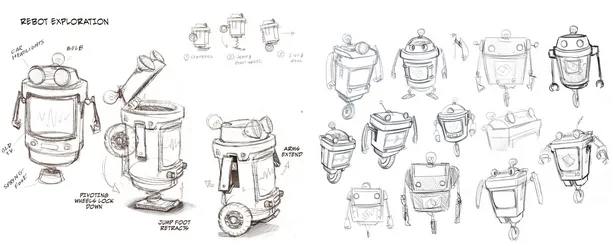 As his function became clearer, I could shift focus to his form. I knew I wanted him to be simple and easy to read on a small mobile screen, yet capable of some emotion and fun. I also knew there were many predecessors I wanted to avoid having a likeness to, such as Artoo or Wall-E. He had to be simple, but unique, and a good fit in this game world. I found the fewer 'parts' he had, the more I liked it. I got rid of any fingers, but kept the arms purely to communicate action and emotion. A One-wheel foot did the job. Once I settled on a basic design, I started playing with his personality. How could he emote with just a few parts?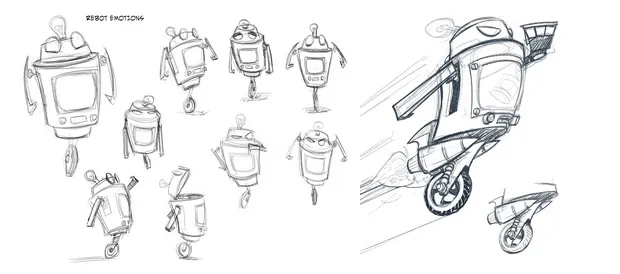 From there, an orthographic sketch helped produce a 3d model, which was then textured and animated. Somewhere in there the "Rebot" name was born, a natural fusion of "Recycling Bot".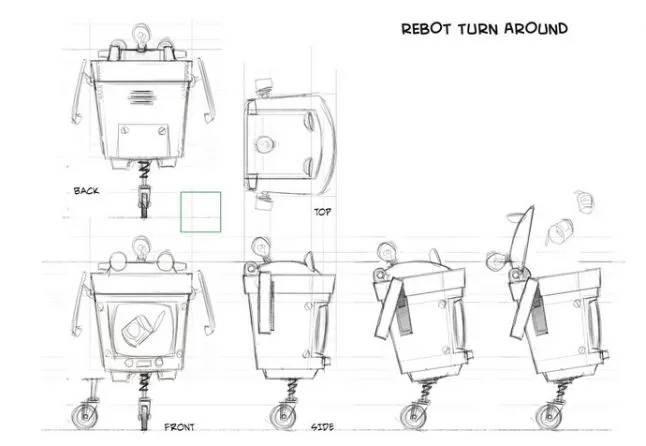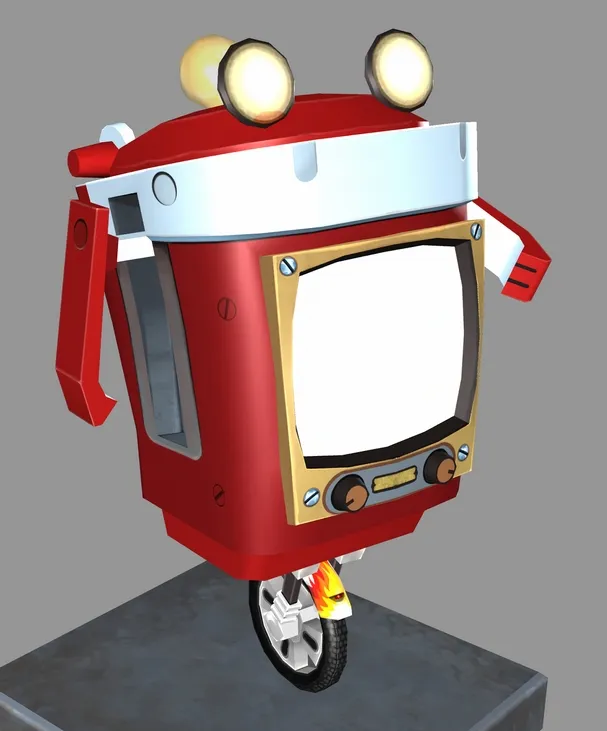 I'm proud of the results, though I don't think we've yet reached his potential as a character. Maybe the next time around ;-)