Earlier this year, we caught up with Baldur's Gate 3 lead character artist Alena Dubrovina to discuss how Larian purpose-built an inclusive character creator for the world of Dungeons & Dragons.
Baldur's Gate 3 launched back in August to critical acclaim, but prior to that spent almost three years in early access. That soft launch period was indispensable when it came to incorporating feedback to ensure the options afforded to players would (hopefully) remain relevant for years to come.
Dubrovina explains the core pillars that prop up the creator are "player choice" and "staying true to the spirit of D&D" and noted many of the options included in the release version of Baldur's Gate 3 emerged during early access.

"We learned that we should always keep an open mind and be ready for anything," she explains. "The goal was to give players choices they would be excited about, inspire them to try some styles that they would want to try in real life but never dared.
"We wanted something that felt fresh and could stay relevant for at least some years to come. When I now see custom characters that are created online I'm amazed how cool they all look, they look special and really stand out from the NPCs you meet in the game, which is what we were hoping for."
An authentic cast for a fantasy opus
Discussing how Larian's approach shifted over the years, Dubrovina says the eclectic denizens of Baldur's Gate 3 were initially more stylized, but noted some of those early models "didn't look right to us during dramatic cinematic dialogues."
"We had to push both our tech and models further to make them more realistic and relatable. After we got the visual look we wanted, we established a certain pipeline which ensured a very consistent artistic and technical execution of our characters and only then we could start thinking about character creation," continues Dubrovina.
Fortunately for Larian, Dubrovina states the world of D&D is "very inclusive" in that it affords a lot of room for creativity. It's hard to argue. Sure, Baldur's Gate 3 lets players adventure as conventional fantasy heroes, perhaps a hulking barbarian or magic-wielding high elf, but you can also buck the trend and take on the world as a horny tiefling (get your mind out of the gutter) or cocky loot-toting halfling.
Crucially, the creator allows players to make modifications that aren't always possible in other RPGs, letting them modify a characters genitals (choosing between preset options), identity (male, female, non-binary/other), and voice. Dubrovina says including those options was about giving players the ability to create characters that, while grounded in the lore of Dungeons & Dragons, are "relevant today."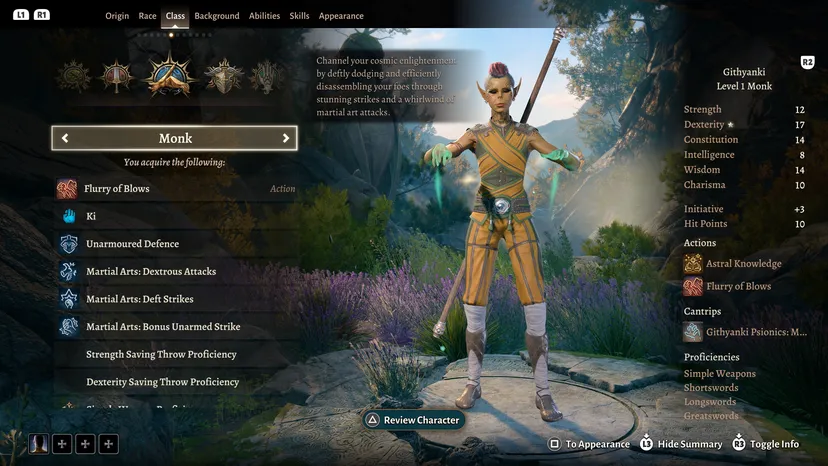 "Gender is not defined by your body, genitals or your voice in our game, we want everyone to be who they want to be and build their own unique identity. If you want to play as a bearded non-binary dwarf with a masculine voice and green hair, why not? When we think about the player chooses in Character Creation we try to think about the choices through the eyes of the player. And for many players it's important to pick the genitals they want, even if it doesn't influence the gameplay that much," she says.
"After all it's just a part of your body like any other, and we wanted to be very casual about it. Make it normal that it might come in all shapes and forms. In terms of our choices for genitals, originally we aimed to just make two, but in the process more options emerged that had different hair options and shapes. I think we would even add more if we could but production deadlines kicked in."
Ensuring some of those options were as authentic as possible required Larian to seek outside help. Specifically, the studio approached consultants and external animators to help it recreate black hairstyles that felt true-to-life (something video games have famously struggled with), with Dubrovina explaining the dev team had no idea how to model next-gen hairstyles at the start of production.
"We knew in our production schedule we couldn't afford to wait till our in-house artists master the skills. So we searched for external partners and outsourced a bunch of hairstyles so we could also learn from them. Once we had a solid base and our internal artists were up to speed, we expanded and improved what we had," she continues.
"The challenge with Black hairstyles is that they require a different modeling technique. With straight hairstyles you just layer and curve the strands themselves, Black hairstyles consist of coils and require more volume. And since you work with coils in the texture of the strands, it's much less intuitive and can get messy real fast. On average, afro hairstyles require more time and effort, but are certainly among the best looking hairstyles in the game."
A high bar with room for improvement
Larian has received plenty of plaudits for its work on Baldur's Gate 3, including its take on character creation, but the studio has also been criticized for preventing players from tweaking certain attributes such as height and body type, while also leaning on preset faces. Detractors claim it's an approach that can feel limiting, leaving some feeling underrepresented.
When we asked why Larian didn't allow players to, for instance, use a slider to adjust their body type to one that might be skinny or broad, or tinker with their character's height, Dubrovina accepted there was room for improvement in those areas–but explained the decision to shun sliders and similar tools was made in pursuit of "character."
"What we learned from our scanning pipeline is that small millimeter changes can make or break a face completely. We realized there is a risk of faces being a bit blank and characterless if the character creator is heavily dependent on the sliders," she explains. "We wanted to avoid that. That being said, there are definitely ways to do it right and we know that's a potential area of improvement for us in the future both for our faces and body types."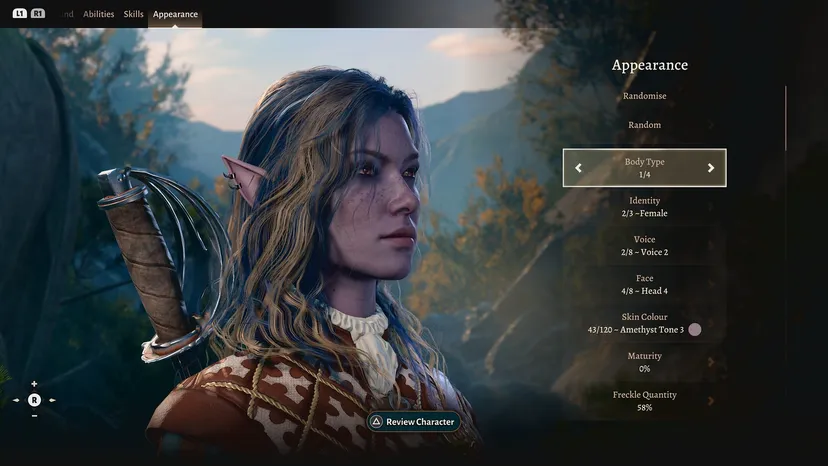 It'll be interesting to see if Larian incorporates that feedback in future productions, especially if the studio is given the chance to craft another installment in the Baldur's Gate series. For other developers, however, the time for learning is right now. In a bid to help fellow creators improve their processes, Dubrovina explained that one of the most impactful decisions Larian made was to expand its palette of swatches "so that there is something for everybody."
"A lot of races have their race-specific color choices by lore, but we decided to add an option to also select from the 'all colors' pool, because of course there are exceptions from any rules," she added. Speaking more broadly, she adds that it's absolutely "fundamental" for studios to figure out which tools will empower their artists.
"Make the job of adding these extra choices easier for them," she says. "It's also important to allow some extra buffer for character creation in the project planning. Two very boring things, but at the end of the day, they are the real heroes in building up a proper character creation."