It wasn't easy being an independent game developer back in the NES era. Nintendo was famous for its tight control over games released on its system. Nintendo considered its console a toy for children, and any hints of sex, blood, beer, or religion were forbidden. Passing Nintendo's quality checks wasn't easy, either. You had to have money, great programmers, a good reputation, and a relationship with Nintendo to get a game out on the NES.


"Color Dreams" had none of these things. Just a few guys with a small company and a desire to make games, even if those games were sloppy rehashes of other NES games. Let's not pull any punches here; by their own admission, most Color Dreams games were terrible. The really impressive thing about Color Dreams was that, through the work of Dan Lawton, they were able to reverse engineer a way to beat out the NES lockout chip, which prevented unlicensed games from playing on the system.




From 1988 to 1991, Color Dreams was content making unlicensed knockoffs of other NES titles. Yes, some of these games were terrible, but you have to admire a company that puts out 6 titles a year! Even for Color Dreams' best titles, the problem was in distribution. At this time, Nintendo wouldn't allow retailers to sell unlicensed games (with the threat of stopping shipments if they did.) Since toy stores made up to 40% of their profits from NES game sales, most of them were too afraid to purchase Color Dreams' games. This, coupled with the general badness of many of the games drove people away from the brand.


Here's where the corporate strategy comes in. Now, remember that Nintendo's censorship policy meant that religious iconography was forbidden in games? In 1991, Dan Lawton had the strange idea of marketing the games to Christian Bookstores. Here's how he put it: "The Christian market was attractive because they didn't have any Nintendo games at all, and didn't give a fig about Japanese distribution. In fact, if you told them that Nintendo might be angry about them selling our games, that made them want to sell them even more. Christian book stores number about 9000 at any given time, and they all wanted to have our games. That's even more stores than Toys R Us." Now Dan wasn't a very religious guy himself. That same year he had licensed the rights to the movie Hellraiser, and made a game called Robodemons, but as you'll soon see, this was a genius move.


Color Dreams became Wisdom Tree, and worked hard to promote their games in the new market of Christian bookstores. Wisdom Tree sent promotional materials such as Bible Adventures displays and VHS tapes showing gameplay. "This game promotes Bible literacy and teaches children about the Bible while they play a 'fun and exciting' Super Mario Bros. style video game!" said one video. Bible Adventures broke up gameplay with bible verses, and was basically very similar to Super Mario Bros 2.






These games were no better than Color Dreams earlier games. In fact, many of them were exact copies of Color Dreams games with a few graphics changed. Menace Beach, a skateboarding game, was renamed Sunday Funday. The main character was redrawn holding a bible, and his girlfriend was redrawn into a Sunday School teacher.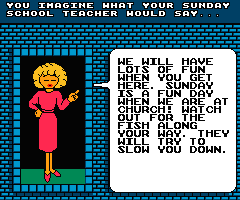 Whereas before Color Dreams had tried to use sex and violence to differentiate their games, now Wisdom Tree was able to use religion. Thanks to Nintendo's censorship policies, Wisdom Tree had found a completely untapped market. Bad gameplay didn't matter to Christian Bookstores, and Bible Adventures sold 350,000 copies.


The programmers and team had no interest in Christian games themselves, and after Wisdom Tree had become a successful business, many left the company. But Wisdom Tree kept going, making money by rehashing Color Dreams games and rereleasing them. In fact, Wisdom Tree is still around today, making a resurgence by rereleasing their games on their own plug-and-play consoles and for Windows. Google them, you can visit their website and play their games online!






Well, what can we learn from this strange tale? Here's what Color Dreams/Wisdom Tree did right:
There was no law against unlicensed games-- Lawton's tenacity and engineering skill in reverse engineering the NES to make unlicensed games was a pretty clever move.
They released a LOT of games, and worked long hard hours to do it.
When they got locked out of their primary market by Nintendo, they found a new market and fulfilled a need there.