When I graduated from University in 2000 with a Master in Computer Science, the software industry was at its peak. Me and a few of my fellow graduates started creating a 3D chat community and that was smoking hot. We all believed that we would be swimming in pools of champagne and driving Ferraris in just a few years.
Things changed quite rapidly over the course of a year or so, it didn't suffice to just do something with 3D anymore. The glory days were over, and now you actually had to make better stuff than your competition to remain in the game. If you were in the game of making better products than the average game developer, you had a pretty good chance at making a nice payday.
I wouldn't consider myself a skilled game developer back then, I was way too inexperienced. Today it seems like the hot topic is talent. The key to success according to the top studios is making sure that you only hire top talent. My past experience agrees completely with that statement. But is that really all it takes?
There are several reports that show that the growth in the game industry is slowing down, it might even be suffering a decline right now. The AAA games market has definitely gone through a quite drastic reduction, at least according to this report on the US market.
To predict what the future holds we first need to look back at the past. This graph below illustrates my view of how the talent pool versus demand evolves in the game industry.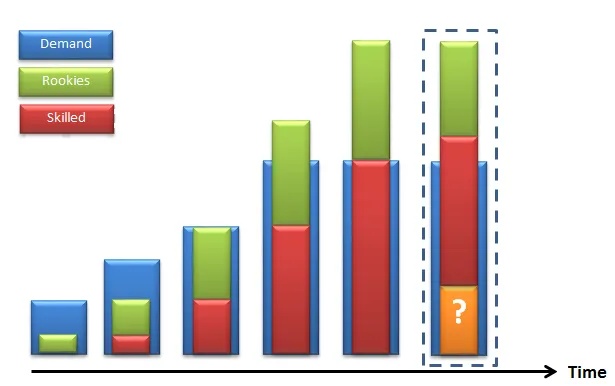 In the initial state there was just a few game developers that couldn't meet the initial demand. Pretty much any game coming out would find an audience. As time passes, some developers will become more proficient at developing games, and their games will have a higher likelyhood of succeding. Since demand is growing, the additional consumers will provide room for new developers. More and more developers increase in skill as they gain experience.

When the growth in demand slows down, a point in time will come when the pool of skilled developers are able to meet the demand. At that time it will be very hard for new developers to find room in the maturing market. The crowded market willl knock out people without skill, it can only sustain the skilled developers. How do you stand out in a market that is oversaturated with talent?
If we make an analogy with soccer, 50-60 years ago a talented team could get very far without much tactics. They blossomed on the individual skill of their players and was able to beat the opposition just because of that. The world cup in 1974 was a turning point in soccer, where the highly talent-driven South American teams were beaten by a very systematic Dutch team. This article talks about the problems in the highly talented Brazilian team throughout the past 40 years. It ends on a really interesting statement regarding the current state of the team:
Most sides, though, would be delighted to have such a nucleus of players already in place. Brazil's problem is to reconcile them to one unifying philosophy.
This statement resonates well with what I see as one of the biggest problems in game studios today. In the latest stage of the evolution of the game industry, the talent pool is overflowing the demand. In the chart above, I added an orange square which represents talented people working smartly as a team (I discuss this in more detail in this post). When acquiring the best talent can't set you apart from your competition, you need to make sure that you are smarter than the competition. If you can't attract the best talent, this becomes essential. Throughout the history of sports there are plenty of examples of teams that have exceeded their individual capacity. The greek team that won Euro championship 2004 is a comtemporary example of this.
We can only speculate whether the current plateau is a slump due to the economical recession, or if the market has reached maturity. The growth of the games industry may or may not pick up again when the financial climate is better. Though we can be certain that at some point the curve will flatten out, industries cannot grow forever. Whether that is now or in the future, it will pose new demands on developers that want to stand out. Making sure you are recruiting talent is a good starting point. However, to really make an impact, the talent needs to collaborate more effeciently than we do today.