(this post is also printed at http://www.hansoft.com/expertblog/shotgun-approach-to-boost-innovation/)
Over the last years I have met a large number of seasoned console game developers that are now creating smaller games. The common story I hear from them is that they are tired of the challenge riddled environment; they want to go back to their roots. In 2010 I had similar feelings, so I was sketching on a method on how to transfer a large studio to a garage-of-garages. The development method I was drawing up is very similar to the approach that many successful developers are using today; a partly self-filtered, partly market-filtered shotgun approach. Basically, it's about creating as many games as possible to be first to the next thing. The problem to solve is that we can't be sure what the rapidly changing market is looking for, and we can't rely on a few people to be able to predict it.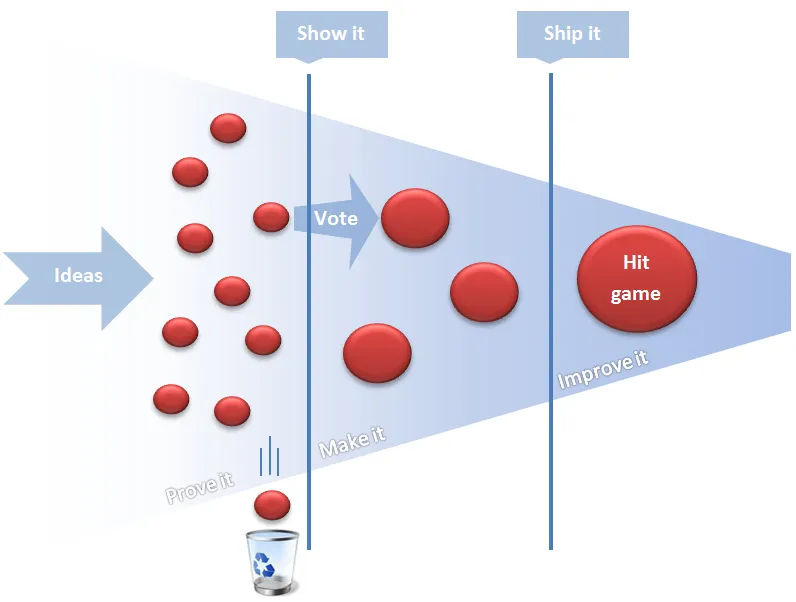 A diagram showing the phases of taking a game from prototype to shippable and finally maintenance of the successful games.
The method is by far most efficient in an environment where talented developers can make great games without much supervision. Failing early and often is one key ingredient; the second is to capture successful games and rapidly develop them further. It relies on collective wisdom, rather than creative leads that directs and reviews; everyone is a creative decision maker.
Before I explain the method, let's make a few assumptions:
We have 50 talented developers with different competencies.
We have at least enough money enough to fund development for at least half a year.
Week 0 – Creative seeding

A new development cycle starts with all available developers gathering. The goal is to come up with a number of simple concepts that can go into prototyping.

When a number of concepts have been selected, the developers form teams of maximum 5 to create prototypes.

With about 50 developers, we should have roughly 10-15 game ideas that go into production.
End of week 4 - Prove it

At this time all prototypes should be completed. The whole company meets up and looks at the current batch of prototypes. The purpose of each prototype is to prove fun; there should also be a rough plan on what is needed to make a shippable version. Everyone in the company grades the prototypes. The best ones are now moving into stage two of development.
Start of week 5 - Make it

We now have a small number of good prototypes. The first step is to build a backlog that describes the work left to a shippable state; as well as a rough idea on how to expand the concept after releasing it.

The prototype teams might now be expanded with people from scrapped prototypes, so that each prototype can be taken to a shippable state within 12 weeks of development.



End of week 16 - Ship it

All of the prototypes that were developed further should now be shipped to their intended target platform. After shipping the game the teams should now spend time helping on marketing the games, we don't want to separate marketing from development. After a while the teams will go back to the start to fire a new barrel of prototypes.
Improve it

If a game is successful the team needs to be very fast to execute on the plan on further development, to make sure to maintain the interest in the game. Team members are now moving back from current assignment to hop on the further development of the hit. The game will move into a continuous development cycle which is focused on frequent upgrades.
Potential flaws
Since I haven't tried the method in reality I can only speculate in the flaws of it. Here are some things that could be problematic:
Self-organized talent – The team needs to consist of people that are very creative, talented and good at driving themselves forward. They are attractive to every game developer out there, so they are hard to find in abundance.
Cash flow – If the first batch of games flop the team could run out of cash pretty rapidly.
Voting - This is the component I'm most uncertain if it will work in reality. The risk is that people are so passionate about their prototypes that the voting creates internal friction.
Focus – Creating a framework that keeps the organization focused while still not being restrictive can prove to be a challenge.
Summary
There are many organizations out there that are using a similar approach, and I think it can work as long as the casual segment is still booming. The risk is that success will slow the teams down, once a number of games becomes successful the studio will transform from a creative power house to a service focused beast. To prevent this, the studio needs to continuously find talent that can come in and start filling the barrels.