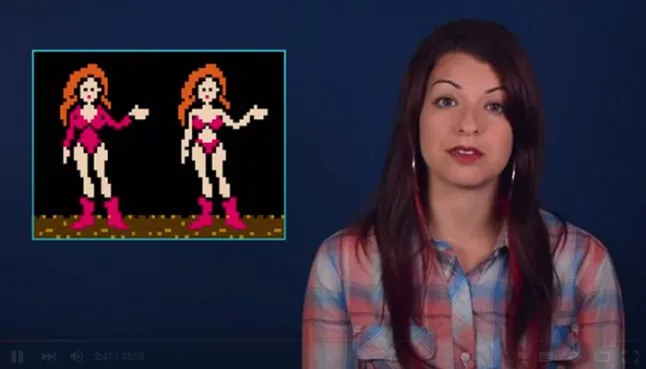 Anita Sarkeesian's feminist videos are highly informative(highly entertaining at least, if you don't agree with her), if you haven't yet watched, highly recommended, here is her YouTube channel:
https://www.youtube.com/user/feministfrequency
Anita has gathered many footages in video games of all time, to address the problem of female abuse in games.
For the first time I look into her video, I can't help to laugh at her, "Is this lady from Mars? What's wrong of adding some sex to help sell the games, as most players are male? "
But deep in my heart, I can sense the gravity of the problem. I greatly appreciate the jobs Anita has done to make changes. However, the sad fact is that, sex in games, just like other social problems, drugs, ivory trafficking, all have deep root in humanity. Those are not supposed to be resolved by the outcry of an individual, or an organization, even government ban won't work(think about the Prohibition).
Superficially, the problem of sex in games, prons appear to be more benign than drugs, ivory, for no black market, blood shedding involved. But in fact, the harm it inflicts on our society tops them all. And why?
Among the common problems of console game and sex industry, I would like to list the most notable two here:
Help kids to form wrong opinion of women
In the cases of female abuse in games, and in pron products, women are largely regarded as strumpets, consumables. We all know what women mean to us: care, companionship, much much more than sexuality. To get happiness and success, we need to learn how to develop great relationships with women. For we all have many intimate females around us.
This seems to be cliché, everyone with good schooling knows it. However, I need to point out, the wrong opinion made damages to our belief system, not to the conscious level, but to the subconscious level. At this level, bad things work faster and so automatic that quite out of our control. Just like a bad boy sits at the bottom of our heart, continuously cry out, "women are bad, bad, bad…"
Promote lewdness other than good sex
Sex and the desire for sex are gifts from God. And it seems that God is not pleased to see us have it in evil ways. All the cultures and religions have the same code of what is legitimate sex and what is lewdness. I think it's ok for an industry to gratify this human need and profit from it. Unfortunately, the console game and sex industry choose to promote lewdness other that good sex. Can't they promote the good?
Think about this scenario: the game is a love story, and in cut scenes we can see after much vicissitudes two lovers hug in undraped form(The girl is the protagonist, otherwise the bare female body would fall into "trophy" category as Anita mentioned.). I think even Anita wouldn't be against this, for here sex is only used as sweetener.
But, the human vice is, it seems that only a sense of guilt can bring gratification.
By the end, I feel fortunate to work in the casual & mobile game industry, it's a field sex free, at least for now.
I would post regularly--one article every two weeks, about game art production.