The videogame industry reported healthy growth during May 2007, according to figures released by the NPD Group yesterday. Hardware sales, in particular sales of the Nintendo DS and Wii, drove much of the growth. And while much of the focus will be on the hardware sales alone, there are some other very interesting results just below the surface of the data: three consoles with diminishing sales, a key to the Nintendo DS sales streak,
Spider-Man
's weakness, and the game that sold more copies than
Pokemon Diamond
this month -- but wasn't in the top 10 list.
Non-Wii Hardware Declines?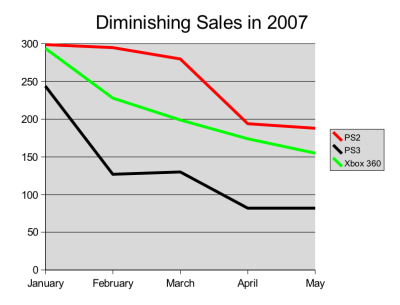 The Nintendo Wii continues to sell like hotcakes -- 338,000 systems in the past month alone -- but sales for three other key systems are diminishing. Monthly Xbox 360 sales have dropped each successive month since the Holiday 2006 season, with May sales of Microsoft's system at only 53% of their January 2007 level. The Xbox 360 Elite, a $480 higher-end version of the system with a larger hard drive, appears not to have driven sales significantly during April or May. Microsoft continues to maintain that it is pleased with sales of its system, but the fact is that the Xbox 360 has been on the market for 19 months and by this time last generation each system (PlayStation 2, Xbox, and GameCube) had dropped its price. If Xbox 360 sales continue to flag when the June numbers are in, Microsoft may have to take action and reduce prices to bolster sales, even if it hasn't yet made the switch to the 65nm process it intends to use in an upcoming hardware revision. Sony has similar troubles. Not only has Sony's PlayStation 3 struggled each month this year, like the Xbox 360, but the venerable PlayStation 2 may finally be ending its time in the market. The last time Sony's PlayStation 2 sold around 188,000 units, as it did during May 2007, was in April 2004 when it sold only 189,000 systems. You might recall that the very next month, May 2004, Sony dropped the price of the system from $180 to $150. From that time until this spring, the PlayStation 2 has never sold fewer than 200,000 systems in any given month. Other than right before that price drop and now, the only month in which this few PlayStation 2 systems were sold was November 2000 -- right in the middle of the system's launch shortages. DS Domination Increases Further The past year has been a huge success story for the Nintendo DS, but look beyond the monthly sales numbers and you'll discover some truly astonishing facts. For example: * 2.8 million Nintendo DS systems were sold from June 2005 to May 2006. * 6.7 million Nintendo DS systems were sold from June 2006 to May 2007 What event could have caused yearly sales to double? Before June 2006, the only system available was the original Nintendo DS, colloquially called the DS Phat. Then in June 2006 the new Nintendo DS Lite launched, and that event kicked off the incredible monthly sales we now take for granted in each successive NPD report. For example, the Nintendo DS was averaging about 150,000 systems per month in the six months leading up to the launch of the Lite. After the Lite was released it hasn't sold fewer than 239,000 systems in any given month and more often sells in excess of 400,000 per month. Just to make clear how the success of the Nintendo DS is likely tied to the sleeker hardware, the original Nintendo DS took about 19 months to sell just under 5 million systems. The Lite version, however, was able to move that many systems in less than half the time -- close to 8 months to sell 4.7 million systems. Before moving on to hardware, it is worth noting that accessory sales have been up tremendously all year, especially since the launch of the PlayStation 3 and Wii in November 2006. In fact, accessory sales are up 73% for the January to May 2007 period compared to the same period in 2006. Since accessories are an acknowledged high-margin segment of the market, manufacturers have to be pleased with this year's results. Pokemon Dominates, Licenses Not So Much As it did last month, Nintendo's Pokemon franchise dominated the top 10 sales charts, selling over 550,000 copies between the Diamond and Pearl versions for the Nintendo DS. Further down in the data are some curious points that bear mentioning. As Hollywood's blockbuster movies hit the screens this summer, so do the accompanying licensed games. In May 2007 three such movie games launched -- Shrek the Third, Surf's Up, and Pirates of the Caribbean: At World's End -- yet none of them reached into the top 10 sales charts. Perhaps cumulative sales across all platforms would tell a different story, but even the huge installed bases of the Nintendo DS and PlayStation 2 didn't draw enough sales of these licensed games to register on NPD's list. Relative Weakness For Spider-Man 3? Just as important, the other big movie license, Spider-Man 3, shows significantly weaker sales than its 2004 predecessor. During the June to July 2004 sales period, Spider-Man 2 launched with sales of over 850,000 copies. By comparison, only 611,000 of the Xbox 360 and PlayStation 2 versions of Spider-Man 3 have been sold in its corresponding April to May 2007 launch period. A generous computation would have Spider-Man 3 moving about 70%-75% as many units as Spider-Man 2 did. Did the negative reviews actually affect sales? The data seems to suggest the possibility, although it's always a dicey business trying to deduce consumer motives. Third-Party Woes For Wii Game Sales As for the Nintendo Wii, third-party publishers appear to be having trouble prying gamers away from Nintendo's first-party games. Since its launch -- seven months during which NPD has reported sales -- no third-party Wii game has reached into the top 10 games for any month. (It appears that UbiSoft's Red Steel might have cracked the top 20 during Holiday 2006, however.) By comparison, during that period five Nintendo-published Wii games (The Legend of Zelda: Twilight Princess, WarioWare: Smooth Moves, Wii Play, Super Paper Mario, and Mario Party 8) have had appeared in the top 10. And consider this: if we counted the pack-in game Wii Sports for the top 10 games list, it would have taken one of the top five spots every month since its launch and would even have been first in software sales for both January and May 2007. Yes, that's right, it would have sold more copies than Pokemon Diamond this month, just by virtue of being inside the box every time someone buys a Wii. Forza 2's Sequel Surge Finally, a happy note for the Xbox 360 and its new game Forza Motorsport 2. Back in 2005 when the original Forza launched, it was on sale for almost the entire month of May and managed to sell a respectable 185,000 copies. For the sequel, however, its sales began at the end of May -- the 29th -- and still managed to make the top 10 software list with 217,000 copies. Microsoft has to be pleased with that result. A Modest Prediction With the entire industry collectively selling its wares at a blistering pace, the NPD data suggests that when all of the pennies are counted, we will laud 2007 as a record year. Just how big could it be? Consider this: already the industry has rung up $5 billion in sales in the first five months of 2007. It took from January to August of 2006 to reach that same level of sales. If current trends continue, the $12.5 billion record for last year could be surpassed by a $14 billion dollar total for 2007. If Microsoft and Sony turn their console trends around, that $14 billion total could go even higher.