Today, Austin-based independent dev house Spacetime Studios releases its first project, a fantasy MMO called
Pocket Legends
, developed for iPhone and iPad.
Pocket Legends
[YouTube video]
is treading on new ground for Apple's mobile platforms. It's a real-time 3D MMO based not based on an existing IP, and released simultaneously for iPhone and the just-launched iPad. "We've utilized years of technology and expertise to pretty rapidly put on this platform something that I don't think anyone has ever seen before, and we're tremendously excited by the prospects," executive producer Gary Gattis told Gamasutra in an interview ahead of the game's release.
An Unexpected Development
Originally in development specifically for iPhone,
Pocket Legends
was delayed when Spacetime got wind of the iPad. In addition to adding a target platform, associate director Jason Decker said the extra time allowed the studio to fill out its content scope for both versions of the game. "It's rare when you're working on a project to allow yourself that extra month of polish," Decker told Gamasutra. "There was a lot of stuff on the white board we weren't going to release, like friends, towns, and more open areas. Luckily, the switch to iPad wasn't a big deal, but the time we took adding all these new aspects was really exciting."
The Pricing Question
Unlike most 3D MMOs,
Pocket Legends
is not a traditional subscription-based game. Rather, like an increasing number of iPhone games, it has adopted the free-to-play model. There is no initial price or time-based fee, but Spacetime will be continually developing new campaigns and items for players to optionally purchase. "One way to get items in the game is through grinding and experience in the traditional way by racking up your gold," explained art director Jake Rodgers. "Or, go straight to the store and buy vanity weapons that may not be as powerful but are unique. The third way is through loot drops from bosses in [paid] expansion packs." "It's a three-way experience to maximize what you're able to find," he added. "You can't just cheat your way with real money, and you don't have to just grind."
Pocket Legends iPhone
As it turns out, Spacetime had long been planning to charge an initial price. The decision to go free-to-play came nearly at the last moment. "After much discussion and consternation, and a heroic effort on the technical team's part, we decided to try to create a large community of players that we could build upon rather than go for the gold rush," Gattis explained.
Spacetime's Winding Road
Spacetime didn't start out as an iPhone developer. The company was founded in 2005 by a group of developers with experience on hardcore franchises like
Wing Commander
, its spinoff
Privateer
, and
Star Wars Galaxies
. The studio signed an agreement with online game publisher NCsoft in 2006 to develop its space-themed MMO
Blackstar
, and worked on the game for about two years, but in 2008 NCsoft dropped the game. Several months later, Spacetime slimmed down its staff and reacquired the property, but was unable to secure a new deal. Eventually. the company turned its focus to the iPhone and
Pocket Legends
. The company tells Gamasutra
Pocket Legends
was developed with a core team of six developers, aided by Austin-based art outsourcer CGBot.
The Game
The result is a game that is based on core MMO principles, but which had to be designed for short periods of play. Gattis calls it "the world's first pick up and play MMO." Players choose between archer, warrior, or enchantress characters (the "standard holy trinity of MMO classes," says Gattis), each of which has can build up a set of attribute points and skills as they progress to the maximum character level of 25. Making a mobile game, even an MMO, lends itself to distilling down to the most important elements of the genre, says Gattis. "Combat is central to the gameplay. It's very action-RPG-oriented, so from the very beginning that's what we focused on," he said. "The challenge inherent to that involves getting people together quickly and making sure the roles are very meaningful and distinct, so depending on what class you play, the game does feel very different. Within the office, we have people who gravitate towards one role." Equally important on a platform not explicitly centered around games is ensuring the gameplay is accessible to broad audiences. "It is a very light MMO as far as the requirements to get into it, but I believe it has surprising depth as well," he added. "The level of customizability and play is what you expect from a hardcore MMO, but the way you play and the ease of the distilled UI make it very accessible for young children." And like all iPhone developers, Spacetime had to deal with control and input issues on a device lacking traditional game controls. "There were challenges of how to display all the things you need to display, but the movement part of it ended up pretty easy," said Rodgers. The team ended going with a virtual joystick model for movement, a common solution for iPhone games. "We didn't want your fingers to be in the way of anything," he added, "so the center of the action is left untouched, and it works out well."
Developing For iPad
After deciding to target iPad, the team had to actually implement the additional SKU, but the advanced state of the iPhone client gave the team the advantage of not having to worry about ground-up development on two platforms. "We were essentially done with the game when the iPad SDK came out," Gattis said.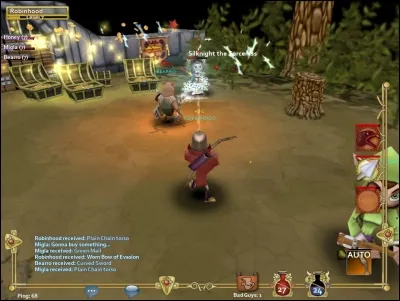 Pocket Legends iPad
The similarities between the two devices helped as well, according to Rodgers. "The code changes were minimal," he said. "Just changing the resolution was very easy. The biggest challenge was rearranging the user interface, taking advantage of more space." Of course, the iPad's 1024 by 768 resolution allowed the game to have an interface at least somewhat more in line with that of a full-scale MMO -- but the team restrained itself from straying too far from its stripped-down design. "The game is designed primarily for the phone, [so] when we blew it back out again, we decided to stay with the same conventions we had," Decker said. Still, he added, "The pad has a lot of animated windows and sliding UI. A lot more whiz-bang got put in there -- the fancy stuff." Going forward, Spacetime hopes to keep a healthy pace of new content, which is necessary for any game pursuing the free-to-play model. "We are leveraging the Spacetime Engine, which is our technology we've been working on for the last four years, with significant investment," Gattis said. "it gives us some really fat dev pipelines. To put more content into the game is really trivial at this time." The game launches with a main campaign, titled "Forest Haven," as well as two additional campaigns for purchase. "As soon as users chew through that initial content, putting through additional campaigns and [enemies] is very straightforward for us," Gattis said. "We plan on nurturing and growing this game with new systems and whatever players expect."