[Publishers who've found success in downloadable games on PC are now looking to console opportunities, and GamerBytes' Ryan Langley talks to RealNetworks' Sean Amann about Tiki Towers, the company's upcoming WiiWare title, working with Nintendo and tailoring development for a new frontier.]
With the event of downloadable games on consoles, it has created a new avenue for developers. Developers like The Behemoth with
Castle Crashers
and Queasy Games with
Everyday Shooter
can live without creating a game that costs multiple millions of dollars. There are many publishers that are also very interested in these services -- particularly those which have been making their way in the PC digital market. Popcap and Merscomm have already begun to bring some of their titles, with games such as
Peggle
and
Buku Sudoku
RealNetworks has been involved in online distribution for a number of years, with RealArcade and GameHouse both allowing customers to download and purchase many casual PC titles. They have just released
Boingz
on WiiWare, and have announced
Tiki Towers
as their second title. We recently spoke to global sales and marketing general manager Sean Amann as part of
an in-depth look at casual gaming companies' console initiatives
. Now, Ryan Langley of Gamasutra sister site
GamerBytes
connects up with Amann again to talk about RealNetworks' model for game creation on new distribution platforms such as consoles and the iPhone, and find out more about their upcoming cross-platform bridge-building puzzler.
Tell us a little bit about the history of RealNetworks and their involvement with games in the past.
Sean Amann: Real's focus is on the delivery of digital entertainment services to consumers – whether by PC, portable handheld device, home entertainment system or mobile phone. Some of the company's most popular products include the streaming media player RealPlayer, the Rhapsody digital music service, online casual games destinations RealArcade and GameHouse, and various mobile entertainment services like ringback tones. For Games, Real has grown to be a global leader in development, publishing, licensing, distribution and retail.
With RealArcade and GameHouse, RealNetworks have been a competitor in the casual PC space for quite some time. What has brought you to the console space?
SA: With the success of RealArcade and GameHouse, taking our games to new platforms seemed a natural transition. We simply want to make our games available to our customers whenever and wherever they want to play. While our core demographic with PC games has been clearly defined to date, we find that expanding to new platforms has opened up that demographic and helped us appeal to an even broader audience.
You've recently announced Tiki Towers. Where did the idea for the game come from?
SA:
Tiki Towers
was conceived in the mind of designer Frank Boosman from Republic of Fun before the Wii launched in 2006. Excited by the promise of the new console, he felt that the Wii Remote would work great for games that required a lot of physical interactions. We've all played construction style games as kids and Frank felt that this would be a great use of the Wii Remote. While considering the best way to design the building mechanics, Frank heard a talk by Will Wright where Will said something to the effect of "monkeys are funny" and another piece fell into place. From there, he instantly realized that the building pieces could be represented by bamboo and coconuts, and since a good friend was a huge Tiki fan, the tropical/Tiki backdrop seemed the perfect fit for the game.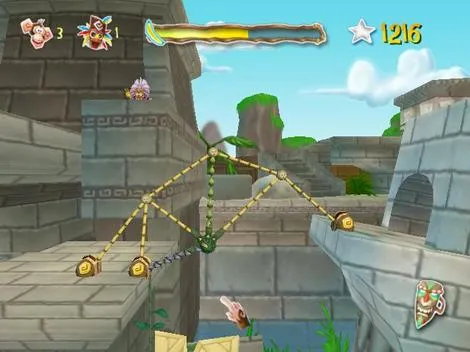 Mr.Goodliving, RealNetwork's own subsidary, has been working together with Republic Of Fun to create Tiki Towers. Who has done what in terms of Tiki Towers' development? SA: Republic of Fun created the game concept and generated the initial design for the WiiWare version of the game. The WiiWare development effort was outsourced to Mock Science, a developer located in Austin, Texas. In order to develop the mobile and iPhone versions of the game, Real's Mr. Goodliving Studio out of Helsinki, Finland used the WiiWare design as a guide and translated the gameplay mechanic to suit the unique controls of mobile and iPhone. How is the game played with a Wii Remote? SA: The controls for the game are very simple. All actions are handled by using the pointer and the A Button. In order to build towers, you grasp a connection point with the A Button and drag the pole section to where you want to build. When you've positioned it to where you want it, release the A Button and your monkeys will handle the rest. Menu and button actions such as casting spells are also handled with the pointer and A Button. Does the game work in a real-time fashion, or do you set up the path beforehand? SA: The WiiWare game runs in real-time so it is more action-oriented. Time is marching forward as you build your towers and respond to the actions of the Enemy Chiefs. The game works slightly differently in mobile and iPhone. You must first build the structure, and once you're happy with it you can release the monkeys to test and see if the structure will hold. If it does hold, you've completed the level. We call it a physics puzzler. How do the enemy chiefs and BananaMana chants affect the game? SA: The Enemy Chiefs want to drive you off the islands and will cast spells at your monkeys and towers in order to thwart your progress. Luckily, you have spells of your own to counter the attacks of the Enemy Chiefs, but you need BananaMana in order to cast these spells. You can assign monkeys to chant for BananaMana, but monkeys that are chanting aren't available for building – so it's all about balance.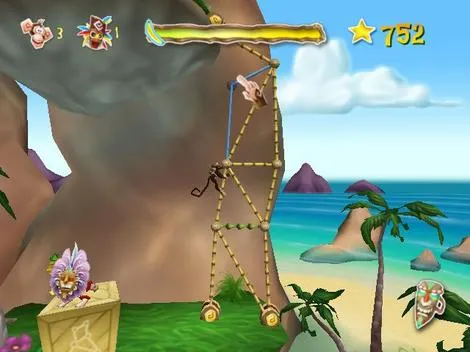 Does the game have any sort of leaderboards or high score options? You are scored on each level based on the time it takes you to complete the level as well as the number of banana's you are able to collect. When you complete a level, you earn a Gold, Silver, or Bronze star based on how well you performed. How many levels does each version contain? SA: The WiiWare version contains 20 levels that span five different islands, while the mobile and iPhone versions have five different islands, each with 9 levels. The game requires you to use native materials such as bamboo poles, coconuts and vines in order to create your towers. How does each material change alter the way a tower is made? Bamboo poles of various lengths, connected by coconuts, provide the structure for your towers. Shorter bamboo poles are less likely to break, but don't provide the speed in building that the more breakable long poles do. Vines can be wrapped around coconut joints for added strength and stability, and are essential for building structures side-to-side. Tiki Towers will be getting released on iPhone, WiiWare and Java Phones at the same time. How does each version differ? SA: Each version has been carefully tailored to its specific platform. In the WiiWare version, you can explore large and expansive levels that have multiple building sections and use the Wii Remote's pointer functionality to quickly build towers pole-by-pole. Spell casting, monkey management (between casting and building) and the Enemy Chiefs are also exclusively available in the WiiWare version. Conversely, the mobile and iPhone versions are specifically tailored for play on the go. Accordingly, the levels are shorter and smaller but there are more of them. Because of the closer viewpoint, the personalities and antics of the monkeys are more emphasized, and building is expedited by constructing triangular sections rather than pole-by-pole. Gameplay for mobile is controlled with the directional pad, while the iPhone version has touch screen support. You've mentioned that the UK version of the game is called Tropical Towers. Is this the case for all versions released in the UK? Was it an odd case, like a poker machine having the same name? This was the case for the Xbox Live Arcade game Plunder to change its name to Age of Booty. SA: This is basically a reflection of us listening to our customer and creating an experience that is both fun and relevant for them. Tropical Towers makes more sense than "Tiki Towers" in that region, so we tweaked the name. The game is identical, otherwise. Our customers in that region are also demanding versions representative of the major European languages, and we've responded by making 7 localized versions in English, French, German, Italian, Spanish, Portuguese and Greek. Do you plan for a wider release down the track for Europe and Japan? SA: Possibly, but we have nothing to announce at this time. From a marketing perspective, how different is the WiiWare and iPhone landscape compared to the casual PC and phone market?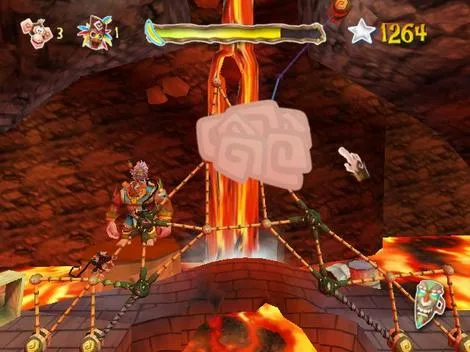 SA: We've chosen to work with partners like Nintendo and Apple largely because the Wii and iPhone have been game-changers, attracting a broad demographic and getting people involved in gaming that may not have tried if these companies hadn't made it so simple and appealing. At the same time, they offer compelling experiences for established gamers as well. How has the experience of dealing with Nintendo been in terms of putting games on WiiWare, and setting up release dates and pricing? SA: Nintendo's WiiWare team has been incredibly helpful to us as new developers, meeting with our team early on to answer questions and make sure we understood their goals, processes, deadlines and marketing opportunities. They have always been very supportive and accessible, and we couldn't be in better hands. Although setting up tentative release dates is possible, a lot depends on getting games through the approval process, so it's a bit of a balancing act. We unveiled our first WiiWare game, Boingz, at Nintendo's fall media event in San Francisco. Boingz then launched on WiiWare the week of Thanksgiving and we're eager to see how it's received as we continue to work with Nintendo on upcoming releases. With the release of Boingz for WiiWare and now Tiki Towers, is RealNetworks testing the waters with a few projects or do you have several other projects in the works? SA: We're looking at all platforms on which our customers are playing, and gauging the response we get to these first titles as we put together our plans for future releases. We will continue to bring our customers great games wherever they want to play them. Does RealNetworks plan on expanding onto the PlayStation Network and Xbox Live Arcade? SA: We always keep a close eye on what is being played on each platform and where certain genres see the most traction, and let customer behavior tell us where we should bring our games next. We are definitely interested in what is going on at PSN and XBLA, but have nothing to announce at this time.