[
As Summer of Arcade kicked off with titles like Limbo, GamerBytes editor Ryan Langley offers charts and leaderboard data to get an idea of which titles are hits on the service this summer.
] In Xbox Live Arcade's history, July 2009 was bolstered by the release of
Battlefield 1943, Secret Of Monkey Island
and the second coming of the Summer of Arcade promotion. Conversely, July 2010 saw six new releases –
Monkey Island 2: Special Edition
from LucasArts, and
Blacklight: Tango Down
from Zombie Studios and Ignition Entertainment,
Deadliest Warrior: The Game
from Pipeworks and Spike TV,
DeathSpank
from Hothead, plus the first two new titles for Summer of Arcade in 2010, Playdead's
Limbo
and Vector Unit's
Hydro Thunder Hurricane
.
Make A Monkey Out Of Me
The first
Monkey Island
's Special Edition was released on July 15th 2009 – and in its first
three weeks
, we saw 66,000 players added to the Leaderboard. Despite
Monkey Island 2
's larger budget, and possibly larger fan base, the game only added 29,398 players in a similar time frame. However, unlike the original,
Monkey Island 2
was not a timed exclusive. The game was also released on PlayStation Network, iPhone and iPad in the same week, so it's quite possible that consumers picked it up on another device. The PlayStation Network version only supports the top 1,000 players on the Leaderboards, so we're unable to follow it. Zombie's
Blacklight: Tango Down
did remarkably well – nearly 50,000 players in the first week and almost 100,000 players by the end of the month. For a game that requires an online connection, it means 100,000 Xbox Live Gold subscribers were hungry for a new shooter. It might not be selling a million like
Battlefield 1943
last year, but it's still a strong performance, and the title will likely continue to trot along for a while – well, at least until
Halo: Reach
in September.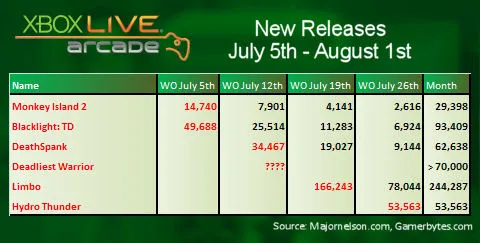 Deadliest Of All Spanks
The last two releases before the Summer of Arcade promotion were
Deadliest Warrior
, the first game published by Spike TV's entertainment division, and
DeathSpank
, Ron Gilbert and Hothead Games' action-RPG.
DeathSpank
did quite well, with over 34,000 players in its first week on the Leaderboards, and a total of 62,638 players by the end of the month. This is already triple what the second episode of
Penny Arcade Adventures
sold, and nearly as many as the first – though the first was also 400 Microsoft Points more expensive. The game was also released worldwide on PlayStation Network in the same week. The most surprising game this month was
Deadliest Warrior
– a 3D fighting game loosely based on the gonzo TV series. Despite some poor reviews and a
Metacritic rating
of 58, the game has sold remarkably well. It was still the third-best-selling title in its third week, and while we don't have single-player Leaderboard statistics, we do know that at least 70,000 people have played at least one game online, which is an amazing feat and beyond expectations. One major reason for this could be advertising – Spike are in the unique position of owning a television network, and are promoting the game through
Deadliest Warrior
and through advertisements – a first for an Xbox Live Arcade title.
In the Beginning, There Was Limbo
The Summer of Arcade began in the third week with
Limbo
, the IGF-winning puzzle platformer from Danish developer PlayDead Studios. In its first week of release it added 160,000 players to the Leaderboards, with a total of 240,000 in the first two weeks. In comparison to the previous Summer of Arcade,
'Splosion Man
had only 70,000 in its first week of sale, and
TMNT: Re-Shelled
had 80,000.
Trials HD
was able to garner 246,000 players over 3 weeks, while
Limbo
has done the same in just two, an incredibly impressive feat.
Rock You Like A Hurricane
The final new release was Vector Unit's
Hydro Thunder Hurricane
, something of a sequel to the 1999 arcade racer originally created by Midway. In its first week it added 53,563 players to its Leaderboards – less than
Limbo
, but still a great start.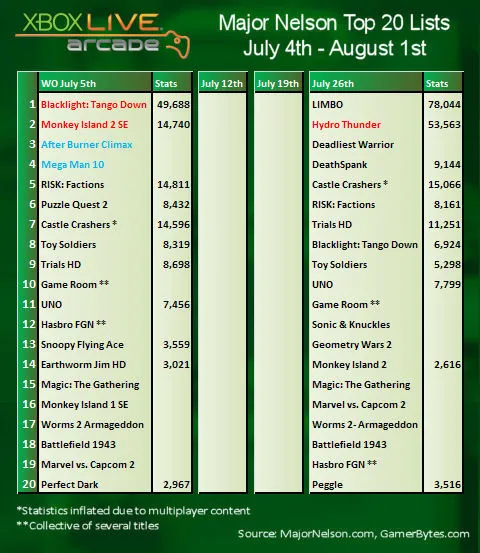 The Top 20
Of the four weeks that we covered in July, only two of those weeks had Top 20 lists available through MajorNelson.com. EA's
RISK: Factions
continues to be an amazing seller after its release in July. It added an additional 41,000 players to its Leaderboards over the month, and now sits with 105,227 players total, a great feat for the strange alternative take on a classic board game. Smart Bomb's
Snoopy: Flying Ace
saw a more significant drop, and fell off of the Top 20 entirely -- it added 11,671 players during the month for a total of 77,805.
Earthworm Jim
also saw a drop-off with 9,915 players in the month, for a total of 57,321 players. One game you might find odd among these is
Sonic & Knuckles
– for some reason it retained its discount price, at 240MSP instead of 400MSP and remains that way as of press time.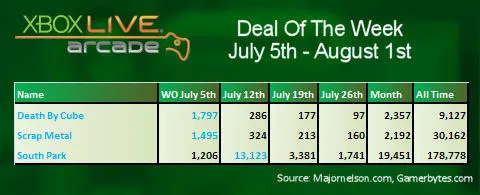 Deals Of The Week
There were 5 Deals of the Week during July – however, we were only able to follow three of them. The first deal was a collection of four titles –
Death By Cube, Scrap Metal, Afterburner Climax
and
Mega Man 10
. The first two sold several times more than they had been regularly selling, but were still unable to hit the Top 20.
After Burner Climax
and
Mega Man 10
cannot be followed by Leaderboard stats, but they both did hit 3rd and 4th place on the Top 20 respectively. The second deal was just for
South Park: Let's Go Tower Defense Play
, a title that has been on sale an awful lot since its release. For its week on sale, it added 13,123 players to the Leaderboards, and now nears 180,000 players total since its release a year ago.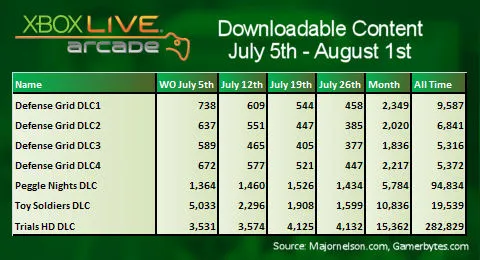 Downloadable Content
No new DLC this month, but we do get to see how the older DLC has been selling. The new
Defense Grid
maps have been slowly declining in sales – not spectacular, but will they will continue to trudge along for another month or two. The
Toy Soldiers DLC
has done okay as well – it's no
Trials HD
DLC, but then what is?
The Little Big List
While we're not following every single Xbox Live Arcade title each month, we do still continue to look at Leaderboard statistics for a selection of games – those that will likely appear in the Top 20 lists during the month. Here, we've compiled each game we've followed and their Leaderboard statistics for each week, as well as their total for the month, their all time total, and their current Metacritic rating.