As part of a
recent, exclusive NPD analysis
, Gamasutra's analysis of the U.S. console video game marketshare has revealed that, even as Nintendo's hardware and first/third party game sales surged in 2008 and Sony's revenues inched up, Microsoft's share ended up decreasing in dollar value - likely due to decreased Xbox 360 hardware prices. In January of 2008, a Nintendo press release claimed that Nintendo platforms were responsible for 60% of the industry's 43% growth rate from 2006 to 2007. Given that the industry had grown nearly $5.5 billion in that period, Nintendo was claiming about $3.3 billion year-on-year growth. Nintendo recently made a similar claim, and stated that it was responsible for 99% – or about $3.3 billion – of the industry's revenue growth in 2008. The claim about 2007 was remarkable, but to have produced 99% of the entire industry's growth the following year is just short of incredible. Gamasutra examined data provided by the three major platform holders -- Sony, Microsoft, and Nintendo -- to stitch together a full picture of just how the marketshare has changed from 2007 to 2008, and how Microsoft made less money with its Xbox 360 business in 2008 than in the previous year. Here's the Gamasutra-compiled graph for the 2007 marketshare -- of the game hardware plus first and third party software plus first and third party accessories -- per platform owner. (Remember that Nintendo's marketshare includes Wii, DS, and trace amounts of Game Boy Advance, Sony's includes PS2, PS3, and PSP, and Microsoft's includes Xbox 360 and trace amounts of Xbox):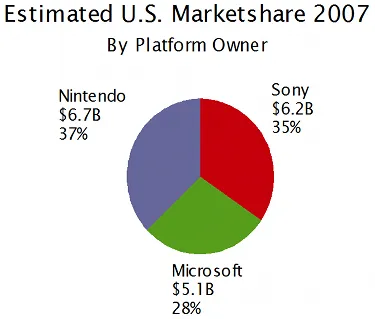 Next, here is the graph for the 2008 U.S. marketshare, so we can see some of the notable changes occurring thanks to Nintendo's blockbuster year: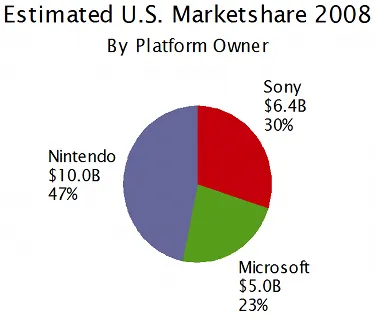 Here's the justification behind these numbers. According to Sony, its platforms accounted for $6.4 billion in all of 2008. Moreover, for the January through November 2007 period, its platforms accounted for about $4.6 billion of industry revenue, with $1.5 billion more in hardware and software in December 2007. That makes for approximately $6.2 billion in revenue for 2007 after sales of accessories are factored in. According to Microsoft, the Xbox 360 accounted for $4.8 billion in 2007, and after allowing for software sales for the original Xbox, we estimate it produced $5.1 billion in all of 2007. Finally, using the known industry totals from 2007 and 2008 ($17.97 billion and $21.33 billion, respectively) we can estimate that Nintendo accounted for $6.7 billion in 2007 and Microsoft accounted for $4.9 billion in 2008. The key observation here is that Microsoft's marketshare, both in dollars and in percentage, contracted marginally. While Sony's dollar share increased slightly, the total increase in the size of the industry actually resulted in a decrease in its percentage of the market. All of that lost share, of course, has shifted to Nintendo's column, and the company now appears headed for a nearly 50 percent share of the market in terms of its own hardware and game sales, plus third parties selling merchandise for it.