[
As part of his monthly NPD review, Gamasutra analyst Matt Matthews looks at Nintendo's "evergreen" first-party games, explaining why games like Mario Kart and Wii Fit continue to top charts -- and how it affects third-party creators.
] On Friday, the NPD Group released
its extended top 20 all-format console game chart
for U.S. retail in January 2010. As noted previously, the list is interesting for the appearance of several new properties. In particular, THQ's
Darksiders
appeared on the list for both the Xbox 360 (#10 with 171,000 units) and the PlayStation 3 (#14 with around 137,000 units, according to Doug Creutz of Cowen & Company). Sony's new PS3-exclusive shooter,
MAG
, placed #13, and below that at #17 was the Xbox 360 version of Platinum Games'
Bayonetta
with just over 100,000 units. (According to Wedbush's Michael Pachter, only 18 titles sold more than 100,000 units in January 2010.) Moreover, Ubisoft's
Just Dance
for the Wii is a new property, launched in November 2009, that made a strong showing in both December and again in January (#9 with 192,000 units). We should see more new titles like these in the coming months, along with several sequels, that were pushed out of the last quarter of 2009 to avoid competing with
Call of Duty: Modern Warfare 2
from Activision-Blizzard. However, we think that the more telling trend visible in the January 2010 all-format chart is the apparent establishment of
New Super Mario Bros
. Wii as yet another evergreen title from Nintendo. Look below at the top 20 chart, and pick out the Nintendo-published titles for the Wii and Nintendo DS. We'll go over each of them, with details, underneath the figure.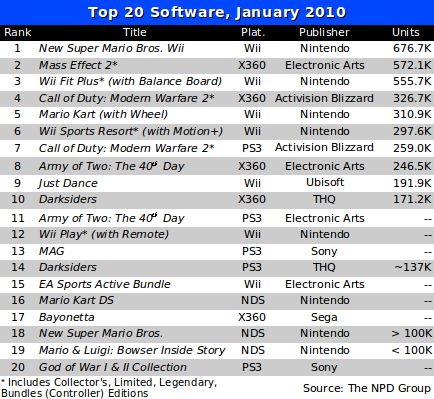 Much has been made of the long, broad appeal of Nintendo's software, but it is difficult to grasp the timescales involved when the charts are viewed a single month at a time. Consider graphical representation of the appearance in the top 20 all-format chart of several key Nintendo titles.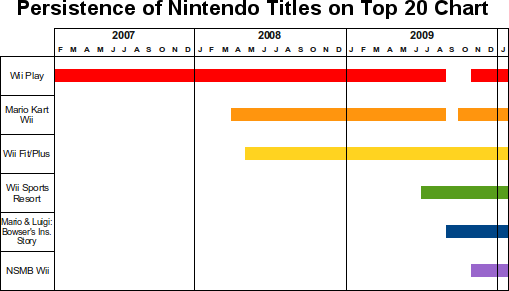 Here is a brief rundown of just how dominant Nintendo's titles have been, measured from their positions in the top 10 and top 20 charts.
Wii Play
– First released in February 2007, this game has been in the top 20 for 34 of the last 36 months. Perhaps more impressively, it has been in the top 10 a stunning 29 times. It was the 2nd best-selling game in all of 2007, the top-selling game in 2008, and the 7th best-selling game in 2009.
Mario Kart Wii
– The essential Wii racing game has appeared in the top 10 for 20 of the last 22 months. In one month it missed the top 10 but placed in the top 20. It was the #2 best-selling game of 2008 and the #6 best-selling game in 2009.
Wii Fit
and
Wii Fit Plus
– The first iteration of this fitness title launched in May 2008, and its successor was released in October 2009. At least one of these titles has been in the top 10 for 20 of the last 21 months. The one month is wasn't in the top 10 it was still in the top 20.
Wii Fit
was the #3 title for all of 2008 while
Wii Fit
and
Wii Fit Plus
took the #4 and #5 spots, respectively, on the best-selling software chart for all of 2009.
Wii Sports Resort
– The follow-up to the Wii pack-in game has been in the top 10 every month since it launched in July 2009, and was the #2 best-selling game of all of 2009. To these four major lines we can consider adding at least two Nintendo DS games.
New Super Mario Bros
. for the Nintendo DS was released originally in May 2006 but has appeared in the top 20 for at least 15 of the last 21 months, four of those appearances also in the top 10. Moreover,
Mario Kart DS
has placed in the top 20 during 12 of the last 15 months. These older Nintendo DS titles sell so well that they are still outselling newer software on the platform each calendar year, as demonstrated in the following table of the top 5 Nintendo DS titles in 2009.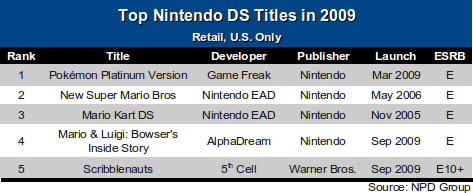 Given these precedents, it seems likely that
New Super Mario Bros
. Wii will follow in the footsteps of its handheld predecessor. Under those circumstances, we expect it to be a top 10 software title at the end of 2010. As new Wii systems are added to the installed hardware base, it appears they are continuing to choose these Nintendo standards as part of their software library. Other than the end of the Wii's run as the dominant console platform (at least in terms of sales), it's hard to come up with a convincing reason for these standards to fall off the sales charts. From a purely economic point of view, these titles present an impediment to at least some third-party software sales. If each new Wii owner is going to buy one or more of the standard first-party games (and this seems likely the case), then those owners will likely also have less money to spend on third-party games, at least at that time. Then one key for third-parties is to be ready for when that consumer returns for a new game at some point later. Getting the consumer's attention in the crowded Wii software market requires not only an easily understood premise (see
Just Dance
), but probably also brand-recognition (
LEGO Star Wars
has done well) and at least some promotion (as Nintendo itself did with
Professor Layton
). Nintendo's own software success is simply part of the playing field when courting the Wii consumer.