As part of Gamasutra's
in-depth analysis
of January's video game hardware and software sales, Gamasutra has been looking at Activision's flagship
Call Of Duty
first-person shooter series. In particular, analyst Matt Matthews has been examining how less Xbox 360 owners are following the
Call of Duty
series while PS3 fans for the series are increasing, and why Activision will want to create more
CoD
ports for Wii after
World at War
. As he notes, for two years running, Activision's
Call of Duty
series has enjoyed very strong sales. However, there are a few points one can make about sales of the previous iteration of the game, Infinity Ward's
Call of Duty 4: Modern Warfare
, and the latest version, Treyarch's
Call of Duty: World at War
. Matthews notes in his exclusive Gamasutra analysis that we should consider the following figure, showing U.S. sales of each of these games on the Xbox 360 and PlayStation 3 for the first three months after release: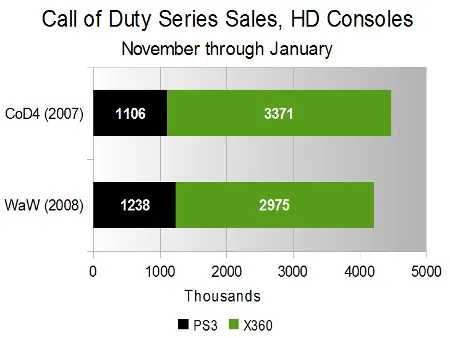 As the figure above demonstrates,
Call of Duty: World at War
did not sell quite as well as its predecessor in the United States during this crucial sales period for those two key platforms - although it was relatively close. Moreover, the results for the two platforms were mixed: sales for
World at War
were up on the PS3 compared to
CoD4
, while sales for
World at War
dropped on the Xbox 360 from the level set by
CoD4
. Yet,
Call of Duty: World at War
on current generation consoles is still ahead of
Call of Duty 4
during the analogous period, an impressive result for the Activision franchise. The key here is the Wii version, which is known to have sold in excess of 366,000 units during December 2008 - there was no such Wii version of
Call Of Duty 4
. The Wii version of
World At War
appeared at #19 on January's top 20 list, and these additional sales will no doubt encourage Activision to produce another Wii port for any future
Call of Duty
titles. (There are also PC and Mac versions of
CoD 4
and PC, DS, and PlayStation 2 versions or 'sister' games for
World At War
, but data is not immediately available for their post-launch U.S. sales.) Gamasutra's
January 2009 NPD analysis
, the most-read in the industry, has much more detail on these and other points.