Looking at music games as part of
our NPD analysis
, Gamasutra has discovered that U.S.
Guitar Hero/Rock Band
revenues are down 49% year on year, as discounted hardware and over 20 SKUs flood the market. June 2009 was the second consecutive month without a
Rock Band
or
Guitar Hero
title in the top 20 software titles. The last time the software charts went two months without one of these franchises was in September and October 2007, right before the launch of
Guitar Hero II
on the PlayStation 2. As we've commented before, these franchises are being guided in different ways by their respective publishers. MTV Games, the publisher of the
Rock Band
products, has released a sequence of Track Packs to provide new content to retail consumers. These $20 to $30 packs offer a variety of tracks or a set of themed tracks (e.g. country, classic rock). As of this writing, there are effectively seven
Rock Band
titles in the console and handheld market, including the track packs and
Rock Band Unplugged
for the PSP. The next major game in the series,
The Beatles: Rock Band
, is due out in September 2009. For its music game series, Activision Blizzard has also released track packs, but two could be considered more elaborate
Guitar Hero
expansions headlined by famous rock bands: one for Aerosmith in Summer 2008 and another for Metallica in Spring 2009. (A Van Halen package is expected in late 2009.) These packages retail for $40 and higher, and have been bundled with guitar controllers. Activision Blizzard has also released three versions of
Guitar Hero
for the Nintendo DS, although those games are not compatible with the newer Nintendo DSi (which lacks the requisite Game Boy Advance slot for the extra guitar frets hardware). To date there are over a dozen
Guitar Hero
titles from Activision Blizzard, from the original Guitar Hero through
Guitar Hero: World Tour
, and including the handheld versions along with themed/licensed expansions.
Guitar Hero 5
is currently scheduled for release in Fall 2009.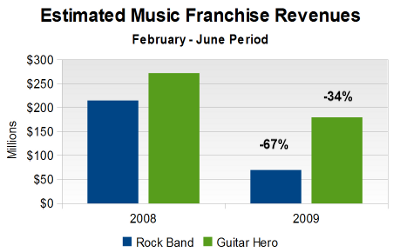 The revenue, however, is not scaling up with the number of releases. Much of the initial revenue for both of these music games was generated through higher priced hardware and software bundles, including guitars, drums, and microphones. Fewer such bundles are being sold today, with a number of cheaper deals (with as much as $100 off the original retail price) for early 'full band' hardware bundles. Consequently the average price of a music game has declined. According to data reported by analyst Michael Pachter of Wedbush Morgan, combined retail revenue from these two franchises during February – June 2009 has declined 49% from the same period in 2008. Retail revenue for the
Guitar Hero
franchise is down a more modest 34%, while retail revenue for the
Rock Band
series is down a more striking 67%. For the year so far (including January) we estimate that significantly more than 3 million
Guitar Hero
software units have been sold for consoles and handhelds. During the same six-month period, just over a million
Rock Band
products have been sold (again, on consoles and handhelds). Sales in the back half of 2009 will determine the future of the music game business. As consumers increasingly opt for software over expensive hardware bundles, the companies behind these games will see a commensurate drop in revenue. While the publishers will probably still work with retailers to distribute music game controllers (albeit in lower volume), look for these games to continue to shift to in-game storefronts to attract consumer dollars. Harmonix and MTV's
Rock Band
is significantly down this path, with
40 million song downloads
for the $1 billion franchise already confirmed, and tens of millions of dollars in extra revenue via this method. However, Activision's
Guitar Hero
franchise
recently reached $2 billion in lifetime sales
, boasting that 40 million "professional songs" have been downloaded (presumably both free and paid), alongside 14 million GH Tunes "user-generated songs" The recent
announcement of the Rock Band Network
, with paid downloads to be user-uploaded to Xbox Live, is a further way that these games can expand their market and revenue without relying on retail sales of hardware and software.